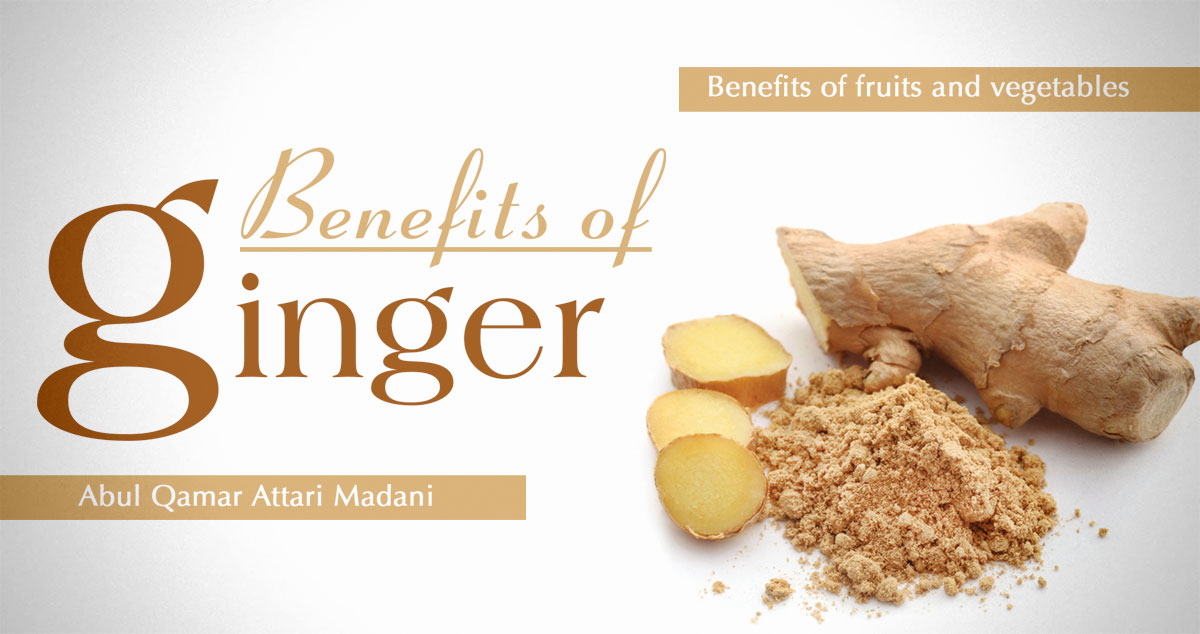 Ginger is also one of the countless blessings of Allah Almighty. Its efficacy is warmer. Its use in different foods enhances the taste and nutrition of food.
Some of its countless benefits are presented below:
Few benefits of ginger
٭ Ginger reduces the stomach acidity and the food gets digested soon. It is very beneficial for those who do mental work. It improves the blood flow. The use of ginger is beneficial for chest phlegm and chronic cough. It is beneficial for chronic constipation and diabetic patients.
٭ Drinking extract of fresh ginger is beneficial for the liver disorder.
٭ It is good to eat roasted ginger for joint pain. Eating ginger with fish makes a person feel less thirsty. It is also beneficial for paralytic patients.
٭ Cut the ginger into small pieces and eat one or two grams after sprinkling salt on it,
اِنْ شَــآءَالـلّٰـه عَزَّوَجَلَّ, you will feel extreme hunger. It will help break wind and relieve constipation. (Gharaylu 'Ilaj, pp. 78)
٭ Dripping one drop of ginger juice into the ear relieves the earache. (Gharaylu 'Ilaj, pp. 85)
٭ Ginger tea is beneficial to prevent from idleness, laziness and common cold.
٭ Take a small piece of fresh ginger and two small pieces of cinnamon, boil them in a cup of water, mix two spoons of honey with them, and drink it, or take 5 grams of dry ginger and five grams of cinnamon, grind them well and mix them with 50 grams of honey; taking one spoon of it in the morning and evening brings relief from asthma and whooping cough.
٭ In order to stop a hiccup of small children and suckling babies, mix ground dry ginger with pure honey and make them lick, it will benefit them. Rub dry ginger in a little water, then rub its abraded part on the forehead, migraine will go away. (Gharaylu 'Ilaj, pp. 49)
Method of making ginger tea
Drinking ginger tea is beneficial for cough and phlegm. Boil a small piece of fresh ginger in one cup of water properly after crushing it, and then add milk; tea dust can be added for flavour; however, do not add green tea at all, add sugar as per flavour. Drink and see the miracle of this blessing of Allah Almighty which is full of countless benefits.
Share
---