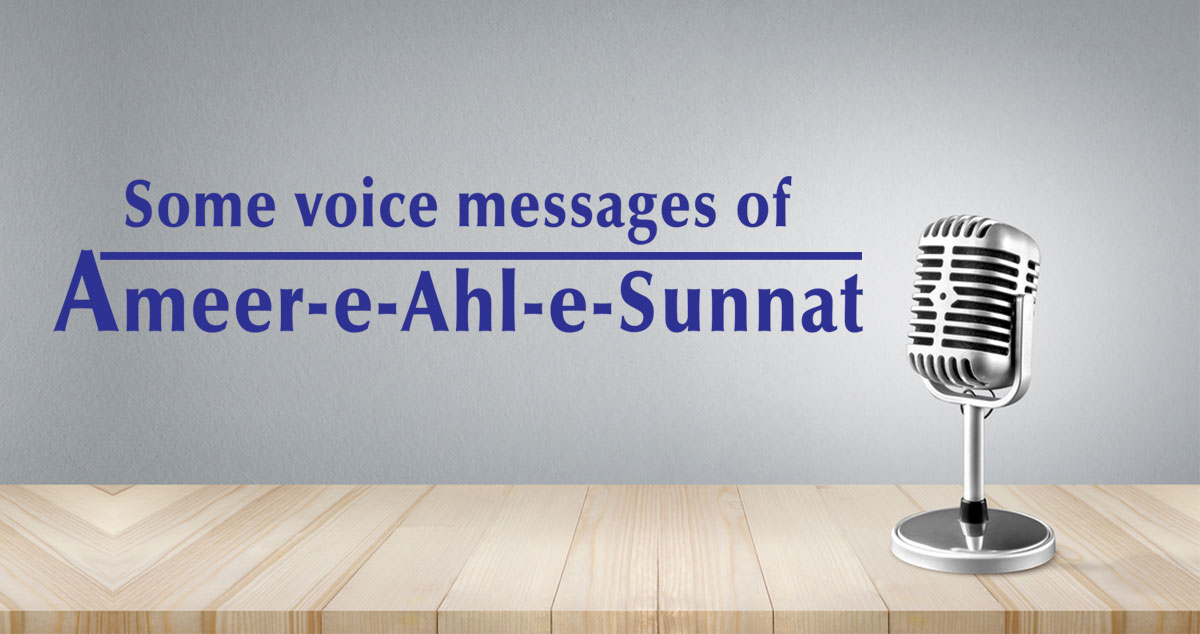 Congratulating and blessing with Du'as upon being appointed as a Qazi
نَحْمَدُہٗ وَنُصَلِّیْ وَ نُسَلِّمُ عَلٰی رَسُوْ لِہِ النَّبِیِّ الْکَرِیْم
From: Sag-e-Madinah, Muhammad Ilyas Attar Qaadiri Razavi عُفِیَ عَنهُ
To: 'Allamah Maulana Mufti Ishtiyaq Razavi Sahib, the one who has done favours and showed grace to me!
اَلسَّلَامُ عَلَیْکُمْ وَ رَحْمَۃُ اللّٰہِ وَ بَرَکَاتُہٗ
Muhammad Aslam Raza came to observe I'tikaf to the global Madani Markaz, Faizan-e-Madinah, Bab-ul-Madinah, Karachi from Delhi. He told me that مَـا شَــآءَ الـلّٰـه you have been appointed as the Qazi of Delhi. Marhaba! Many congratulations. It's been years since I have beheld you. Old memories have freshened up. May Allah Almighty increase your knowledge and (good) deeds as well and elevate your ranks. May He Almighty bestow on you the privilege of serving Maslak-e-A'la Hadrat abundantly. May He Almighty protect your Iman, life and forgive without accountability. May these Du'as be accepted in my favour and in favour of our households too.
I beseechingly need the Du'a of forgiveness without accountability.
صَلُّوْا عَلَی الْحَبِیْب! صَلَّی اللہُ تَعَالٰی عَلٰی مُحَمَّد
Responsive message of Mufti Ishtiyaq Razavi Sahib
Ameer-e-Ahl-e-Sunnat دَامَـتْ بَـرَكَـاتُـهُـمُ الْـعَـالِـيَـه is the founder of an organised and established global movement; and a leader who along with having spiritual wisdom, holds a propagational and guiding sight over more than one hundred of its departments. It is not easy to determine his busy commitments. However, to remember a worthless person like me and to send me an audio message is a clear proof that Ameer-e-Ahl-e-Sunnat دَامَـتْ بَـرَكَـاتُـهُـمُ الْـعَـالِـيَـه is the rightly deserving individual to lead the Muslim Ummah at the global level. Faqeer[1] Qaadiri not only acknowledges the reformative services of Ameer-e-Ahl-e-Sunnat, but also mentions it openly as per his ability and power. May Allah Almighty keep this great individual fragrant and a source of blessings for a long time, who has done great favours upon the Muslim Ummah, and may Allah Almighty also give the lifespans of worthless beings like us to this preacher of Islam.
اٰ مین بِجاہِ النّبیّ الْاُمّی الْامین المبعوث رحمۃ لّلعٰملین علیہ و علٰی اٰلہٖ و صحبہٖ افضل الصّلاۃ و اجمل التّحیۃ و اکمل التّسلیم
Advice to remain patient and perseverant upon robbery
نَحْمَدُہٗ وَنُصَلِّیْ وَ نُسَلِّمُ عَلٰی رَسُوْ لِہِ النَّبِیِّ الْکَرِیْم
From: Sag-e-Madinah, Muhammad Ilyas Attar Qaadiri Razavi عُفِیَ عَنهُ
To: Mumtaz Qaadiri, brother Mujahid, brother Rashid, Hafeez Qaadiri, Iqbal Attari (Madani Qafilah Zimmahdar at area level), brother Aabid, brother Zanbeer and brother Sajjad of Mauripur, Budhni Goth!
اَلسَّلَامُ عَلَیْکُمْ وَ رَحْمَۃُ اللّٰہِ وَ بَرَکَاتُہٗ
Haji Muhammad Ameen relayed an audio message of one Islamic brother. In this message, it was mentioned that the shops of eight Islamic brothers of Mauripur, Budhni Goth have been looted during the night time, i.e. the shops have been robbed. اَللّٰەُ اَکبَر! May Allah Almighty grant you a better alternative for it, grant you patience, grant you reward and save you from being impatient. Aameen!
Pluck up the courage and show patience اِنْ شَــآءَ الـلّٰـه عَزَّوَجَلَّ the theft of wealth will become an expiation of sins for you. In a way, this is also a point to pay gratitude to Allah Almighty, as a person came, robbed and left. What would have happened if Satan would have come, robbed our Iman (faith) and snatched it away from us! May Allah Almighty protect Iman of all of us. May Allah Almighty protect your and our lives, wealth and dignity. Aameen!
Remain perseverant and refrain from impatience; as impatience will not bring back the stolen wealth, rather, you will lose the reward. Moreover, at times, various sins such as slandering etc., are committed without any proof in such matters and much more happens. Therefore, whatever you do, it has to be done by staying within the boundaries of Shari'ah. May Allah Almighty bless you all with goodness. Remain perseverant. Make Du'as by travelling in a Madani Qafilah. It is possible that the thieves get caught and you receive your wealth back.
I beseechingly need the Du'a of forgiveness without accountability.
صَلُّوْا عَلَی الْحَبِیْب! صَلَّی اللہُ تَعَالٰی عَلٰی مُحَمَّد
---
[1] An expression of extreme humility
Share
---