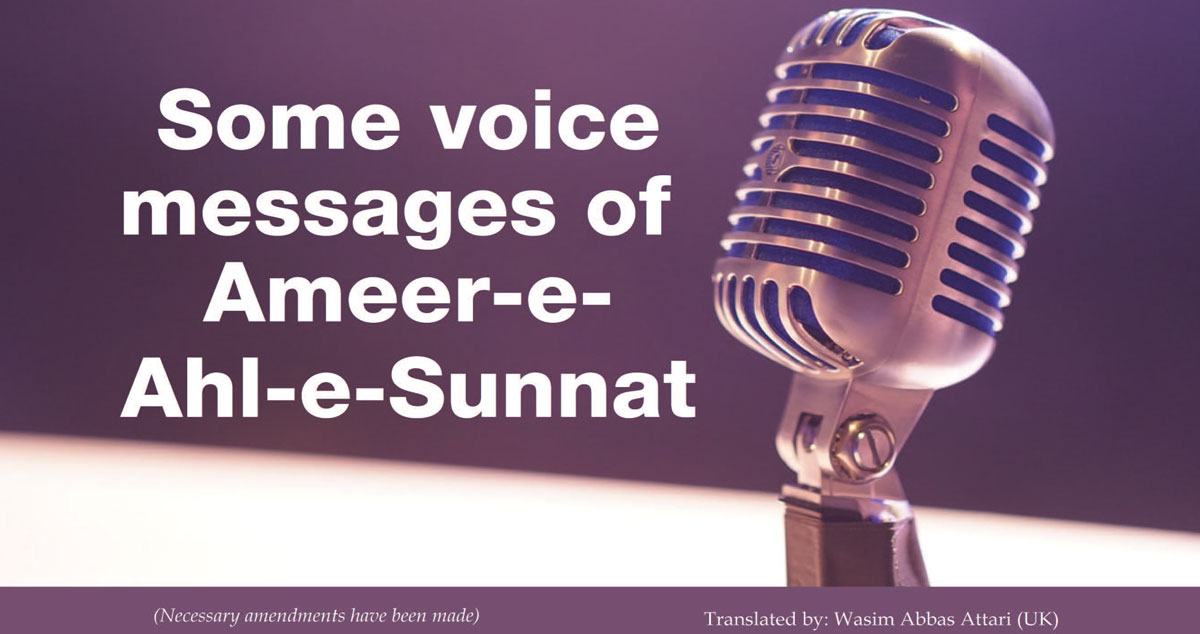 May I not forget the Kalimah at the time of my death
اَلْحَمْدُلِلّٰە! The title page of the monthly magazine 'Faizan-e-Madinah' also contains a Madani pearl of Shaykh-e-Tareeqat, Ameer-e-Ahl-e-Sunnat, 'Allamah Maulana Muhammad Ilyas Attar Qaadiri دَامَتْ بَرَكَاتُـهُمُ الْعَالِيَـه.
In December 2018, when the responsible Madani Islamic brother of the monthly magazine Faizan-e-Madinah requested to have Ameer-e-Ahl-e-Sunnat's attention drawn towards the Jumadal Aula 1440 AH edition of the monthly magazine Faizan-e-Madinah, then he دَامَتْ بَرَكَاتُـهُمُ الْعَالِيَـه also mentioned the following while giving him a reply that was filled with humility, fear of Allah Almighty and contemplation of the Hereafter:
نَحْمَدُہٗ وَنُصَلِّیْ وَ نُسَلِّمُ عَلٰی رَسُوْ لِہِ النَّبِیِّ الْکَرِیْم
اَلسَّلَامُ عَلَیْکُمْ وَ رَحْمَۃُ اللّٰہِ وَ بَرَکَاتُہٗ
Bakhsh bay-poochhay lajaye ko lajana kya hay
I had forgotten! Ah! Ah! Ah! May Allah Almighty shower His mercy upon me. May I not forget the Kalimah at the time of my death. May I remember the Kalimah. May I not forget to recognise the Holy Prophet صَلَّى اللّٰەُ عَلَيْهِ وَاٰلِهٖ وَسَلَّم in the grave. May I remember that he صَلَّى اللّٰەُ عَلَيْهِ وَاٰلِهٖ وَسَلَّم is my Master. In order to take my Book of Deeds on the Day of Judgement, may I not unintentionally draw forward my left hand. May Allah Almighty enable me to draw my right hand forward only. May I just be blessed for the sake of the Beloved Prophet صَلَّى اللّٰەُ عَلَيْهِ وَاٰلِهٖ وَسَلَّم. However, the matter of the old age is in front of you. Keep supplicating for wellbeing. Keep supplicating for the protection of Iman.
Encouraging upon participating in the Madani Muzakarah despite facing an accident
نَحْمَدُہٗ وَنُصَلِّیْ وَ نُسَلِّمُ عَلٰی رَسُوْ لِہِ النَّبِیِّ الْکَرِیْم
From: Sag-e-Madinah Muhammad Ilyas Attar Qaadiri Razavi عُفِیَ عَنْهُ
To: Akhtar Attari, Shahzad Attari, Amir Attari and Ishaq Attari
اَلسَّلَامُ عَلَیْکُمْ وَ رَحْمَۃُ اللّٰہِ وَ بَرَکَاتُہٗ
Haji Farooq Jeelani informed me that you were coming to the global Madani Markaz, Faizan-e-Madinah, Bab-ul-Madinah, Karachi from Sanghar (Bab-ul-Islam, Sindh) to participate in the Madani Muzakarah. On the way, you faced an accident. He also mentioned the state of the accident. اَلْحَمْدُلِلّٰە, no casualties took place and you came to the Madani Muzakarah in Bab-ul-Madinah Karachi using another car. You were grieved, suffered hardship and the car was damaged as well. May Allah Almighty grant you a better alternative for this and also bless you with patience and reward. Aameen
You see, your life was saved. It was such a dangerous accident that the car was smashed into the wind screen of the truck. Now to pay gratitude over it, you should travel in a Madani Qafilah. Moreover, if possible, all four of you should collectively build a Masjid too. اِنْ شَـآءَ اللّٰە, it will be a Sadaqah-e-Jariyah [continuous reward] for you. May Allah Almighty give you the courage.
Please make Du'a of my forgiveness without accountability.
صَلُّوا عَلَی الْحَبِیْب! صَلَّی اللہُ تَعَالٰی عَلٰی مُحَمَّد
Share
---