2.0 Million+
Total Download
Prayer Times
Prayer (Namaz) is the second pillar of Islam and the most significant act of worship which has to be performed by every sane male and female Muslim five times a day. Keeping in mind the importance of this supreme act of worship and to make Muslim Ummah aware about the timings of each Prayer (Salah) the Tauqeet and I.T department of Dawat-e-Islami have put in all their efforts and with the grace of Allah عَزَّ وَجَلَّ has launched the Prayer Times mobile application. This Namaz app is based on the research of Ala Hazrat Maulana Al-Shah Imam Ahmad Raza Khan رَحْمَۃُ اللہِ تَعَالٰی عَلَیْہ. Moreover, the app has been designed beautifully with an eye-catching UI.

Prayer Timetable
With the option of "Month Times" you can view the prayer timings of whole month and can schedule your daily life routine accordingly.

Jama'at Silent Mode
Manually set the Jama'at timings of the Masjid where you often perform your Prayer & your phone will automatically go on silent mode in those particular timings.

Qibla Direction
Just tap on the "Qibla Direction" and enable the location access so the Qibla finder app can find your location and Qibla direction will be displayed.

Qaza Namaz
By having this feature, you will be updated about your Qaza namaz. It will also allow you to save your data to google drive too. It will maintain your Namaz records.

Tasbih Counter
It is a wonderful feature and easy to use. It has a simple and friendly interface. Have a perfect tasbih experience. By using this feature, you can count your tasbihaat.

Share
User can share the app link through Facebook, Twitter, Whatsapp and different social media platforms.

Calendar
You can go to your desired date in both calendars i.e. Gregorian and Lunar. You can select any calendar type and find prayer timings accordingly.

News Feed
In this feature, you can see posts related to the commandments of Prayer and you will receive a notification whenever a new post is added.

Different Jurisprudence
Users can see the two Juristic timings of Prayer i.e. Hanafi and Shafai. So, if your Hanafi or Shafi there is a separate list of prayers for both jurisprudence.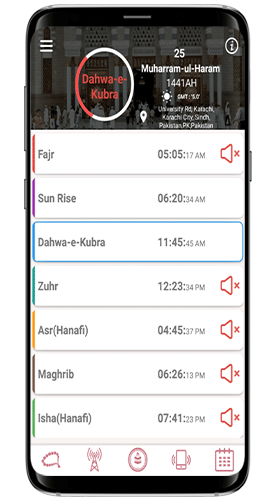 Prayer Timings Alert:
With this Salah Time app, you will get the alerts of starting and ending times of each Prayer.
• Starting Time: Whenever the time of any prayer starts you will get the alert in the form of an alarm and that alarm is the sweet voice of Azan.
• Ending Time: When the time of any Prayer is about to end, you will also be reminded that in the form of a notification.
Location:
Location can be updated by the following methods:
Namaz time app will automatically update your current location through GPS.
User can manually set the location as well by adding the longitude and latitude of the location.
You can also make any location as favorite and use it again even without an internet connection.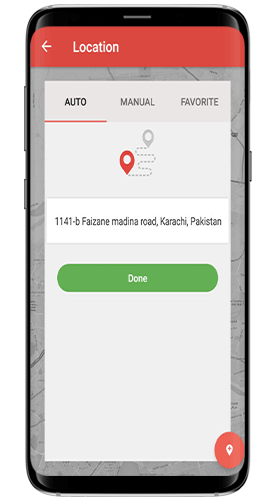 Contact us : For any queries related to the Prayer times application, contact with Majalis Tauqeet through application.
Copyright © by I.T Department of Dawat-e-Islami.