Sirat ul Jinan Al-Quran with Tafseer
Sirat ul Jinan Al-Quran with Tafseer
The last of all revelations and the word of Allah Quran Majeed and to attain the knowledge of this sacred book is obligatory upon every sane male and female Muslim. All the books that have revealed before have been altered but the Holy Quran is in its pure form since the day of its revelation which is a miracle itself. Being a Muslim, it is our duty to recite this holy book as much as we can and to make it easy for us the I.T department of Dawat-e-Islami has introduced a Quran app named as" Al-Quran with Tafseer (explanation)" for android users. In this app with the recitation of Quran, you can enlight your heart with the Translations (Quran Tarjuma) and Interpretation (Tafsir al Quran) of Quran as well. It is a brilliant Quran android app with an eye-catching user interface.

Multiple Translations:
This app has two translations of The Holy Quran and both are beautifully described and easy to understand.
Kanz-ul-Iman
Kanz-ul-Irfan

Interpretation:
Mufti Muhammad Qasim Attari has written this interpretation of The Holy Quran with the name of "Sirat ul Jinan".

Elegant Recitations:
With this app, you will be able to listen to the recitation of The Holy Quran in four elegant and attractive voices.

Introduction Of Each Surah:
Whenever you want to recite any particular Surah of The Holy Quran this app will tell you the benefits and complete introduction of that Surah as well.

Go To Option:
By entering the number of any verse or surah in the "Go To Option" you can directly go on that particular verse or surah.

Bookmark:
You can bookmark anything and rename it with the name of your choice. You can share any bookmark through Social Media and can also save it in Google Drive.

Screen Rotation:
With this app, you can adjust the screen display as you want so that you can read or listen anything in your comfort zone.

Menu In Different Languages:
The menu of the application can be used in multiple languages so that you can understand each feature take benefit from it.

Share:
Share the app link through Facebook, Twitter, Skype and other social media platforms.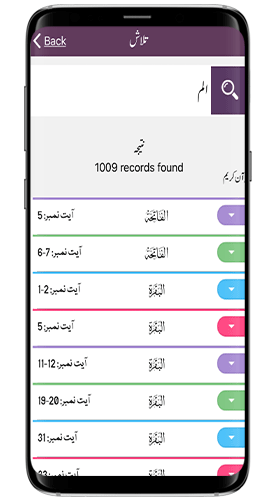 Advanced Searching Options:
When you want to search for anything in The Holy Quran you have to write it in Arabic and in Translations and Interpretation, you have to write in Urdu. You can search for anything by selecting any one category i.e.
By Quran
By Translation
By Interpretation
Last Reading Point:
A very unique feature which will enable you to continue your recitation from the last reading point. Now you don't have to worry about your lessons or how many chapters you have finished just click on "Last Reading Point" option and continue from where you left.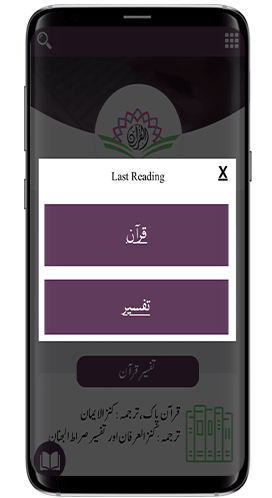 Use this fabulous app yourself and persuade others to make the most of it. You can share your valuable suggestions and feedback at support@dawateislami.net.
Copyright © by I.T Department of Dawat-e-Islami.