Donate to Dawateislami
Dawat-e-Islami is a non-political global movement solely working for the propagation of Islam in more than 107 walks of life. To work on such a large scale we need your donations so that we can continue reviving the Islamic teachings across the globe. So, donate money whole-heartedly in the form of Zakat, Sadaqah, Fitra and Nafl donation and to facilitate our donors the I.T department of Dawat-e-Islami has developed a donation app so that you can send your money in this charity collection from any corner of the globe. Download the app now and Donate to Dawat-e-Islami.

Easy Registration:
You can sign-in on this app very easily just put your email address and password and rejoice the facility of submitting your donation online.

Payment Integration:
In app browser for Payment integration. With an Integrated payment process you can donate with your Credit Card, Debit Card or using any e-commerce payment system.

Notification via Email:
Whenever you donate Zakat, Sadqah or any Nafl donation you will be notified with a confirmation email for a successful transaction.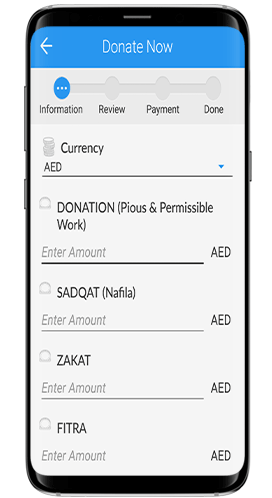 Donate Now:
With this option, you can donate your Zakat Fitrah, Sadaqah and Nafl donation instantly online by sitting at home. Not only this, but you will also be notified with a text for a successful transaction.
Bank Deposits:
We have several bank accounts for different kinds of donations like zakat, fitra, sadaqah, and nafl donation so just select the account as per your donation category.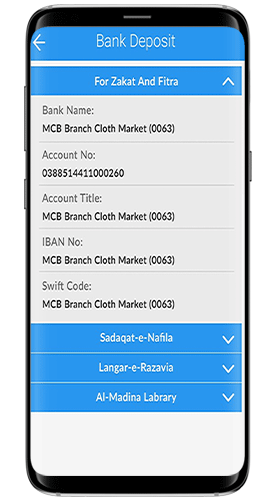 Use this fabulous app yourself and persuade others to make the most of it. You can share your valuable suggestions and feedback at support@dawateislami.net.
Copyright © by I.T Department of Dawat-e-Islami.