Faizan e Hadees
Faizan e Hadees
Indeed, Allah Almighty is the Most Bountiful. He sent his last messenger Prophet Muhammad Mustafa ﷺ about 1400 years back for the guidance of all humanity to come until Qayamah, the Judgement day. Therefore, the treasure of guidance is available to everyone in the form of Prophet Muhammad ﷺ and by following in his footsteps one can never go astray. The best sources one can use after the Quran Sharif are the sayings of the Beloved Prophet ﷺ called Hadees e Nabvi and his Sunnah. The I.T. Department of DawateIslami is proud to launch the amazing app "Faizan e Hadees". The app is an exclusive collection of Hadiths with thousands of Hadees Sharif in Arabic with their Urdu translations and tashree (explanation). The app is user-friendly with an attractive interface. So, download now!
Features:
Hadees Jilds (Volumes)
This app has a collection of Hadees compiled in jilds or volumes, making hundreds of Islamic Hadees available for the user.
Hadees Book Categories
The Faizan e Hadees app has Hadith collection categorized by topics so that you can easily choose to read Hadees about any particular topic.
Arabic Text
The hadith are written in Arabic text so that users can read the actual Hadees as they were stated by the beloved Prophet Muhammad ﷺ.
Aerab Option
There is an Aerab (and without aerab) option in this app which allows readers to easily read the Hadees in Arabic text with proper pronunciation.
Advanced Search
With the advanced search option, you can search any Hadees in Urdu or Arabic in the huge collection by typing in relevant words.
Hadees List
The hadees list option makes it easy for you to go through the entire collection of hadith books published on this app..
Font Size & Color
With the help of font size and color settings users can adjust the text font and color according to their personal preferences.
Share
You can share the Islamic app with your loved ones by using the sharing feature. You may share it on social media as including WhatsApp, Twitter, Facebook, etc.
Screenshots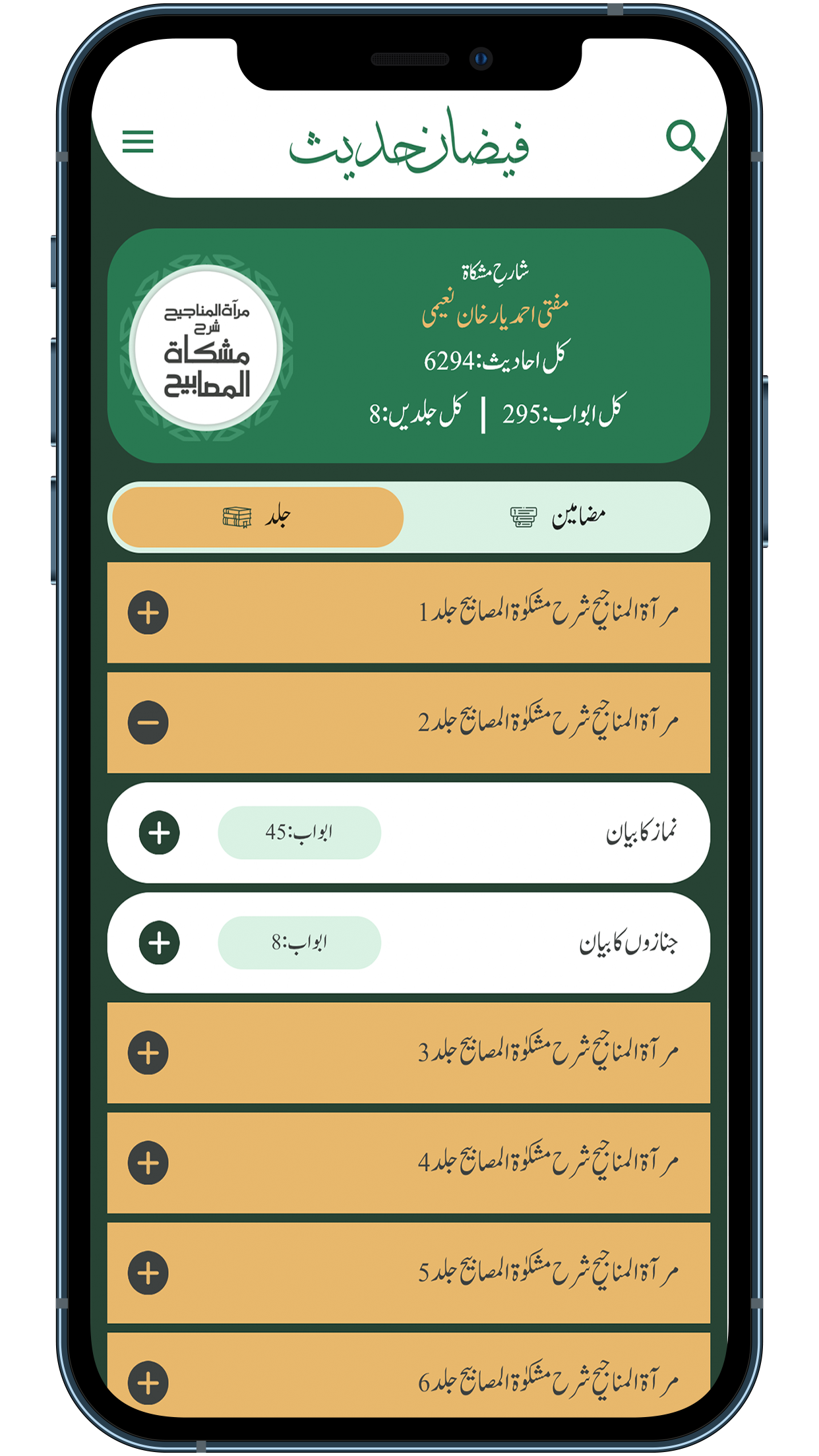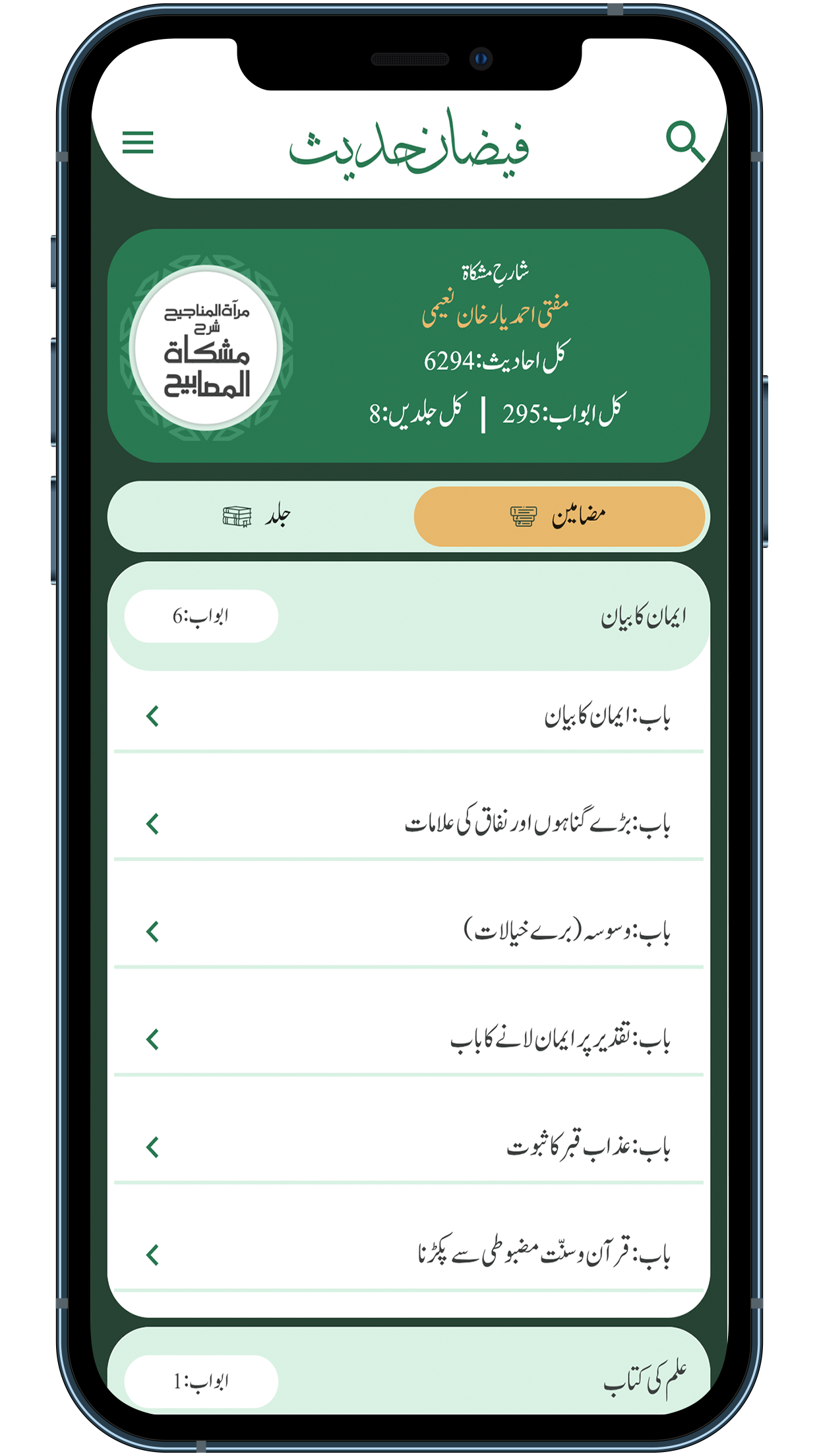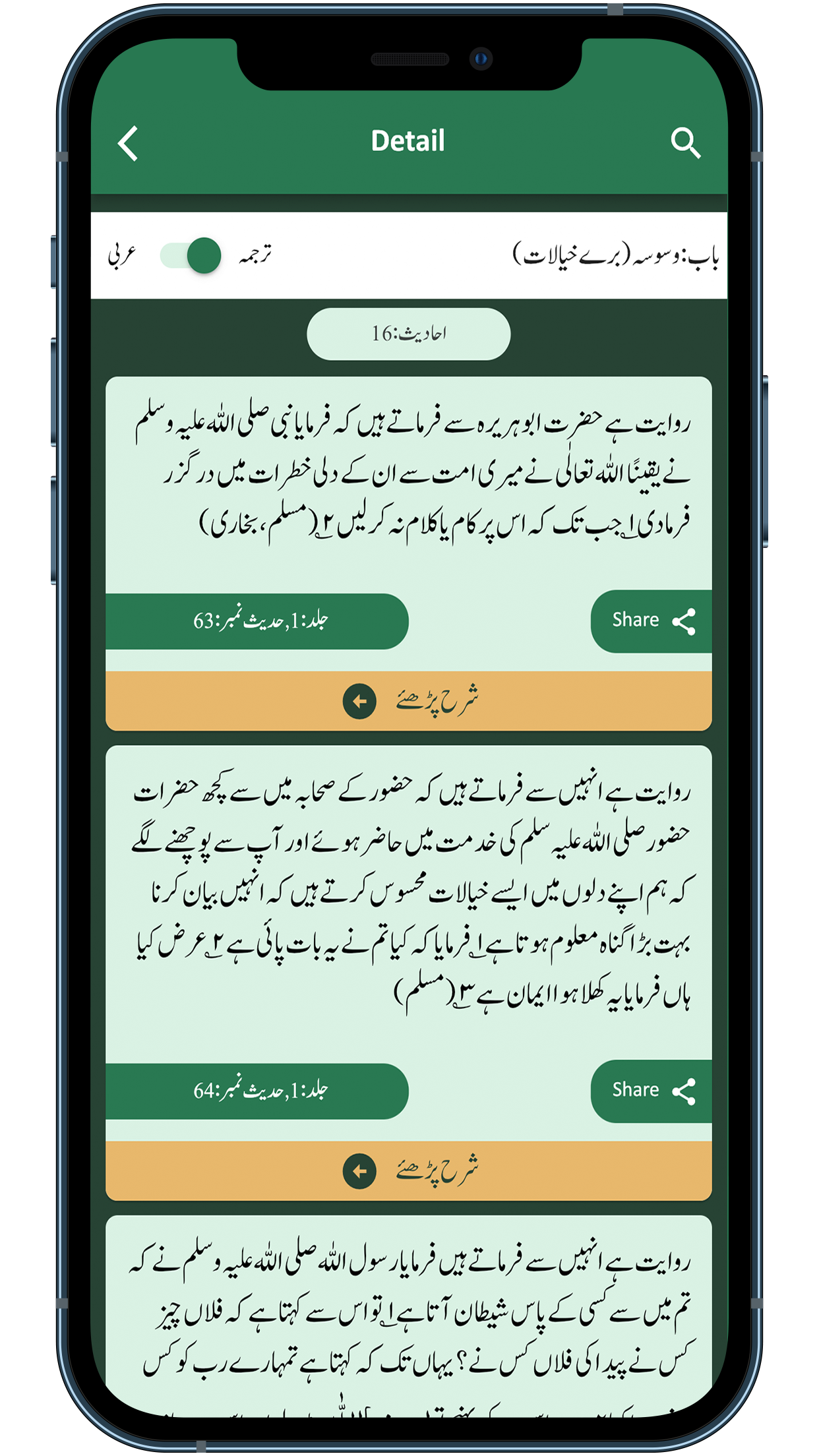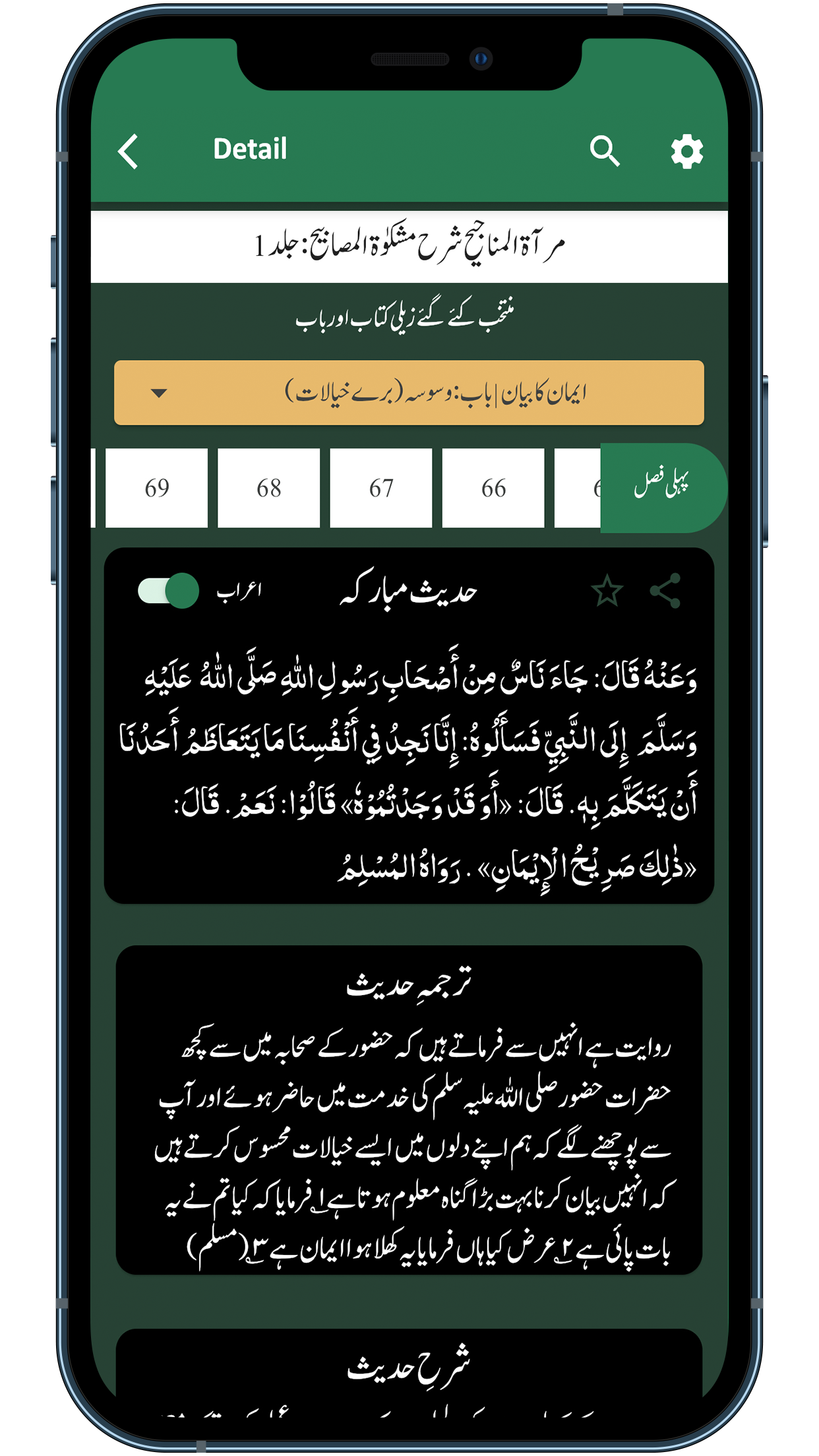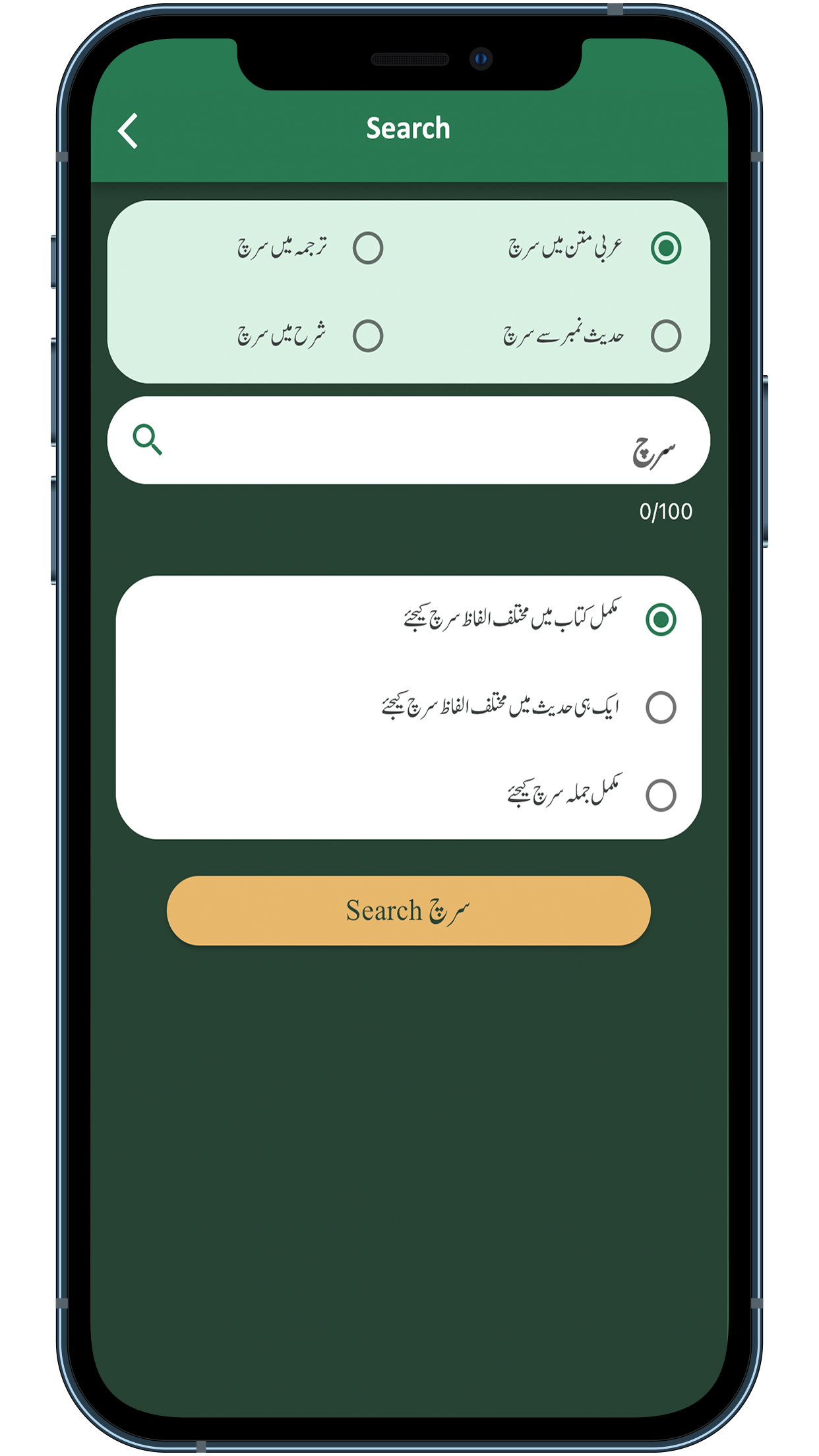 Copyright © by I.T Department of Dawat-e-Islami.