Naat Collection
Dawateislami is an Islamic organization, and undoubtedly it is a nonprofit organization. It propagates the teachings of Islam to every part of the globe by making use of modern technology rightfully. Similarly, Naat Collection is one of the useful applications developed by our I.T. department. Most of the famous naats have been added and we have made them more comprehensible for your listening. You can listen to audio naat by using naat mp3 feature. For your listening, hamd, kalam, munajat, and manqabat have been added. Furthermore, some naat videos are also available. By downloading this application, Muslims across the entire world can mesmerize their heart by listening to their favorite Naats and Kalam.

Search Naat
This amazing feature will let you find any naat by just typing your desired word or just typing the initial letters of a particular naat.

Share
Certainly, you can share any naat and kalam with others by using this amazing feature and let others know what you read.

My Collection
This feature lets you organize your favorite kalam and naats into a single folder, and then you can listen to them instantly.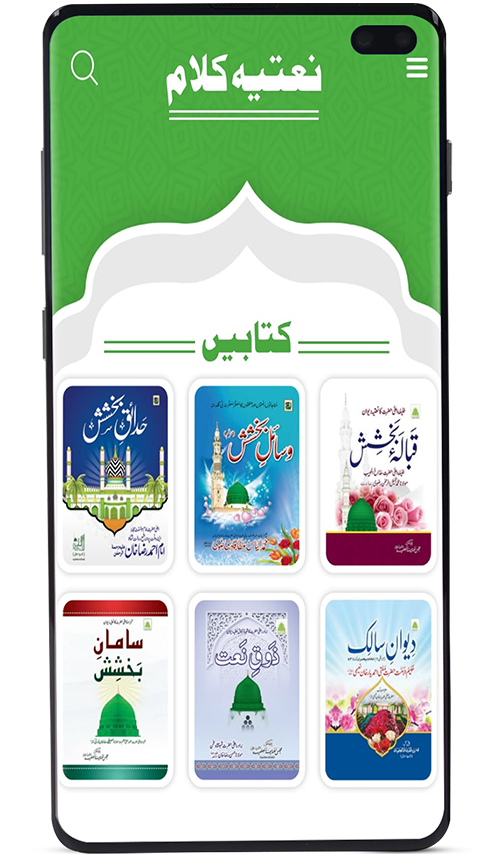 Naat Books
This application has Naat Shareef, kalam and manqabats from the most famous books of the world's best religious Sunni scholars. We recommend you to read them all and enhance your knowledge. However, you may read them online as they all are written with standard font size.
Naat Mp3 & Naat Video
This application allows you to watch videos while listening, as it has both audio and video kalams and naats format. We make sure that the videos run in high quality and play smoothly. By using this application, listen mp3 naat and watch naat videos.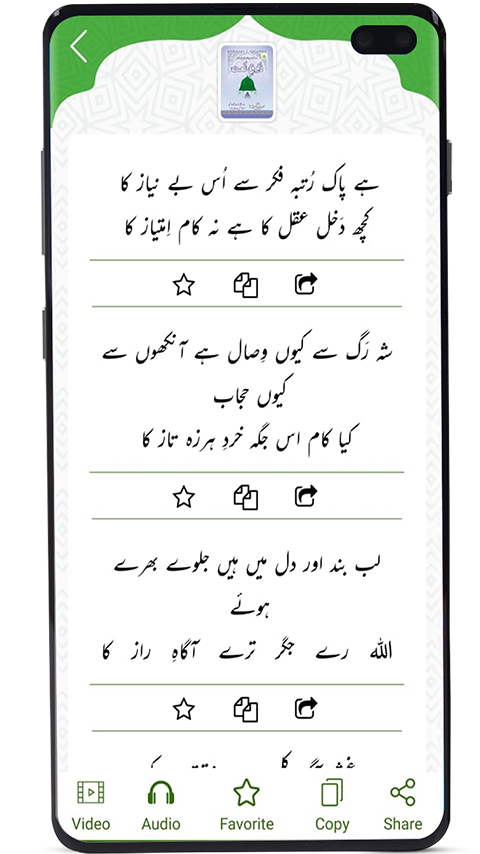 If you have any better suggestions, please let us know.
Copyright © by I.T Department of Dawat-e-Islami.