Prayer Timings : Auqat us Salat
Prayer Timings : Auqat us Salat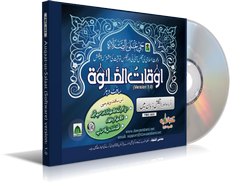 About Auqat-Us-Salat
The IT Majlis & Tauqeet Majlis of Dawat-e-Islami have collectively developed this software for windows users.
With the blessings of Allah عَزَّوَجَلَّ, the IT Majlis and Tauqeet Majlis of Dawat-e-Islami, a global non-political movement for the preaching of Holy Quran and Sacred Sunnah have collectively developed this glorious software. This software has an award of supporting more than 2.6 million different locations around the globe, where you can find not only prayer timings but also Qiblah direction as well. Furthermore it is important to note that software has been designed on the basis of the research of A'la Hazrat Maulana Shah Imam Ahmed Raza Khan رَحْمَۃُ اللہِ تَعَالٰی عَلَیْہِ. Besides it also contains information about Sehr and Iftar timings accompanied by sacred Islamic days. This fascinating software will take over your heart.
Use this software and let other Muslim brothers know about this. Your feedback at support@dawateislami.net will be highly appreciated.
Copyright © by I.T Department of Dawat-e-Islami.