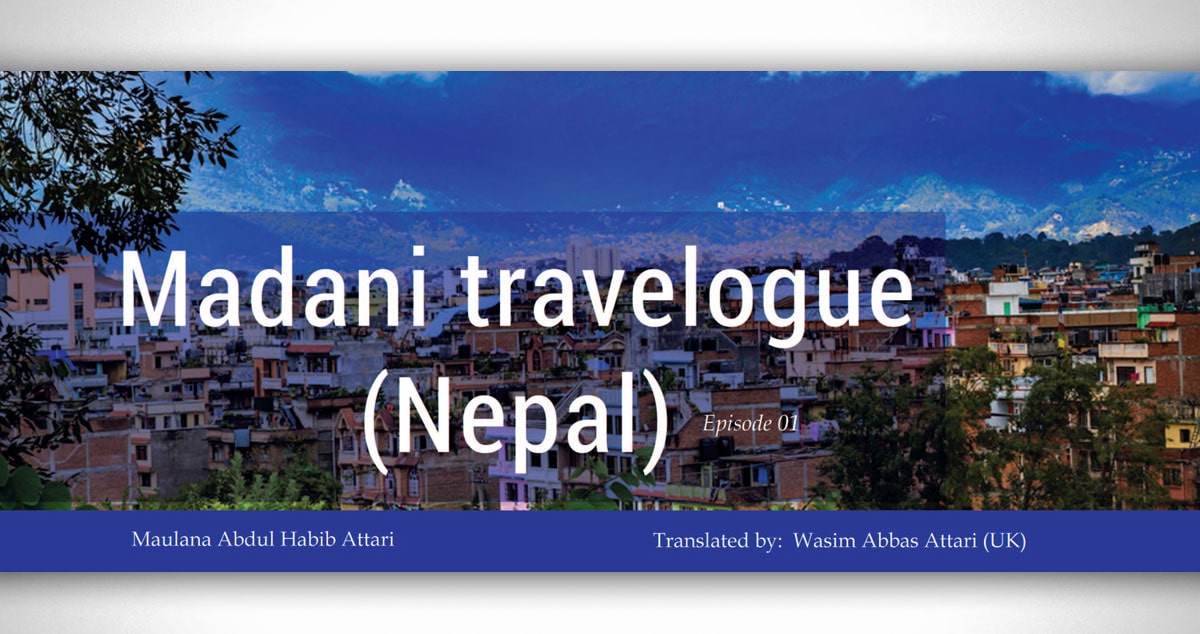 Leaving for Nepal from Baghdad
After attending the 'Uloom-ul-Quran Conference, in order to leave for Nepal from Baghdad, we first had to go to Dubai and then from there to Nepal. Those who have Pakistani passport do not have to get Nepal's visa from Pakistan, in fact, they can get it on arrival by reaching Nepal. However, it is not necessary that the staff at every airport of the world are aware of this fact. I faced somewhat similar kind of situation at Baghdad airport. I eventually attained my boarding pass by showing the stamp on my passport of my previous visit to Nepal.
There is also a lesson in it for the readers of the monthly magazine "Faizan-e-Madinah" that if you are travelling to any such country from abroad on Pakistani passport where you get visa on arrival, then make relevant arrangements from beforehand.
Benefits of travelling
Anyhow, travel is, in fact, the name of learning. Despite traveling frequently, I am still learning and experiencing new things whenever I travel. If you want to develop self-confidence, be broadminded and understand the nature of different people of the world, then travel. Somebody has beautifully said, 'Travel is the means of success'. What can be said about travelling with the Madani Qafilahs of Dawat-e-Islami. By the virtue of travelling with them, you not only learn religious knowledge but also attain worldly benefits too.
Seekhnay Sunnatayn Qafilay mayn chalo
Lootnay rahmatayn Qafilay mayn chalo
To learn Sunnahs, travel with Madani Qafilah
To reap blessings, travel with Madani Qafilah
Short stay in Dubai
Upon my request, I was given a seat in the plane which had two empty seats next to it. This way, اَلْحَمْدُلِلّٰە I was able to have some rest on the way. The flight left Baghdad at 7:30 pm and reached Dubai at 11:30 pm. I had a visa for Dubai, hence, I came out of the airport where many Islamic brothers were waiting for me. An Islamic brother who trades in fish had prepared the Niyaz of fish for all the Islamic brothers. Islamic brothers ate food collectively. Then, we met all the Islamic brothers.
Upon the request of the Islamic brothers of Bangladesh, I recorded a message regarding the Bangladesh Ijtima' that was to take place in Dhaka on 6th, 7th and 8th March 2019. We then held Madani Mashwarah with the Islamic brothers of UAE. By the time we got free from there, it was 2:30 am. Thereafter, I left for the hotel where I had already booked a room.
I got a chance to go to sleep at around 3:00 am. In order to wake up for Fajr Salah, I set an alarm on my mobile as well as instructed the hotel counter to wake me up at such and such time. This is known as the wakeup call. I woke up at 6:30 am and offered Fajr Salah. Thereafter, I had a little more rest and reached Dubai airport at around 8 am.
Generally, airports are built outside the city but Dubai airport is situated in the middle of the city. Karachi airport was also initially outside the city, but the reason because Karachi has expanded so much, now it seems as if the airport is in the middle of the city.
Leaving for Kathmandu from Dubai
The flight for Kathmandu from Dubai left at around 9:30 pm. After a little while, the pilot announced that the wind is also blowing in the same direction as we are travelling in. Therefore, our journey that would have initially taken four hours would now take three hours and twenty minutes. A very tough schedule was to be followed in Nepal, therefore, I decided to have some rest on the way.
Time zone differences between Nepal, Pakistan, UAE, Madinah and Baghdad
The time zone difference of Nepal from Pakistan is 45 minutes, from UAE is 1 hour and 45 minutes, and from Madinah and Baghdad is 2 hours and 45 minutes. For example, at 2:45 pm in Nepal, it will be 2 pm in Pakistan, 1 pm in UAE and 12 pm in Madinah Munawwarah and Baghdad.
A little while before reaching Kathmandu, the pilot announced that if you look at your right, you will be able to see the world's largest mountain, The Mount Everest. I also witnessed it and became stunned. Looking at such wonders makes you realise the majesty of Allah Almighty even more. What great majesty my Lord Almighty possesses Who has created such large mountains.
Reminder of death
Kathmandu airport is among the most dangerous airports of the world in terms of landing the aeroplane. Few years ago, a Pakistani aeroplane crashed into mountains before landing at Kathmandu airport. Whenever a person travels, he should repent from his sins. May Allah Almighty save us all. Aameen
Kathmandu to Nepal Ganj
By the time we came out of Kathmandu airport, it was 5 pm local time. Now, we were to take a flight to Nepal Ganj from the domestic airport of Kathmandu. Over here, Muballigh of Dawat-e-Islami, Sajid Attari, also accompanied me who lives in Kathmandu.
After reaching the domestic airport, we obtained our boarding passes and offered 'Asr Salah. The flight to Nepal Ganj was due to take off at 6 pm but eventually took off after 8:30 pm. We reached Nepal Ganj in approximately 40 minutes.
Participating in the Madani activities in Nepal Ganj
After reaching Nepal Ganj, we first went to an Islamic brother's house. We took a shower there, changed our clothes and went to Jami'a-tul-Madinah Faizan-e-'Attar. Over there, Nigran-e-Shura Maulana 'Imran 'Attari was delivering a Sunnah-inspiring speech.
After his speech, the convocation ceremony of 57 Madani Islamic brothers who completed Dars-e-Nizami course (scholar course) from the Jami'a-tul-Madinah of India and Nepal took place. As per the schedule, Nigran-e-Shura was due to meet the Islamic brothers and then carry a Madani Mashwarah of Hind Mushawarat after the convocation ceremony.
While Nigran-e-Shura was meeting Islamic brothers, I had a rest for around two hours and then joined the Madani Mashwarah of Hind Mushawarat which carried on almost until the Fajr Azan. In this Madani Mashwarah, Nigran-e-Shura blessed the responsible Islamic brothers with the Madani pearls regarding increasing the Madani work in India.
After Fajr Salah, there was a break for rest. After Zuhr, I had the privilege of delivering a speech among the responsible Islamic brothers of India in the Tarbiyyati Ijtima'. Then until 'Asr Salah, question and answer session also took place. During this session, the importance of Madani donations and methods of collecting Madani donations were discussed. After 'Asr Salah, a Madani Mashwarah of the teachers and Nazimeen of Madrasa-tul-Madinah Online was conducted. In this Madani Mashwarah, a mindset was given to the Islamic brothers to teach the Holy Quran with kindness and affection, and bring the learners close to the Madani environment of Dawat-e-Islami because the learners just hear the voice, they cannot see the teacher.
After Maghrib Salah, I was privileged to hold a Madani Mashwarah with the Islamic brothers of Majlis-e-Ijarah Hind. Mufti Sajjad Madani also blessed the Islamic brothers of Majlis-e-Ijarah with the Madani pearls of Tarbiyyah.
To be continued in the next month issue…
Share
---