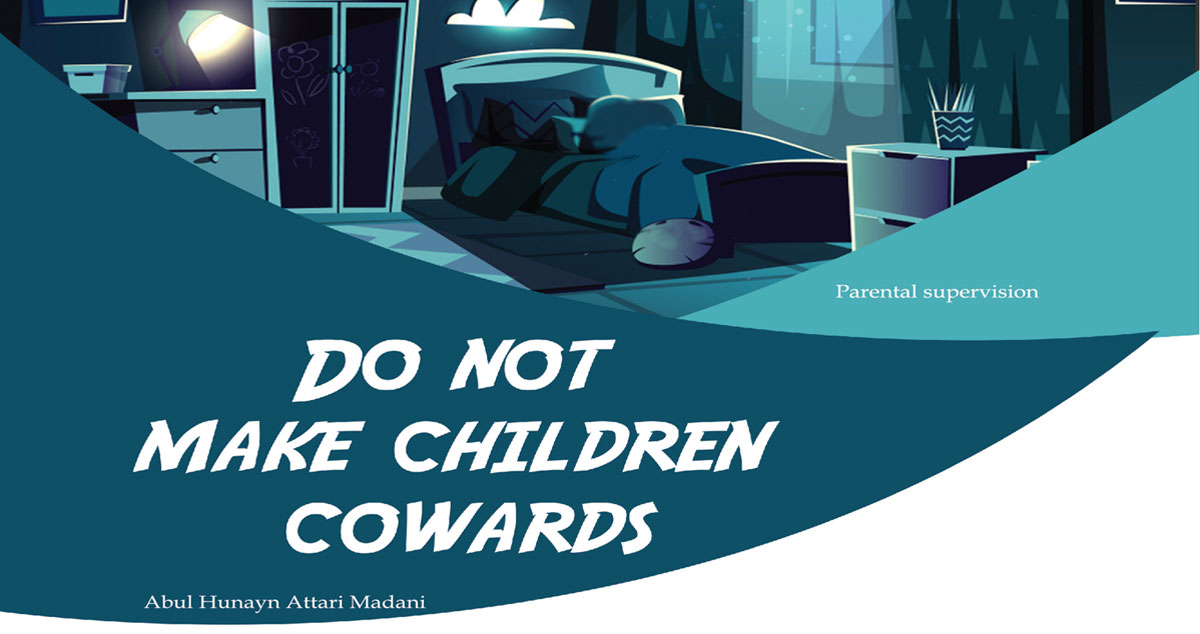 Girl scared of cotton
An Islamic brother states that my daughter, Fatimah 'Attariyyah, was scared with cotton by her mom at the age of around two years. Whenever she wanted her daughter to obey her, she would stand in front of her with cotton in her hand. The consequence we faced for it was that despite making efforts, we still could not remove the fear of cotton from her heart whereas she is six years old now. Her brother, who is two years younger than her, also scares her off from cotton. Once, our Madani daughter got injured. Due to this, we needed to get her bandaged. As soon as she saw cotton, she started screaming. Only we know how difficult it was for us to get her bandaged.
Do not let unnecessary fear develop in children
Due to being deprived of the religious and worldly knowledge or being unaware of how to bring children up, some parents keep scaring their children off on every little matter. For example, when children don't eat, study, or refrain from being naughty, then they try to scare them off from ghosts, witches etc., and try to make them obey.
Dear parents! Children becoming coward is detrimental for their personality. If fear for something develops in their hearts once, then it will become very difficult to get rid of it.
Harmful effects of the fear among children
Fear harms a person internally the way termite harms the wood. The kids who are coward always lack confidence. They do not like taking up any responsibility due to the fear of failure. They fall prey to inferiority complex and can never become an exemplary personality. Unnecessary fear stops children from progressing or succeeding in various matters and affairs of their lives. For example:
٭ Being reluctant to come in front of the guests in case something happens and they have to face the scolding of their parents.
٭ Not being able to speak to a person whom they are not familiar with.
٭ Not being able to read out the lesson despite knowing it due to the fear of making a mistake.
٭ Being scared of taking something out of the fridge or picking a glass utensil due to the fear of breaking it.
٭ To the extent that fearing to mention their problems, hardships and worries they face, in front of their parents.
In short, those in whose psyche the element of fear is embedded since their childhood, they unconsciously remain in this state even when they grow up and feel difficulty in spending a successful life.
Develop the fear of Allah Almighty
Develop the fear of Allah Almighty in your children. Embed the love of Paradise and fear of Hell in their hearts. In this relation, relay those narrations to children according to their intellect in which the rewards of Paradise and punishments of Hell are mentioned. Moreover, teach them that if we obey Allah Almighty and His Beloved Rasool صَلَّى اللّٰہُ تَعَالٰى عَلَيْهِ وَاٰلِهٖ وَسَلَّم, then we will attain Paradise. And if we spend our lives in disobeying Allah Almighty, then the punishment of Hell will await us. Sayyiduna Anas رَضِىَ اللّٰہُ تَعَالٰی عَنْهُ said to his son, 'Son! Refrain from being Saflah [سفلہ].' He humbly asked, 'Who is Saflah?' He رَضِىَ اللّٰہُ تَعَالٰی عَنْهُ replied, 'The one who does not fear Allah Almighty.' (Shu'ab-ul-Iman, vol. 1, pp. 480, Raqm 771)
May Allah Almighty enable us to develop His fear in our and our children's hearts!
اٰمِيۡن بِجَاهِ النَّبِيِّ الۡاَمِيۡن صَلَّى اللّٰهُ تَعَالٰى عَلَيۡهِ وَاٰلِهٖ وَسَلَّم
Share
---