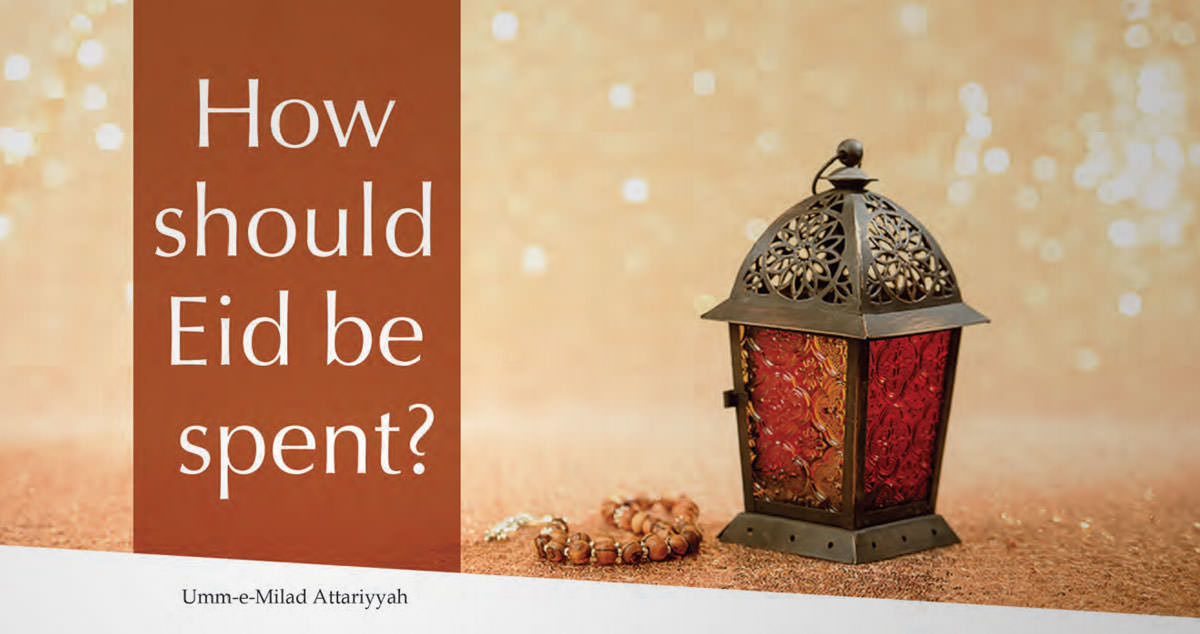 It is a great favour of Allah Almighty that He has granted us the blessing of Eid-ul-Fitr after blessed Ramadan. Many virtues of the blissful Eid have been mentioned in blessed Ahadees. The Beloved Prophet صَلَّى اللّٰهُ عَلَيْهِ وَاٰلِهٖ وَسَلَّم has said, 'When the morning comes on the day of Eid, Allah Almighty sends angels who descend on earth and stand on the sidewalks and calls out which every creation hears except for Humans and Jinns. They say, 'O Ummah of Muhammad صَلَّى اللّٰهُ عَلَيْهِ وَاٰلِهٖ وَسَلَّم! Come towards your Merciful Rab. He will give you a lot and will forgive your major sins.' When people have come to the Eid Gah (the place where congregational Eid Salah is offered), Allah Almighty says to angels, 'O My angels! What is the remuneration for the labourer when he completes his work?' Angels humbly say, 'O our Lord! His remuneration is that he should be fully paid.' Allah عَزَّوَجَلَّ says, 'O My angels! I make you witness that I have made My pleasure and forgiveness a reward for their (acts of) fasting and worshipping in Ramadan.'  (Akhbar-e-Makkah lil-Fakihi, vol. 2, pp. 316, Hadees 1575; summarised)
Dear Islamic sisters! We should show deep gratitude towards Allah Almighty for this blessing bestowed on us. There may be various ways of showing gratitude. For example, we can perform Sajdah-e-Shukr [1] (Sajdah for gratitude), use our body parts for virtuous deeds and spend this day obeying Allah عَزَّوَجَلَّ instead of spending it heedlessly. We can offer five Salahs on time, offer Nawafil of gratitude and can also show gratitude by using our tongue i.e. we can praise Allah عَزَّوَجَلَّ.
Help the poor
On this occasion, do remember the poor and the needy in your Zakah and Sadaqaat. Help them in any way that is possible. If Allah عَزَّوَجَلَّ gives you more Taufeeq, you can also give a donation to Madani donations of Dawat-e-Islami.
Spread happiness
Wish a happy Eid to your relatives and friends with the intention of pleasing Muslims. If there is a strained relationship between you and someone, Allah forbid, so taking advantage of the festival of Eid make contact with them, wish them a happy Eid and take a step to achieve reconciliation with them to please Allah Almighty.
Celebrate Eid, but …?
Eid is a religious festival of Muslims. Celebrate it as much as possible, but do not wear such clothes, and nor let your children (girls) wear such clothes about which there is a fear that they may show body parts. Avoid wearing the jewellery prohibited by Shari'ah such as (in some cases) the jewellery that contains tinkling bells because according to a blessed Hadees, angels of mercy do not visit the house that has tinkling bells in it. (Abu Dawood, vol. 4, pp. 125, Hadees 4231) Similarly, avoid the use of glitter powder as well. Though it is not impermissible, it causes difficulty in making Wudu and (Ghusl) taking bath.
What sort of joy this is!
The joy that makes a person heedless of the remembrance of Allah Almighty and due to which a person forgets Fard and Wajib acts is not a joy at all! So, take great care that you fulfil all Fard and Wajib acts when celebrating the festival. If Allah Almighty wills, you will get Eidi in the form of beholding the Beloved Prophet صَلَّى اللّٰهُ عَلَيْهِ وَاٰلِهٖ وَسَلَّم in dream. اِنْ شَــآءَالـلّٰـه
Tayri jab kay deed hogi jabhi mayri Eid hogi
Mayray khuwb mayn tum aana Madani Madinay walay
(Wasail-e-Bakhshish (Murammam), pp. 424)
---
[1]   The Masnoon method of Sajdah (Shukr) is as follows: After standing up uttering 'اَللہُ اَکْبَرْ' go to perform Sajdah and utter 'سُبْحٰنَ رَبِّیَ الْاَعْلٰی' at least thrice and then uttering 'اَللہُ اَکْبَرْ' stand up. (Bahar-e-Shari'at, vol. 1, pp. 731)
Share
---