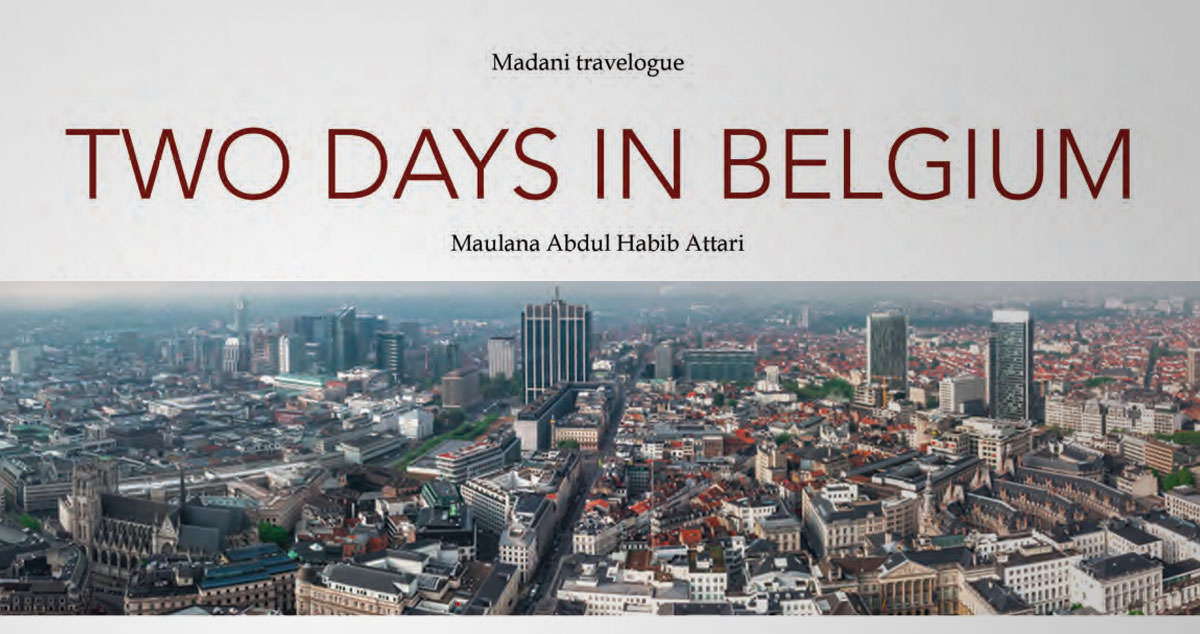 From Portugal to Belgium
Having spent Shab-e-Barat in Portugal, we, four Islamic brothers from different countries, flew to Belgium from Portugal via two different flights. We flew from the Lisbon airport via plane and landed in Brussels, a city of Belgium. Belgium is an important country in the European continent. Its capital is Brussels, where the European Union headquarters is located. Pakistan is four and three hours ahead of Portugal and Belgium, respectively. The flight time duration from Lisbon to Brussels is around two hours and thirty (30) minutes. According to the local time, our flight landed at Brussels airport at around 4:30 pm. A huge number of Islamic brothers were present at the airport to welcome us. We left the airport and reached the home of an Islamic brother where we offered Salah and ate food.
Long Sawms of European countries
During these days in the European countries, daytime is rather long. Ramadan-ul-Mubarak is nearing and some of the European countries have even 20 to 21 hours of Sawms. Without any doubt, it is an arduous activity to observe such a long fast, yet Muslims اَلْـحَمْـدُ لـِلّٰـه observe Sawm. Those Muslims who are from Pakistan, India, and Asian countries should learn a lesson here as they feel lazy to observe Sawm even for 15 to 16 hours مَعَاذَاللّٰہ.
Sunnah-inspiring Ijtima'
In Brussels, the Maghrib time would start at 8:45 pm those days. After Maghrib, a Sunnah-inspiring Ijtima' had to take place, but due to being occupied by those strenuous activities and arduous journey, tiredness overpowered me. In addition, there was a little duration between Maghrib and 'Isha Salah. After discussing with the Islamic brothers, I rested for a while after Maghrib Salah, whereas Na't Khuwani continued from Maghrib to 'Isha in Masjid.
Immediately after the 'Isha Salah at around 11 pm, I delivered a speech which lasted over one hour. However, the devotees of Rasool kept listening attentively. A salient feature of today's Sunnah-inspiring Ijtima' was that the Qafilahs of the devotees of Rasool also participated [in the Ijtima'] from the neighbour countries of Belgium. In order to participate in the Sunnah-inspiring Ijtima', the Qafilahs of Islamic brothers had travelled all the way from France, Holland, Germany, and Denmark. After Ijtima', a session of meetings continued until late at night. At that point, it was decided that there would a training session the next day for those Islamic brothers who had come to participate in Ijtima' from the neighbour countries of Belgium. The next day was Sunday. Therefore, lots of Islamic brothers who had come stayed that night.
Visit to premises granted to Dawat-e-Islami
A couple of months ago, Haji Imran Attari, Nigran of Markazi Majlis-e-Shura, had also come to Belgium while visiting the European countries. During his speech in Brussels, a person stood and announced that he wanted to grant his premises to Dawat-e-Islami. The next morning, as we visited that premises and met the Islamic brother who wanted to grant that place, we came to know that some loan was yet to be repaid. With the consultation of the Islamic brothers, it was decided that we should persuade [everyone] in the Tajir Ijtima' regarding this [matter] the following night.
After getting free from that [place], we returned to the Masjid, where Zimmah daran of Dawat-e-Islami from different countries and other devotees of Rasool were present. We had a Madani Mashwarah with the Islamic brothers there on the progress of Madani work in Europe.
Arrival of Madani Qafilah from Portugal
In Portugal, we had persuaded a few traders that they should also travel with us to Belgium and Germany. Those Islamic brothers reached Brussels to join our Qafilah. During 'Asr and Maghrib Salah, we conducted a practical session of [teaching] Salah, which was the first-ever and interesting experience of life for lots of Islamic brothers. At that moment, we also persuaded that having affiliated with the Madani environment of Dawat-e-Islami, make a routine of travelling with the Madani Qafilahs; they will also keep receiving more pieces of information like this.
The Intention of constructing Masjid
After Salah of Maghrib, we went to the house of a personality to meet him. As we had a discussion, he said that he wanted to do something for the Isal-e-Sawab of his parents. As he was persuaded, he made an intention that he would acquire a plot in Belgium and construct a beautiful Masjid. He would arrange for all the expenditures required for this work. Readers of Monthly Faizan-e-Madinah! Keep this in mind that it takes millions to acquire a piece of land and construct a Masjid. We requested him that we would be travelling to Germany the next day where a remarkable work would be going to take place. While travelling with us, he should witness that great work by himself. He got ready. May Allah enable him to fulfil his intention and forgive him, his parents, and all of us!  اٰمِیْن بِجَاہِ النَّبِیِّ الْاَمِیْن صلَّی اللہ علیہ واٰلہٖ وسلَّم
Tajir Ijtima'
After that, we attended the Tajir Ijtima', where I got the opportunity to deliver a Sunnah-inspiring speech. During this when I persuaded about the loan repayment of premises granted to Dawat-e-Islami, some of the Islamic brothers made the intention that they would pay off the loan. Then it was decided that Salah with Jama'at [congregation], Madrasah, and the Madani activities of Dawat-e-Islami should start in that premises.
By the grace of Allah عَزَّوَجَلَّ, this two-day travel in Belgium came to an end and we managed to achieve many targets during that. We met Islamic brothers from many countries. The intentions of travelling with the Madani Qafilahs were expressed. Moreover, many Zimmah daran and personalities made an intention of coming to the global Madani Markaz Faizan-e-Madinah Karachi for I'tikaf in Ramadan-ul-Mubarak.
May Allah عَزَّوَجَلَّ accept our travel and bless the Madani works of Dawat-e-Islami in Belgium with a great development!  اٰمِیْن بِجَاہِ النَّبِیِّ الْاَمِیْن صلَّی اللہ علیہ واٰلہٖ وسلَّم
Note: This topic has been prepared with the help of audio messages etc by Maulana Abdul Habib Attari and presented after getting it checked by him.
Share
---