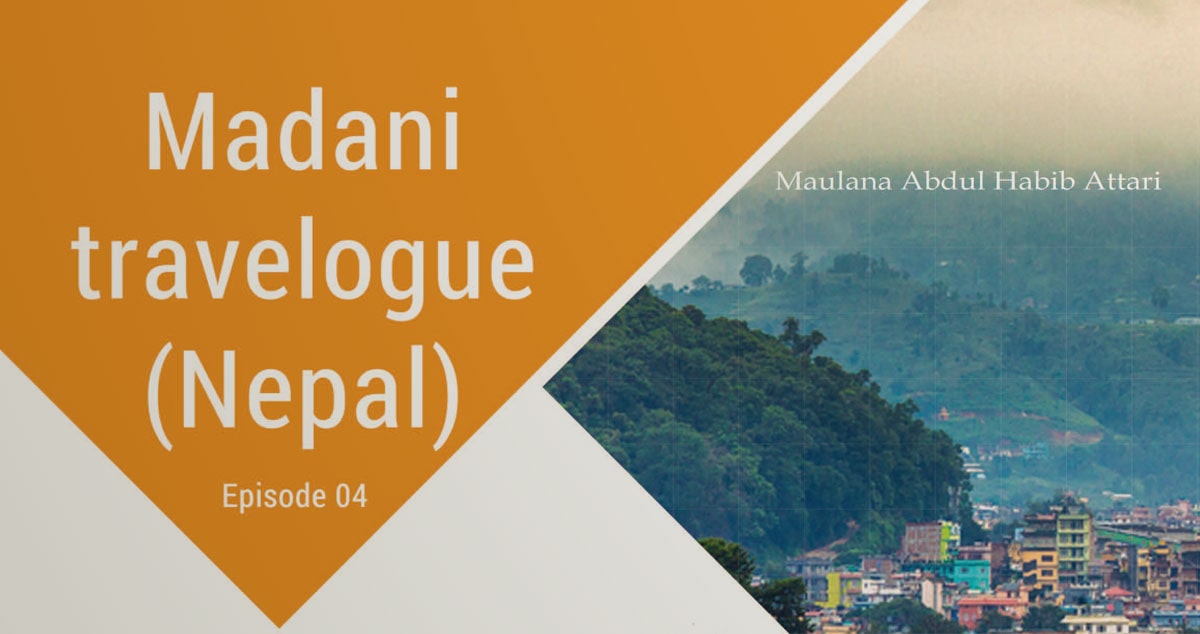 Wonderful series of Zehni Azmaish
The teachers of Jami'a-tul-Madinah Faizan-e-Attar Nepal Ganj started a series of Zehni Azmaish for the students whose semi-finals were held almost a month ago. Today after 'Isha Salah I was privileged to host the final. Different segments of this series were very interesting and wonderful. There were some segments which we have intended to include in the next season of Zehni Azmaish which will be held in Bab-ul-Madinah Karachi. The students who participated in the final read the Arabic text of blessed Ahadees, read-out Friday sermon and also the Khutbah of blessed Fatawa Razawiyyah by heart.
During the series, different gifts and relics were also given as gifts. The Islamic brothers of the teams which won the final and got second position were given different gifts along with the tickets of Ajmer Shareef for the visit to the blessed shrine of Khuwajah Ghareeb Nawaz, Sayyiduna Khuwajah Mu'eenuddin Chishti Ajmayri رَحْمَةُ اللّٰەِ عَلَيْه. I hope اِنْ شَـآءَ اللّٰە I will also visit Ajmer Shareef soon along with the students. This series of Zehni Azmaish was also recorded and اِنْ شَـآءَ اللّٰە will also be broadcast on Madani Channel at a suitable time.
The series of Zehni Azmaish ended around 12:00 a.m. After this, Nigran-e-Shura held a Madani Mashwarah of the students of Daurah Hadees, Nazims and teachers of Jami'a-tul-Madinah which continued around 3 a.m. I continued to meet Islamic brothers even after the Madani Mashwarah and around 4:00 a.m, I had the opportunity to take rest.
Departure from Nepal Ganj
I woke up at 6:00 a.m. and got ready for Fajr Salah. After offering Fajr Salah we set out for the airport from where I had to set out for Kathmandu with Nigran-e-Shura via 8 a.m. flight. This flight was also delayed and we reached Kathmandu around 11:00 a.m. In Kathmandu, I took rest for some time at the home of an Islamic brother and then we set out for the airport and reached the airport at 5:00 p.m. From Kathmandu airport Nigran-e-Shura along with an Islamic brother took a 7 p.m. flight for Dubai and I along with my travelling companion had to reach Bab-ul-Madinah Karachi through Sharjah by 7:40 p.m. flight. We offered Maghrib Salah at the airport.
Strange thing
In winter, when we travel by plane from Arab Emirates to Kathmandu, it takes 3 and a half hours to reach there, whereas when we come back, it takes 5 hours. This is because when we travel towards Kathmandu, the wind blows in the same direction (of the plane), but when we return, the wind blows in the opposite direction.
Gained useful information about air travel
Our plane took off from Kathmandu airport for Sharjah around 7:40 p.m. The person sitting next to me was reading the details about planes on his iPad. When I asked, he told me that he was a pilot in the same airline and was going back to his home. I told him that I often get the opportunity to travel by plane and I am very interested in this topic. Afterwards I had a conversation for a long time during which I asked many questions and got useful information about air travel, different aeroplanes and airlines. While we were having the conversation, the journey ended and our plane landed at Sharjah airport around 11:30 p.m.
Arrival at Pakistani hotel
We both went to a hotel with the Islamic brother who came to receive us at Sharjah airport. In fact, we were going to another hotel, but at the driver's suggestion, we went to a Pakistani hotel. While entering the hotel we saw that the staff of the hotel also included people belonging to Lahore and Pakistani channels were being watched in the hotel. Many Islamic brothers of the staff recognized me and tuned to Madani Channel at my request. After some time, many Islamic brothers from the staff came to meet me.
Call towards righteousness through dream
After asking about my name an Islamic brother Adeel, a member of the hotel staff, related me his dream which is, in fact, a very beautiful Madani parable of the Madani environment of Dawat-e-Islami.
'My name is Adeel. Some years ago, I had a very long moustache; I neither would offer Salah nor had a beard. In the evening, I would go to a nearby Masjid to take rest, but despite this, I would not offer Salah. One day, I had a dream in which I saw a pious person who persuaded me to offer Salah. During the same days when I was changing channels, I saw the same pious person on Madani Channel and I learnt that he was Ameer-e-Ahl-e-Sunnat Maulana Muhammad Ilyas Attar Qaadiri دَامَتْ بَرَكَاتُـهُمُ الْعَالِيَـه. Now I have started offering Salah and also have a little beard. After a few days, I again slept in the Masjid. I once again had a dream in which I saw Ameer-e-Ahl-e-Sunnat who met me smilingly; it was as though he had been appreciating me. Now I have a complete fist length beard and I have started offering Salah regularly. After some time I once again saw a dream in which I beheld Ameer-e-Ahl-e-Sunnat دَامَتْ بَرَكَاتُـهُمُ الْعَالِيَـه who blessed me with lots of Du'as.'
Du'a for meeting was heard
Brother Adeel further said, 'I had been making Du'a for the last three days for anyone amongst Ameer-e-Ahl-e-Sunnat, Nigran-e-Shura Haji Imran Attari or Abdul Habib Attari to come to our hotel by any means such as while passing through this road the tyre of their car gets punctured and they come to our hotel for a while and I could meet them.' What happened was that we had to go to some other hotel, but we went there and met him. Anyhow, I brought brother Adeel into contact with the local Islamic brothers. May Allah Almighty have mercy on him and make him a sincere preacher of Dawat-e-Islami!
Madani lesson
The Islamic brothers and Islamic sisters who are associated with the Madani environment of Dawat-e-Islami and Shaykh-e-Tareeqat, Ameer-e-Ahl-e-Sunnat دَامَتْ بَرَكَاتُـهُمُ الْعَالِيَـه should learn a lesson from this Madani parable. If they become negligent in offering Salahs and performing other Fard and Wajib acts, they should make up for them and make their world and the Hereafter better.
Return to Bab-ul-Madinah Karachi
After leaving the hotel we took some rest in the house of an Islamic brother in the night. We reached again at Sharjah airport at 4.30 a.m. Our plane took off from Sharjah in the morning at 7 a.m. and we reached around about 11 a.m. in Bab-ul-Madinah Karachi.
I make Du'a to Allah Almighty to enable us to serve Sunnah and travel for the Madani activities of Dawat-e-Islami with faith, peace and sincerity as long as we are alive.
Sada kerta rahun Sunnat ki khidmat
Mayra jazbah kisi soorat na kam ho
Share
---