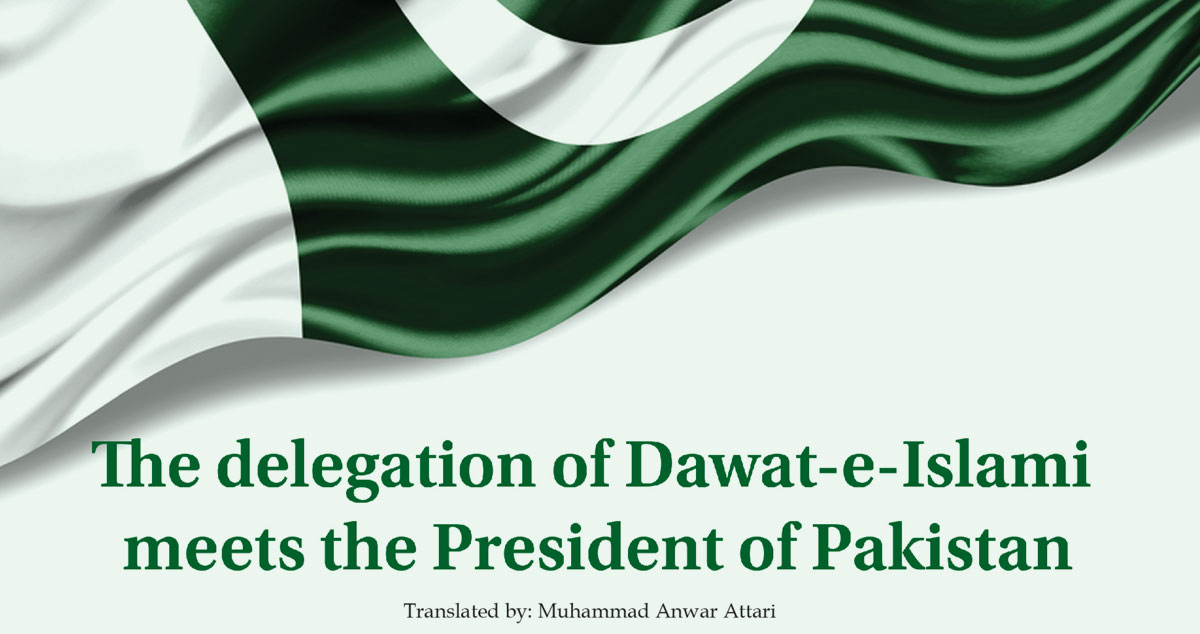 On 23rd February 2019, Maulana Muhammad Imran 'Attari مُدَّظِلُّەُ الْعَالِی, the Nigran of Markazi Majlis-e-Shura of Dawat-e-Islami, along with Maulana Abdul Habib Attari, the member of Shura, and members of Majlis Rabitah met Doctor Arif Alvi, the President of Pakistan, at Governor House, Bab-ul-Madinah, Karachi. During the meeting, propagation of Islam in Pakistan and rights of people were discussed, whereas Nigran-e-Shura delivered a letter consisting of seven points to the President of Pakistan.
1. System of offering Salah in government sectors
Such a system for offering Salah should be made in all government sectors in which all should offer Salah at the time of Salah.
2. Quranic education at secondary schools and colleges
Such a system of teaching the Holy Quran to be established at secondary schools and colleges in which when students complete their studies, they should know how to recite the Holy Quran at least by looking at it. Nigran-e-Shura told the President of Pakistan that 'Madrasa-tul-Madinah (for adults)', a department of Dawat-e-Islami, is providing its services of teaching the Holy Quran correctly to educational institutes. Services of this department can also be used.
3. Increasing inclination towards drug addiction
Inclination towards drug in our country is increasing rapidly and unfortunately our educational institutes are becoming its centre. Approximately five hundred thousand people are becoming the victim of drugs every year. Every year approximately two hundred and fifty thousand people die of drugs. Therefore, the increasing supply of drugs should be stopped.
4. Destruction of drinking wine
Wine is becoming common in our beloved country, Pakistan. Due to it, families and society are being destroyed and the number of accidents is going up. Currently, Pakistan is at number 35 regarding drinking wine, therefore effective steps should also be taken to stop wine.
5. Interest-free system
A Muslim should have the proper sense that in the presence of interest economy cannot develop. For the sake of Allah Almighty! The country and nation should be saved from this curse.
6. Prevention of immoral websites
All those websites which can damage our religious beliefs and manners should be blocked in Pakistan. It will not only make our Hereafter better, but, if Allah Almighty willing so, the abilities of our nation will also increase.
7. Taking care of rights of people during tree planting
The rights of people should be protected during the campaign of planting trees at the government level. During tree planting campaign Dawat-e-Islami is ready to serve wherever its services are required.
The President of Pakistan read the letter completely and agreed on the seven points which Dawat-e-Islami raised on these problems. The delegation gave Doctor Arif Alvi a briefing on the Madaris-ul-Madinah, Jami'aat-ul-Madinah and Dar-ul-Madinah International Islamic School System which are being run under the supervision of Dawat-e-Islami and made a request for the cooperation to establish Dar-ul-Madinah University in Islamabad.
Praising the efforts Dawat-e-Islami is making for propagating Islam, the President of the Islamic Republic of Pakistan said: 'Madani Channel should play its role in stopping the women rights violations on the matters of inheritance because Madani Channel is watched by millions of people. The delegation invited Dr. Arif Alvi to visit global Madani Centre Faizan-e-Madinah and presented him a gift of books of Maktaba-tul-Madinah and a Monthly Magazine Faizan-e-Madinah.
Share
---