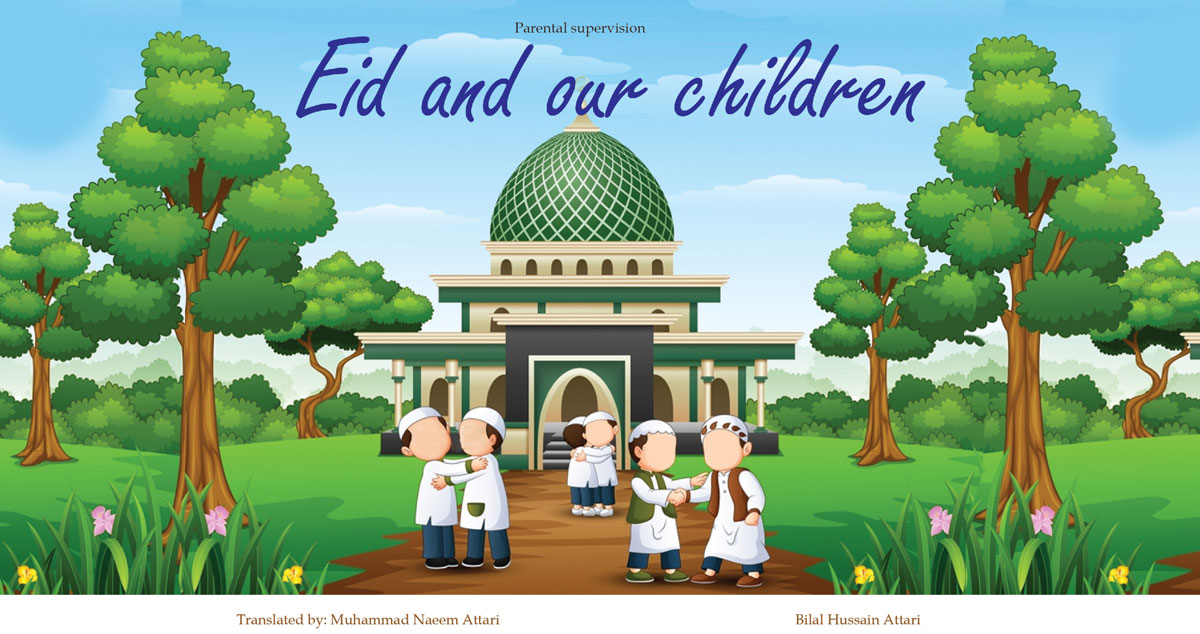 The great day of Eid is also one of those significant events that bring happiness and delight for the Muslims. The blessed day of Eid is celebrated with great excitement and fervour by the Muslims living around the globe and they experience the feelings of ecstasy when this blessed day arrives. People from every class and section enormously enjoy this religious festival.
Dear parents! Following are some of your responsibilities for your children in connection with the blessed occasion of happiness:
Sadaqah Fitr
A father should pay Sadaqah Fitr of his children (before Eid Salah if possible). Sayyiduna Ibn 'Umar رَضِىَ اللّٰەُ تَعَالٰی عَنْهُمَا narrated, 'The Beloved Rasool صَلَّى اللّٰەُ تَعَالٰى عَلَيْهِ وَاٰلِهٖ وَسَلَّم has commanded us to pay Sadaqah Fitr on Eid-ul-Fitr before Eid Salah.' (Sunan-ut-Tirmizi, vol. 2, pp. 152, Hadees 677)
(For detail information regarding Sadaqah Fitr, read 'Blessings of Ramadan', a publication of Maktaba-tul-Madinah.)
Eid Salah
If Eid Salah is being performed in a Masjid, take such sane Madani children with you for performing Eid Salah who know the etiquettes of Masjid and remain cautious about them; moreover, also make them give Sadaqah persuading them so that they also become habitual of giving Sadaqah in the path of Allah عَزَّوَجَلَّ and their hearts become less interested in wealth and worldly pleasure.
Heedlessness on the day of Eid
Develop this awareness amongst children that whether it is the blessed day of Eid or any other religious event or festival, they should not engross themselves into worldly pleasure to such an extent that they forget to perform Fard and Wajib acts and do not distinguish between Halal and Haraam acts and spend these blessed days of Eid in heedlessness doing the acts of disobedience.
Habit of taunting
While comparing the stuff such as clothes, shoes, wrist watches, etc., with others, children taunt and make fun of them, this is not a good practice, so prevent your children from passing bad comments and criticising other children [for their clothes, etc.].
Demand of Eidi
Gift of cash given to the children on Eid days increases the happiness of children but some children are observed to demand Eidi (gift or cash given to children during Eid) from their relatives, causing embarrassment for others. Ethically, this practice is not good at all because someone may not have money for Eidi and he may have to make an excuse or tell a lie to manage the situation. So, make your children understand that if somebody gives them Eidi, it is alright but demanding it from others is not a good practice at all.
Taking possession of children's Eidi
Some parents take possession of the Eidi of their children and comment like this, 'We also have to give Eidi to the children of others'. This practice may sow the seed of hatred in your children's hearts. Furthermore, it is not permissible for the parents to use the things without Shar'i permission which are purely owned by the children.
Eid and harmful food items
On the day of Eid, a large amount of poor-quality and harmful junk food items for example 'Aloo Chaat' (spicy mixed fried potatoes), Kulfi (frozen dairy dessert), chips, Gola-Ganda (colourful snow-cones) and other items are easily available in the streets and at every corner; so keep your children away from unhygienic and harmful food items.
Eid and toys
During Eid days, mischievous children are found playing with pistol in which small metal balls are used and these children shoot one another with them, causing quarrels and conflicts on the religious festival. Furthermore, sometimes children also lose their eyes due to such risky games; so keep your children away from such type of toys.
Playing on swings and horse-riding
On the blessed day of Eid, children love to enjoy swings, horse-riding, camel-riding, etc., but these activities of enjoyment may cause any accident so choose any appropriate swing for your children.
May Allah Almighty grant us, our children and all the Muslims Taufeeq (ability) to celebrate Eid obeying Shari'ah.
اٰمِيۡن بِجَاهِ النَّبِيِّ الۡاَمِيۡن صَلَّى اللّٰهُ تَعَالٰى عَلَيۡهِ وَاٰلِهٖ وَسَلَّم
Share
---