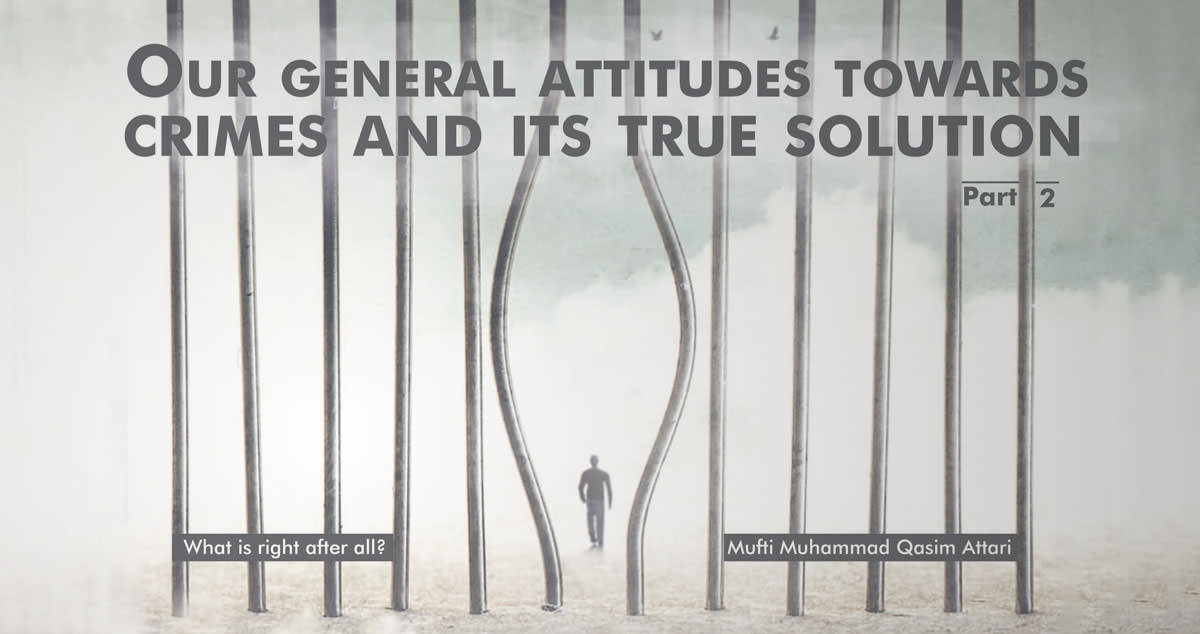 What is right after all?
Our general attitudes towards crimes and its true solution
(Part: 2)
Mufti Muhammad Qasim Attari
In order to reduce crime, work will need to be done from various aspects. Neither will only admonishing and advising work here, nor will only strict law enforcement fix everything. It is necessary to make full use of both. Keep in mind that the meaning of reformation here is not only restricted to the Masjid and Madrassa, rather, all avenues of spreading knowledge and information to the people will need to be utilised as required. For example, if we were to look at the state of our TV channels, then we will come to realise that it is only a handful of religious channels that propagate admonition, modesty, education, upbringing, fear of Allah Almighty, rectification, piety, religiousness, good conduct, good character, rights of people, respect of others and looking after the women etc.
However, is providing edification the sole responsibility of religious channels? What are the other channels; that create havoc, disputes and entice one another against each other; doing? Almost everyone is aware of what they are doing. The question is that don't the other channels and those who work for them taking large salaries also have a responsibility or not? They indeed do, but the situation is such that they lecture against modesty, and the laws of the religion are ridiculed. If we are to truly better the society, then it is necessary that all channels exemplify modesty, good conduct and servitude to the Almighty, as well as fulfilling the rights of people.
The second important task in terms of utilising the means of edification is that the hundreds of thousands of schools, colleges and universities that are spread across the country should look beyond only earning money, and more than education, they should focus on edifying their students. At the end of the day, the majority of the population spends ten to sixteen years studying at these institutions; why aren't they edified there? Why do they not develop an aversion to crimes, corruption and immorality there? Therefore, the first most important task is that all the institutes of edification should be made active and all those things that lead to evil should be ended, regardless of whether it is in the name of culture, civilisation and modernity or whether in the form of [so called] freedom and liberalism.
The second important matter in terms of reducing crime is that the solution to everything is not through admonishing and advising nor is everything rectified through edifying. Societies and nations comprise of all types of individuals; both good and bad. This is why in the Holy Quran, alongside hundreds of verses relating to Paradise, Hell, glad tidings and warnings, Allah Almighty has also given eternal laws regarding punishments in the form of [their] limitations. This is because there is always a need for strict laws to be imposed and to carry out punishments, to the extent that even though the Beloved Prophet صَلَّى الـلّٰـهُ عَلَيْهِ وَاٰلِهٖ وَسَلَّم termed the generation after his to be from the best of generations, but still punishments were carried out and the law was imposed even in that time of the best of generations.
Did the Noble Sahabah not admonish and advise others? Were the Masajid not enlivened? Was there not an inclination towards seeking religious knowledge at that time? All of this was there; however, the reality is that in a society of millions, edification alone does not give a 100% success rate.
If you wish to look at the recent examples, then look at the developed countries. Ostensibly, Europe has an excellent education and edification system, their education is exceptional and so is their edification; the people are civilised, learned and full of manners. Every resident is educated as education is mandatory etc.
However, despite all of this education, edification, courteousness, civility and manners, are drugs not found in those countries? Are weapons not found there? Do murders not take place there? Are acid attacks not carried out on women there? Do most rape cases not take place there? Is police not present there? If education and edification alone bring harmony, then the police force should be brought to an end in these countries; but the astonishing fact is that most of those countries have more police presence than ours. The complaint in our country is that the police stations do not have enough officers.
Similarly, if edification were to fix everything, then courts and tribunals would not be found in Europe and America, and the seats of the judges would remain empty, because the role of a judge is to come to a judgement and give punishments regarding the issues that arise among the people such as robbery, looting, usurping, corruption, etc. Whether it is Europe or Australia, America or Africa; crimes are taking place there, police is present there and courts are also found there. It is true that edification is the first step to an ideal society and it is very effective and beneficial, but it is not possible that all the thieves, robbers, those who deal in bribery, wicked people, murderers and immoral people be rectified through only this means; its ratio is very low.
The conclusion is that alongside education, edification, and advising, it is necessary for the law to take a stand also. Alongside acting according to the law, keep the following in mind also. The importance of edification cannot be overlooked by utilising only the law and its enforcement. Rather, edification is extremely important, because the law alone cannot rectify the society; the law changes the apparent state of an individual, not his inner-self. The conduct of a man in the home towards his wife or towards his children, or the conduct of children towards their parents; what can the law do about this?
In summary, both law and edification, work together. Therefore, to say, 'look! There are so many Masajid or Madaris, so why are there so many crimes taking place? Why is the society in such a bad state?' The answer is that crimes are the responsibility of the law. If the law was to give admonitory punishments to criminals, then crimes would decrease. But when the criminal knows that even if he does get caught, he can buy the investigator, lawyer and those above them, then how can rectification ever take place? Therefore, the responsibility of the law should not be shifted to [religious] edification.
The Holy Quran has mentioned severe warnings of Hell in relation to the crime of murder, but it does not mention to only admonish and advise the murderer, rather, it has clearly stated that the life of the society lies in Qisaas; the punishment of murder is murder.
Therefore, if we desire to reduce crime, then Islamic education and edification will need to be implemented and full compliance with the law will need to be observed.
Share
---