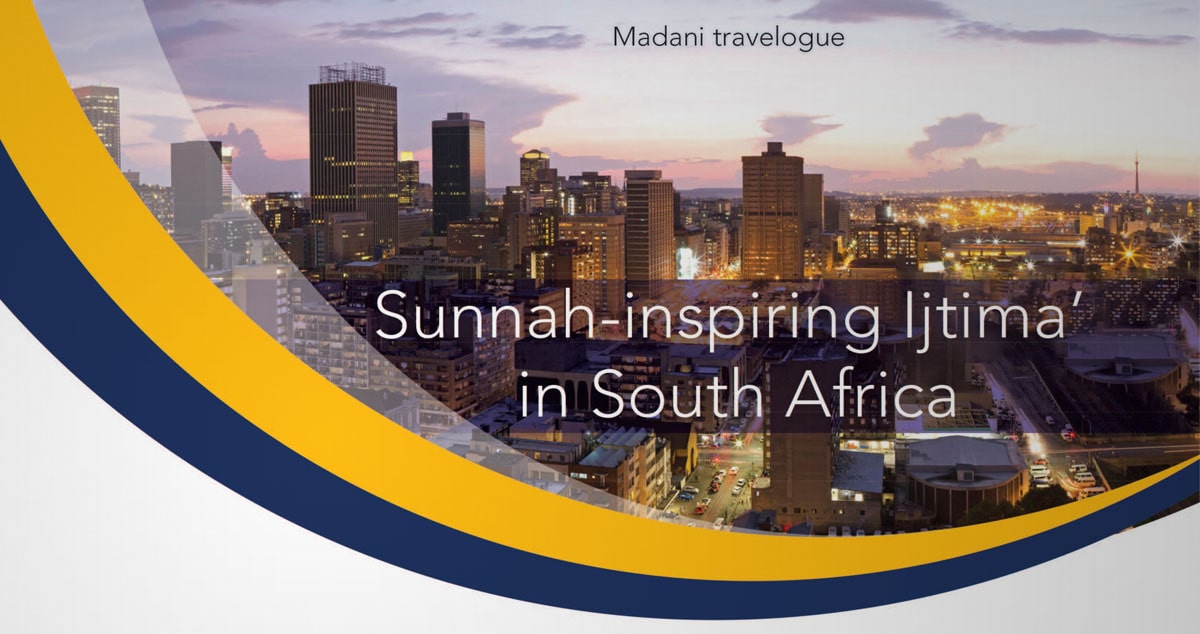 Bayan on Shab-e-Mi'raaj
After travelling 5 countries, I returned to Karachi on Wednesday, 3rd April 2019. It was the blessed night of Shab-e-Mi'raaj in Pakistan. I attended the Mahfil-e-Na'at, held in the global Madani Markaz Faizan-e-Madinah in connection with the blessed event of Shab-e-Mi'raaj. Later on, I had the honour to deliver Bayan after Madani Muzakarah of Ameer-e-Ahl-e-Sunnat دَامَـتْ بَـرَكَـاتُـهُـمُ الْـعَـالِـيَـه.
Dear Islamic brothers! In order to carry out any piece of work in a graceful manner, it is very necessary that those involved in it should be well-trained and skilful. The Madani movement of devotees of Rasool, 'Dawat-e-Islami' is a global movement for the preaching of Quran and Sunnah. The preachers and the responsible Islamic brothers of Dawat-e-Islami are busy propagating Sunnah in various countries of the world. So, from time to time, Sunnah-inspiring Ijtima'aat are held in different countries as well as the responsible Islamic brothers are taught different ways of calling people to righteousness in a better way.
Sunnah-inspiring Ijtima held in South Africa
After attending Shab-e-Mi'raaj Ijtima in Pakistan; next day, I departed to the Sufi Nagar (Durban is also called Sufi Nagar in relation to a pious personality 'Shah 'Aalam Bukhari') South Africa. A 3-day Sunnah-Inspiring Ijtima' for the responsible Islamic brothers of Dawat-e-Islami was held there.
I reached Dubai from Karachi at around 1 a.m. with an Islamic brother. Syed Fuzail Raza Attari coming from Birmingham (UK) also joined us on our journey. It is stated in the blessed hadith, the Holy Prophetصَلَّى اللهُ عَلَيْهِ وَاٰلِهٖ وَسَلَّم said: When three men set out on a journey, they should appoint one of them as their Ameer [leader]. (Abu Dawood, vol. 3, pp. 51, Hadees 2609)
So, both of my fellow traveller Islamic brothers appointed me as their Ameer and we made good intentions for our journey.
Arrived Johannesburg
At around 4 a.m., we flew to South Africa from Dubai airport. We performed Fajr Salah in the plane and landed at Johannesburg airport at around 10 p.m. I have some relatives in this city. اَلْـحَمْـدُ لـِلّٰـه, Madani environment of Dawat-e-Islami also persuades to fulfil the rights of relatives and treat them well. So, I intended to visit them with the intention of 'Sila Rahmi' (i.e., 'keeping good relations with blood relatives') and have rest there too. Remember! Pakistan is 3 hours ahead of South Africa.
Weather intensity
After landing at Johannesburg airport, we learnt that a cycle of heavy rains and typhoons was continued there that would last for next 3 days. These were the same days, Islamic brothers were supposed to gather in Sufi Nagar (Durban) for attending Ijtima from across the entire South Africa. Remember! It takes almost 5 to 6 hours to drive from Durban from Johannesburg while a flight takes almost 1.5 hours.
Jumu'ah Salah at Faizan-e-Madinah (Johannesburg)
It was around 12 p.m. when we completed all legal formalities. We came out from the Johannesburg airport. My relatives were already waiting for us outside and insisted that we should perform Jumu'ah Salah at Madani Markaz, Faizan e Madinah, Johannesburg and they asked me to deliver Jumu'ah Bayan and meet Islamic brothers there.
Though we were badly exhausted after a long journey, I agreed to go with them to Faizan e Madinah. They also informed the responsible Islamic brother regarding my arrival. Utterly exhausted, I slept in the car for a while. Islamic brothers had been waiting for us when we reached Faizan-e-Madinah. Na'at reciter Islamic brothers were reciting 'Na'at Shareef'. I delivered a short Bayan before Jumu'ah Salah and met with Islamic brothers after Salah and Salat-o-Salaam. I could hardly have 1 to 1.5 hours for taking rest when I reached my relatives' home from Faizan e Madinah.
O devotees of Rasool! This is also worth-mentioning that since my relatives are also associated with the Madani environment of Dawat-e-Islami, they took advantage of my visit to South Africa and took me to the Faizan-e-Madinah for Jumu'ah Bayan as well as arranged a gathering for meeting with people. اَلْـحَمْـدُ لـِلّٰـه! It is the blessings of Dawat-e-Islami that the Islamic brothers associated with Madani environment keep the benefits of Islam in view in different matters of their life.
Departure for Durban
At 6 p.m., we departed for Durban. Sayyid Fuzail Raza Attari could not get a seat on the flight we were going, so he travelled on the flight leaving before our flight. Two Islamic brothers from South Africa also joined us from there. Thus, we were 4 persons left for the Ijtima'.
From Johannesburg to Sufi Nagar (Durban), it was a memorable journey in the sense that our plane covered the distance amid a lot of thunders, heavy rains and stormy winds. Most of the Islamic brothers who were supposed to attend the Sunnah-inspiring Ijtima understood English; so I had intended to prepare my English Bayan during the air travel, but it did not happen due to flight condition.
Dear Islamic brothers! Almost everyone travels and uses different modes of transport as per his requirement such as plane, train, bus etc. News about accidents and crashes keep coming regularly. May we keep our death in view during our travel. Instead of spending our time listening to songs and involving in other worthless activities, we should spend our time during travel doing Zikr and reciting Durood Sharif and carrying out any other good deed as well.
Enthusiasm of Islamic brothers
When we reached Markaz Faizan-e-Madinah from Durban Airport, we learnt that out of total expected attendees, approximately 30% to 40% Islamic brothers could reach the Madani Markaz, Faizan-e-Madinah. Many Islamic brothers were on their way to Faizan-e-Madina whereas the vehicles of some Islamic brothers broke down on the road due to bad weather. Dear Islamic brothers! Ponder over the strong eagerness of the Islamic brothers! Despite heavy rains and stormy winds, they were travelling from far flung cities and areas of South Africa and reaching Faizan-e-Madinah for attending Ijtima'. Here is a lesson for those Muslim brothers and sisters who show laziness towards Fard and Wajib acts of worship. They miss their Salah due to any mild disease. They should learn from the strong eagerness of the Islamic brothers of South Africa.
Beginning of Ijtima'
The Nigran of the Markazi Majlis-e-Shura Maulana, Abu Hamid Muhammad Imran Attari delivered live Bayan via online video conference in Ijtima and he also answered to the questions of Islamic brothers.
Second day of Sunnah-inspiring Ijtima'
Next morning, after a short break, Ijtima resumed at 10am. The sessions of 'Bayanaat' and 'questions and answer' continued until Zuhr Salah. After offering Salah, I met few dignitary Islamic brothers who had come to Faizan-e-Madinah. From time to time, Nigran-e-Shura via live video conference, kept giving Madani pearls to the attendees and giving answers to their questions. After performing Maghrib Salah in Faizan-e-Madinah Durban, we joined live Madani Muzakarah broadcast on Madani channel. Madani Muzakarah was continued from Maghrib to Isha Salah and remained continued even after Isha Salah.
Bilali Islamic Brothers
Majority of the attendees of Ijtima were Bilali i.e. Native dark-skinned Islamic brothers. In the Madani environment of Dawat-e-Islami, the dark-skinned Muslims, due to their similarity with Hadrat Sayyiduna Bilal Habashi رَضِىَ اللهُ عَـنْهُ, are called 'Bilali'. Currently, there are 45 Madani Marakiz of Dawat-e-Islami, 'Faizan-e-Madinah' in South Africa. In most of the Marakiz, Bilali Islamic brothers are carrying out the blessed duty of 'Imamat'. When these Bilali Islamic brothers call out 'Azan', it brings back the memories of the glorious and Holy Azan of Sayyiduna Bilal Habashi رَضِىَ اللهُ عَـنْهُ.
May Allah forgive us for the sake of these Bilali devotees of Rasool and grant us everlasting wealth of the devotion to Rasoolullah.
اٰمِيۡن بِجَاهِ النَّبِيِّ الۡاَمِيۡن صَلَّى اللّٰهُ عَلَيۡهِ وَاٰلِهٖ وَسَلَّم
Jah-o-Jalal do na hi mal-o-manaal do
Sauz-e-Bilal bas mayri jholi mayn daal do
Share
---