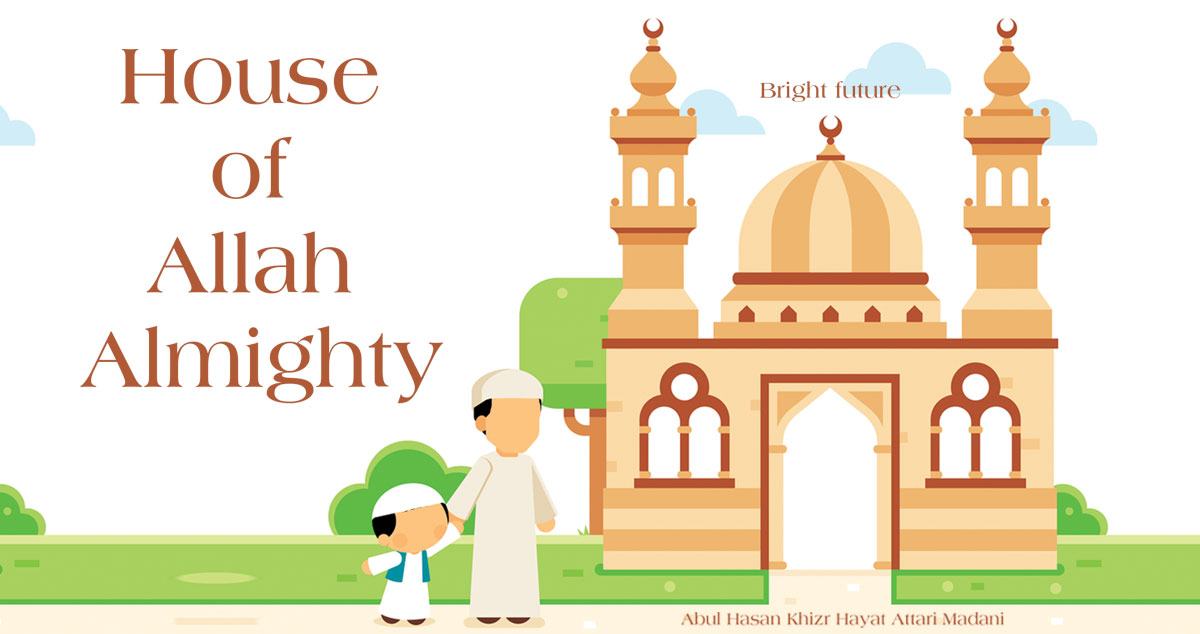 When Dawood Sahib and little Hasan reached near the Masjid to offer 'Asr Salah, Dawood Sahib said, 'O son Hasan! We will enter the Masjid with our right foot first by reciting the Du'a which is recited at the time of entering a Masjid.' 'Yes, father why not', replied Hasan. After entering the Masjid Dawood Sahib became busy offering Sunnahs of 'Asr Salah and Hasan started looking here and there. Suddenly, he saw his friends Bilal and Daniyal who were sitting at a corner of the Masjid talking. Hasan also went to them and sat. When the voice of the children's conversation started rising, some Salah-offering people expressing their displeasure and annoyance started looking here and there.
As Dawood Sahib offered his Sunnahs, he gestured for Hasan to keep quiet. Hasan immediately became quiet and also gestured for his friends to do so. The children sat lowering their heads. As Salah-offering people stopped paying their attention to them, Hasan took out a sweet from his pocket, put it into his mouth and quickly hid its wrapper beneath the carpet. After offering Salah Dawood Sahib picked up the wrapper from beneath the carpet and threw it away and then they both moved towards home. Hasan was walking at a little distance behind Dawood Sahib because he was feeling scared by thinking that his father would scold him. Suddenly Dawood Sahib stopped; in the meantime, Hasan also approached him. Dawood Sahib said, 'Son! Why were you walking at a distance behind me? And why are you scared?' 'Father actually…,' Hasan stopped while saying something. Taking Hasan's hand in his hand Dawood Sahib said, 'O son Hasan! Will you like this that someone makes a noise at your home?' Hasan replied in the negative by nodding his head. With great love, Dawood Sahib said: A Masjid is the House of Allah Almighty. When we do not like any one's noise at our home, why do we make a noise in a Masjid? My dear son! Let me tell you a few manners of Masjid:
1     In a Masjid, we should not have worldly talks and make a noise at all because such things are against the reverence for Masjid and cause disturbance to those who worship in Masjid.
2     We should not laugh in a Masjid as it brings about darkness in the grave.
3     Do not throw the wrappers of betel nuts and sweets at all because if a tiny particle falls in the Masjid, Masjid feels as much pain as a person feels when there is some particle in his eye. (Jazb-ul-Quloob, pp. 222)
4     Always keep a Masjid neat and clean and keep garbage and the things that cause trouble away from it because Allah Almighty will build a home in Paradise for the person who removes a troublesome thing from a Masjid. (Sunan Ibn Majah, vol. 1, pp. 419, Hadees 757)
Having mentioned the manners of Masjid Dawood Sahib said, 'Son! These are the few things I have told you. Remember them and also mention them to your friends.' 'Yes, dear father! اِنْ شَـآءَ اللّٰە عَزَّوَجَلَّ' replied Hasan. Now he was not scared, but rather determined.
Share
---