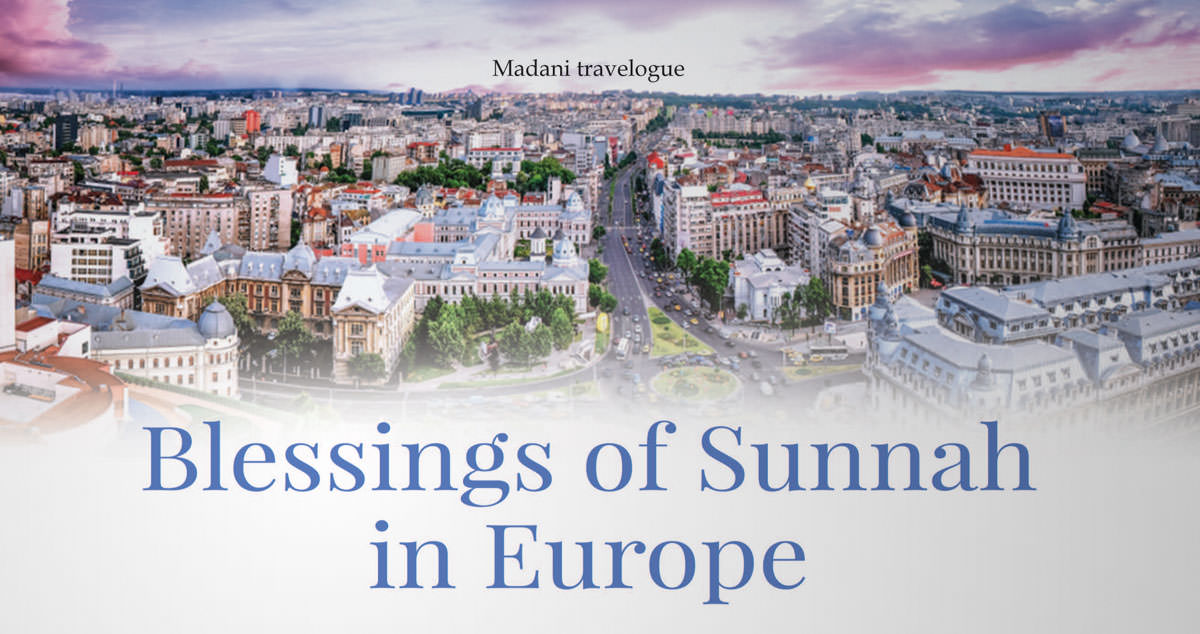 By the grace of Allah عَزَّوَجَلَّ, once again I set out on a journey to Europe on April 17, 2019 in connection with the Madani activities of Dawat-e-Islami. A few months earlier, Nigran-e-Shura Maulana Abu Hamid Muhammad Imran Attari had visited Europe. He had instructed me to visit Portugal and Belgium later.
Beginning of Madani activities in Portugal
It's the newly started setup of Madani activities of Dawat-e-Islami in Portugal, a southern European country. After Nigran-e-Shura's visit, Ahmad Raza Madani, preacher of Dawat-e-Islami and Na't reciter shifted to Portugal from Mozambique along with his family, following the instructions of Madani Markaz. Another reason for selecting 'Ahmad Raza Madani' for this noble task was that 'Portuguese language' is also widely spoken in Mozambique like Portugal. Anyone with a common sense can understand how easy it is for a 'local language speaker' to carry out Islamic activities. After moving to Portugal, preacher of Dawat-e-Islami, Ahmad Raza Madani started Madani work. اَلْـحَمْـدُ لـِلّٰـه! In a short period of time, Madani activities such as weekly Sunnah-inspiring Ijtima', Dars, Bayan, Madani Halqah etc., have been taking place progressively.
Setting out on the journey
The sacred Shab-e-Bara'at is just round the corner, and a large number of Muslims especially head towards Masajid on this blessed night. So, after mutual consultation, I travelled to Portugal for further progress in Madani activities. On 17th April, at 12:30 pm as per Pakistan standard time, I departed for Dubai and after a stopover of approximately one hour there, I flew to Lisbon, the capital of Portugal. It takes two hours to get to Dubai by air from Karachi, and another 7 hours and 45 minutes to arrive at Lisbon from Dubai. I offered Zuhr and 'Asr Salah on the airplane. It was 7:30 pm when we landed on the Lisbon airport and Maghrib time was not due yet.
Love and devotion of Islamic brothers
After airport clearance we came out and saw many Islamic brothers present there to welcome us. Dear Islamic brothers! When a person arrives in a new city or country, he is usually received by his acquaintances or relatives. Sometimes, he has to hire a taxi to get to his destination. In a foreign country like Portugal, where I didn't have any friend or relative, seeing many Islamic brothers gathered to welcome us with great devotion was indeed by virtue of the blessings of the Madani environment of Dawat-e-Islami. This spiritual Madani environment connects unacquainted Islamic brothers with the feelings of love and devotion towards one another. From the airport, we went to the house of a devotee of Rasool, where we were supposed to stay. Since I remained busy on Madani Channel the night before the long and tiring journey, now I was tired and needed rest. After Maghrib Salah, several businessmen Islamic brothers also visited us. It is due to the blessed company of Ameer-e-Ahl-e-Sunnat دَامَـتْ بَـرَكَـاتُـهُـمُ الْـعَـالِـيَـهْ that we have the mindset not to disappoint any Islamic brother who comes to visit us. So, we all had dinner together, offered 'Isha Salah with Jama'at and had a spiritual gathering commenced by the recitation of the Holy Quran and followed by Na't and a brief Sunnah inspiring Bayan. We went to bed at around 11:30 and had some rest after Fajr Salah as well.
Beginning of a busy day
On 18th April 2019 at noon, we started carrying out activities as per schedule. A number of businessman Islamic brothers live in Lisbon. Many of them invited us and took us to their homes etc. for Du'a-e-Khayr [making Du'a for blessings]. During our visits and meetings, we observed a good thing that almost whoever we met, he would request us to accompany him to a local graveyard for Du'a of forgiveness for his parents or relatives. At first, this indicates that Muslims have good presumption about the devotees of Dawat-e-Islami that by the blessing of their Du'a, Allah عَزَّوَجَلَّ will shower His mercy upon their deceased relatives. For the same reasons, we happened to visit the graveyard twice in a day with different Islamic brothers. In addition to this, to please other Islamic brothers joining our company, we also performed Fatihah etc., for their deceased relatives too. Secondly, we came to know that these Islamic brothers had sympathy for their deceased relatives and eagerness to visit the graveyard. Obviously, it is rather easy to incline someone towards Deen, good deeds and path to goodness, who already has the mindset to do good for their deceased relatives and visits graveyard. On that day, we remained busy meeting with Islamic brothers at their houses or shops and doing Fatihah Khuwani and Du'a. We also aired introductory video presentations of Dawat-e-Islami to develop their mindset to take part in Madani activities and collect Madani donations.
The participation of Islamic brothers in Madani Qafilah
While on my way to Lisbon, I contacted different Islamic brothers and persuaded them to travel with Madani Qafilah. اَلْـحَمْـدُ لـِلّٰـه, I was joined in Madani Qafilah by two Islamic brothers from Mozambique, one from UK and one from Karachi. I pray to Allah Almighty to grant progress to Dawat-e-Islami in Portugal by leaps and bounds.
اٰمِیْن بِجَاہِ النَّبِیِّ الْاَمِیْن صلَّی اللہ علیہ واٰلہٖ وسلَّم
Dawat-e-Islami ki qayyoom
Ik ik ghar mayn mach jaey dhoom
Is pay fida ho bachcha bachcha
Ya Allah mayri jholi bhar day
(Wasail-e-Bakhshish, pp. 123)
Share
---