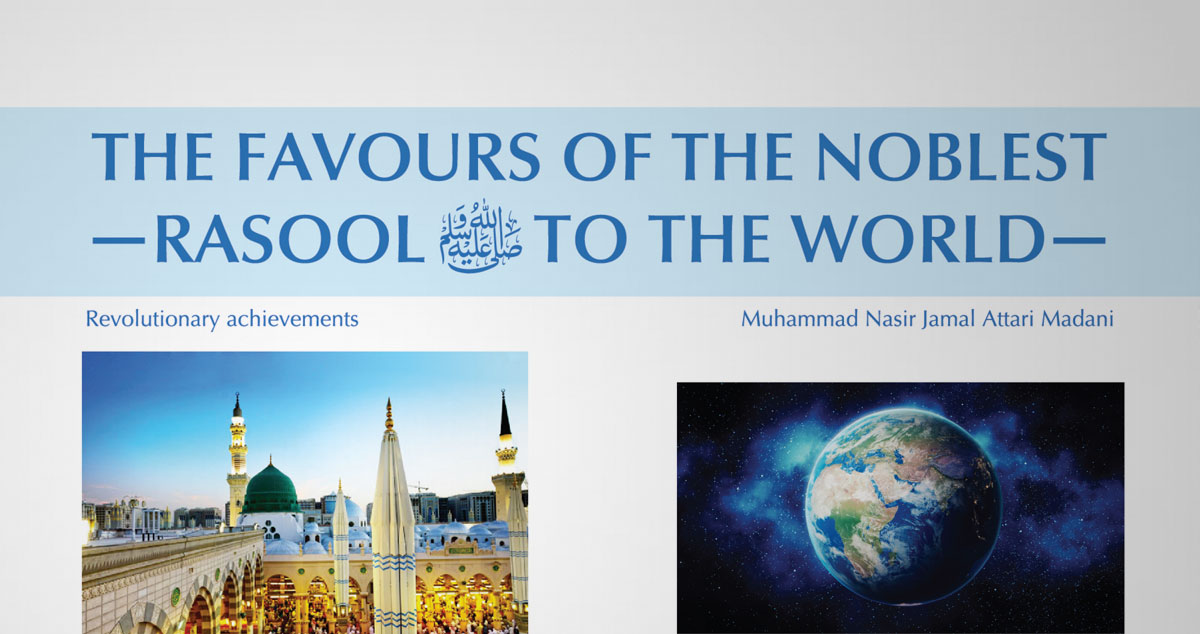 The more robust and stable a system of human life is the more conveniences, successes and comforts will be destined for humans. Allah Almighty has bestowed on us a complete code of life through His Most Beloved Rasool صَلَّى اللّٰهُ تَعَالٰى عَلَيْهِ وَاٰلِهٖ وَسَلَّم in the form of Islam. The Beloved Rasool صَلَّى اللّٰهُ تَعَالٰى عَلَيْهِ وَاٰلِهٖ وَسَلَّم through his blessed sayings and actions has granted us the best system of life. He صَلَّى اللّٰهُ تَعَالٰى عَلَيْهِ وَاٰلِهٖ وَسَلَّم granted us a strong legal system in order to eliminate the crimes that gradually devastate the social life like termites. He rectified disrupted social imbalance by establishing a system of justice, equality, fairness and morality. This is why even today in almost all walks of life we are being guided the way by the unparalleled kindness and never-ending favours (upon mankind) of the Merciful Rasool صَلَّى اللّٰهُ تَعَالٰى عَلَيْهِ وَاٰلِهٖ وَسَلَّم in his quest to establish a dignified and convenient personal and social life.
Let's take a look at a few dimensions of this unbelievable reformation:
Favours (upon mankind) in the domain of justice
Justice and fairness are basic human rights. There is no distinction between rich and poor, relatives and strangers, in the justice system established for us by the Most Beloved Rasool صَلَّى اللّٰهُ تَعَالٰى عَلَيْهِ وَاٰلِهٖ وَسَلَّم in fact, this glorious system delivers equal justice to all individuals whilst bearing the responsibility of protecting their honours, lives and assets. On one occasion he صَلَّى اللّٰهُ تَعَالٰى عَلَيْهِ وَاٰلِهٖ وَسَلَّم delivered the following sermon: "O, people! Nations before you were annihilated because when a prominent figure among them committed theft he was released but if a poor man committed theft he was punished. I swear by Allah عَزَّوَجَلَّ! Even if Fatima رَضِیَ اللّٰهُ تَعَالٰی عَنْهَا the daughter of Muhammad صَلَّى اللّٰهُ تَعَالٰى عَلَيْهِ وَاٰلِهٖ وَسَلَّم would have committed theft I would have amputated her hand." (Muslim, pp. 716, Hadees 4410) Throughout the entire world whenever and wherever the guidelines bestowed by the Noble Rasool صَلَّى اللّٰهُ تَعَالٰى عَلَيْهِ وَاٰلِهٖ وَسَلَّم regarding justice and equality have been adhered to, peace, tranquillity, progress and prosperity have prevailed there.
Favours in the domain of protecting human rights
The division between upper and lower classes destabilizes social balance which subsequently results in the suffering of dire consequences such as the violation of human rights, massacre and terrorism. In order to eliminate such class systems our Beloved Rasool صَلَّى اللّٰهُ تَعَالٰى عَلَيْهِ وَاٰلِهٖ وَسَلَّم granted us a judicial system whereby the rights of not only men and women were protected, rather the rights of all human lives and properties (possessions) throughout all social fractions were safeguarded. The 'equality system' that he صَلَّى اللّٰهُ تَعَالٰى عَلَيْهِ وَاٰلِهٖ وَسَلَّم introduced has gained acclaim as a role model globally.
Favours in the financial system
The interest was assumed to be a means of an increase in wealth since the ancient times. The Beloved Rasool صَلَّى اللّٰهُ تَعَالٰى عَلَيْهِ وَاٰلِهٖ وَسَلَّم cursed interest receivers, providers, its writers and witnesses of interest and declared them all to be equal contributors (to this sin). (Ibn Majah, vol. 3, pp. 73, Hadees 2277) On one occasion he صَلَّى اللّٰهُ تَعَالٰى عَلَيْهِ وَاٰلِهٖ وَسَلَّم stated: 'Insanity spreads in that nation wherein there is an outspread of interest.'  (Al-Kabaa'ir lil-Dhahabi, pp. 70) In fact he صَلَّى اللّٰهُ تَعَالٰى عَلَيْهِ وَاٰلِهٖ وَسَلَّم declared interest to be the cause of destruction.
(Al-Kabaa'ir lil-Dhahabi, pp. 69) Any businessman of the world who has ever abstained from interest in adherence to his صَلَّى اللّٰهُ تَعَالٰى عَلَيْهِ وَاٰلِهٖ وَسَلَّم glorious sayings has obtained benefit and been embraced by progress and prosperity in the business domain. Similarly, in order to promote the business sector and escalate economic growth in the economic domain, he صَلَّى اللّٰهُ تَعَالٰى عَلَيْهِ وَاٰلِهٖ وَسَلَّم established laws pertaining to sleeping-partnerships (mudaarabat) and general partnerships (mushaarakat). He صَلَّى اللّٰهُ تَعَالٰى عَلَيْهِ وَاٰلِهٖ وَسَلَّم granted us all glorious sayings outlining the responsibilities and rights of employees and employers. He صَلَّى اللّٰهُ تَعَالٰى عَلَيْهِ وَاٰلِهٖ وَسَلَّم condemned fraud, lying, and adulteration in the trade. This is such a great favour of the Benevolent Rasool صَلَّى اللّٰهُ تَعَالٰى عَلَيْهِ وَاٰلِهٖ وَسَلَّم in the economic domain that adhering to these principles has made it possible to abolish unemployment and poverty from every society.
His صَلَّى اللّٰهُ تَعَالٰى عَلَيْهِ وَاٰلِهٖ وَسَلَّم favours on slaves
Victors enslaving conquered nations and then forcing all their future generations to wear the same iron collars (shackles) of slavery was a global dilemma. In order to abolish this, the Beloved Rasool صَلَّى اللّٰهُ تَعَالٰى عَلَيْهِ وَاٰلِهٖ وَسَلَّم employed various strategies and proclaimed glad tidings for the freer of a slave: "The one who freed one slave then Allah عَزَّوَجَلَّ will liberate (free) one limb of the freer in exchange for each of the slave's limbs from Hell." (Musnad Ahmad, vol. 7, pp. 149, Hadees 19642)  Along with this, he صَلَّى اللّٰهُ تَعَالٰى عَلَيْهِ وَاٰلِهٖ وَسَلَّم elevated slaves to the heights of dignity and nobility by promoting (arranging) the concept of education and edification among them. The global effect of this emerged in the form of a gradual abolition of the "slave trade" culture and today the world is free from the shackles of slavery.
His صَلَّى اللّٰهُ تَعَالٰى عَلَيْهِ وَاٰلِهٖ وَسَلَّم favours in regards to establishing (world) peace
"Peace" is absolutely crucial for human survival and prosperity on this earth hence our Glorious and Beloved Rasool صَلَّى اللّٰهُ تَعَالٰى عَلَيْهِ وَاٰلِهٖ وَسَلَّم introduced principles that safeguard the rights of human lives and possessions. The blessed saying of Beloved Mustafa صَلَّى اللّٰهُ تَعَالٰى عَلَيْهِ وَاٰلِهٖ وَسَلَّم: "A (perfect) Muslim is the one from whose tongue and hand no other Muslim is harmed." (Bukhari, vol. 1, pp. 15, Hadees 10)
On one occasion he صَلَّى اللّٰهُ تَعَالٰى عَلَيْهِ وَاٰلِهٖ وَسَلَّم stated: 'It is not permissible for a Muslim to scare another Muslim.' (Abu Dawood, vol. 5, pp. 391, Hadees 5004)  On one hand he صَلَّى اللّٰهُ تَعَالٰى عَلَيْهِ وَاٰلِهٖ وَسَلَّم enforced penalties in order to abolish elements that disrupt public peace and on the other hand he warned those imposing penalties that they will be subject to retribution in the Hereafter in case they did not impose penalties in all fairness and justice. The ultimate effect of the Beloved Rasool's صَلَّى اللّٰهُ تَعَالٰى عَلَيْهِ وَاٰلِهٖ وَسَلَّم practical invitation of social security was that the entire world was granted the outstanding laws for its security and survival.
Each aspect of the innumerable dimensions of the favours exhibits the mercy of Beloved Rasool صَلَّى اللّٰهُ تَعَالٰى عَلَيْهِ وَاٰلِهٖ وَسَلَّم in a marvellously exquisite way. We must also remember our Benevolent Rasool's صَلَّى اللّٰهُ تَعَالٰى عَلَيْهِ وَاٰلِهٖ وَسَلَّم generosity and favours and be obedient to him صَلَّى اللّٰهُ تَعَالٰى عَلَيْهِ وَاٰلِهٖ وَسَلَّم in every state.
Share
---