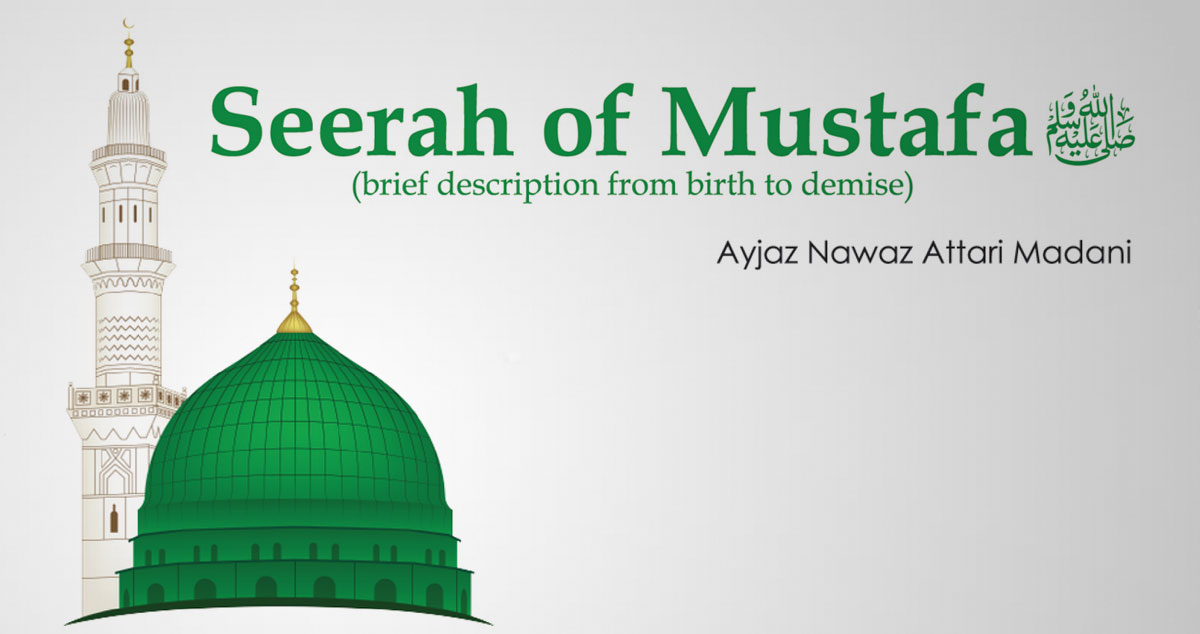 Name and lineage
The blessed name of the Nabi of Rahmah, the Intercessor of the Ummah is 'Muhammad'. In other Divinely-revealed books, his name 'Ahmad' was mentioned, whereas hundreds of his names related to his attributes are mentioned in Quran, Ahadees and books of Seerah. Some of them are as follows: Muzzammil, Muddassir, Ra'oof, Raheem, Mustafa, Mujtaba, Murtada, etc. His Kuniyah is 'Abul Qaasim'. He belonged to the Bani Haashim – a great family of the Quraysh tribe. The name of his respected father is Abdullah whereas that of his mother is Aaminah. His paternal lineage is as follows: (1) Sayyiduna Muhammad [مُحَمَّد] صَلَّى اللّٰهُ تَعَالٰى عَلَيْهِ وَاٰلِهٖ وَسَلَّم (2) s/o 'Abdullah [عبد اللّٰه] (3) s/o 'Abdul Muttalib [عبد المطلب] (4) s/o Haashim [ہاشم] (5) s/o 'Abd-e-Munaaf [عبد مناف] (6) s/o Qusai [قصی] (7) s/o Kilaab [کلاب] (8) s/o Murrah [مرہ]. His maternal lineage is as follows: (1) Sayyiduna Muhammad [مُحَمَّد] صَلَّى اللّٰهُ تَعَالٰى عَلَيْهِ وَاٰلِهٖ وَسَلَّم (2) s/o Aaminah [آمنہ] (3) d/o Wahb [وہب] (4) s/o Abd-e-Munaaf [عبد مناف] (5) s/o Zuhrah [زہرہ] (6) s/o Kilaab [کلاب] (7) s/o Murrah [مرہ]. Kilaab s/o Murrah [مرہ] is the name where the lineages of the parents of the Holy Nabi صَلَّى اللّٰهُ تَعَالٰى عَلَيْهِ وَاٰلِهٖ وَسَلَّم join, merging into one.
Blessed birth
His blessed birth took place on 12 Rabi'-ul-Awwal on Monday, corresponding to 20 April, 571 AD. Muslims celebrate blessed Milad on this date around the globe.
Upbringing
His respected father had passed away before he صَلَّى اللّٰهُ تَعَالٰى عَلَيْهِ وَاٰلِهٖ وَسَلَّم was born. When he was six years of age, his kind and caring mother also passed away. Therefore, he was brought up by his grandfather, Sayyiduna Abdul Muttalib رَضِىَ اللّٰهُ تَعَالٰی عَـنْهُ. After two years, his beloved grandfather also departed this life. Hence his uncle Abu Taalib took on the responsibility of bringing up his blessed nephew.
Fortune smiled on Haleemah Sa'diyah
As was the custom, respected Arabs used to send their children for suckling to villages in the outskirts where children would grow healthy in clean and healthy environment and would also learn original and excellent Arabic language. Following the same custom, his respected mother sent him in his childhood along with Sayyidatuna Haleemah Sa'diyah رَضِىَ اللّٰهُ تَعَالٰی عَـنْهَا. She took him to her tribe where she suckled him for a period of time. During this period, blessings occurred in abundance by virtue of him.
Blessed childhood
The angels would rock his cradle in his childhood. He صَلَّى اللّٰهُ تَعَالٰى عَلَيْهِ وَاٰلِهٖ وَسَلَّم would point towards the moon which moved in the direction where his blessed finger moved. Unlike other children, he صَلَّى اللّٰهُ تَعَالٰى عَلَيْهِ وَاٰلِهٖ وَسَلَّم never defecated[1] or urinated in clothes. He صَلَّى اللّٰهُ تَعَالٰى عَلَيْهِ وَاٰلِهٖ وَسَلَّم always defecated at a fixed time. In his childhood, he would go out of home and see children play but he صَلَّى اللّٰهُ تَعَالٰى عَلَيْهِ وَاٰلِهٖ وَسَلَّم would not play. Boys would call him for play, but he صَلَّى اللّٰهُ تَعَالٰى عَلَيْهِ وَاٰلِهٖ وَسَلَّم would reply, 'I am not born to play'.
Youth and business
In his youth, his blessed character was adorned with all good qualities such as truthfulness, honesty, loyalty, fulfillment of promise, mercy, generosity, sympathy with friends, comforting relatives, caring for the poor and the destitute. He صَلَّى اللّٰهُ تَعَالٰى عَلَيْهِ وَاٰلِهٖ وَسَلَّم was completely free from all bad attributes and shortcomings [i.e. faults] such as greed, fraud, deception, lying, drinking alcohol, fornication, dancing, singing, plundering, stealing, indecent talking and having love affairs. He صَلَّى اللّٰهُ تَعَالٰى عَلَيْهِ وَاٰلِهٖ وَسَلَّم was famous for his honesty, truthfulness and trustworthiness far and wide. The business of his family was trade. At the age of 13, he travelled to Syria for the first time along with his uncle Abu Taalib for trade. At the age of 23, he travelled to Syria for the second time for the purpose of trade and took the trade goods of Sayyidatuna Khadijah رَضِىَ اللّٰهُ تَعَالٰی عَـنْهَا to Syria along with her slave, Maysarah.
Nikah and blessed wives
He صَلَّى اللّٰهُ تَعَالٰى عَلَيْهِ وَاٰلِهٖ وَسَلَّم entered into Nikah with several ladies. This is one of his particularities. At the age of 25, he entered into his first Nikah with Sayyidatuna Khadijah رَضِىَ اللّٰهُ تَعَالٰی عَـنْهَا. He did not have Nikah with any other lady as long as Sayyidatuna Khadijah remained alive. Here are the names of his eleven blessed wives: (1) Sayyidatuna Khadija-ul-Kubra (2) Sayyidatuna Sawdah (3) Sayyidatuna Ayesha (4) Sayyidatuna Hafsah (5) Sayyidatuna Umm-e-Salamah (6) Sayyidatuna Umm-e-Habibah (7) Sayyidatuna Zaynab Bint Jahsh (8) Sayyidatuna Zaynab Bint Khuzaymah (9) Sayyidatuna Maymunah (10) Sayyidatuna Juwayriyah (11) Sayyidatuna Safiyyah رَضِىَ اللّٰهُ تَعَالٰی عَـنْهُنَّ. The names of three of his maids include (1) Sayyidatuna Maria Qibtiyyah (2) Sayyidatuna Rayhanah (3) Sayyidatuna Nafeesah رَضِىَ اللّٰهُ تَعَالٰی عَـنْهُنَّ.
Offspring
He had three sons: (1) Sayyiduna Qaasim (2) Sayyiduna Abdullah (Tayyib and Taahir) and (3) Sayyiduna Ibraheem رَضِیَ اللّٰهُ تَعَالٰی عَنْهُم. He had four daughters: (1) Sayyidatuna Zaynab (2) Sayyidatuna Ruqayyah (3) Sayyidatuna Umm-e-Kulsoom and (4) Sayyidatuna Fatima-tuz-Zahra رَضِىَ اللّٰهُ تَعَالٰی عَـنْهُنَّ. Sayyidatuna Khadijah رَضِىَ اللّٰهُ تَعَالٰی عَـنْهَا gave birth to all of his offspring except Sayyiduna Ibraheem رَضِىَ اللّٰهُ تَعَالٰی عَـنْهُ who was born to Sayyidatuna Mariah Qibtiyyah رَضِىَ اللّٰهُ تَعَالٰی عَـنْهَا.
Relatives
Four of his famous paternal uncles were: (1) Sayyiduna Hamzah رَضِىَ اللّٰهُ تَعَالٰی عَـنْهُ (2) Sayyiduna Abbas رَضِىَ اللّٰهُ تَعَالٰی عَـنْهُ (3) Abu Taalib (4) Abu Lahab. Four paternal aunts: (1) Sayyidatuna Safiyyah رَضِىَ اللّٰهُ تَعَالٰی عَـنْها (2) A'atikah (3) Umaymah (4) Umm-e-Hakeem. Three Rada'ee mothers: (1) Sayyidatuna Suwaybah رَضِىَ اللّٰهُ تَعَالٰی عَـنْهَا (2) Sayyidatuna Haleemah Sa'diyyah رَضِىَ اللّٰهُ تَعَالٰی عَـنْهَا (3) Sayyidatuna Umm-e-Ayman رَضِىَ اللّٰهُ تَعَالٰی عَـنْهَا.
Performing worship, enduring hardship [for the pleasure of Allah عَزَّوَجَلَّ] and receiving first revelation
When he was forty years of age, he would go to the Cave of Hira which was situated at a distance of almost three miles from Makkah Mukarramah. He صَلَّى اللّٰهُ تَعَالٰى عَلَيْهِ وَاٰلِهٖ وَسَلَّم would remain busy worshipping the Lord. This was the cave where he received the first revelation from Allah عَزَّوَجَلَّ.
Declaration of Nubuwwah and invitation to Islam
At the age of forty, he made the declaration of Nubuwwah. For three years, he continued to fulfill the obligation of Islamic preaching secretly. His wife Sayyidatuna Khadijah رَضِیَ اللّٰهُ تَعَالٰی عَنْهَا among women, Sayyiduna Abu Bakr Siddeeq رَضِىَ اللّٰهُ تَعَالٰی عَنْهُ among men, Sayyiduna 'Ali کَرَّمَ الـلّٰـهُ تَـعَـالٰی وَجـْھَـهُ الـکَـرِیْم among children were the first to embrace Islam. Then, Sayyiduna 'Usman, Sayyiduna Zubayr Ibn 'Awwam, Sayyiduna 'Abdur Rahman Ibn 'Awf, Sayyiduna Sa'd Bin Abi Waqas and Sayyiduna Talhah Bin 'Ubaydullah رَضِىَ الـلّٰـهُ تَعَالٰی عَـنْهُم also joined the fold of Islam.
Invitation to Islam given to the Quraysh
After three years, he invited the people of his tribe to embrace Islam, as was commanded by his Lord. He warned them of the Divine punishment. But they refused to accept invitation to Islam. They became annoyed and even started speaking ill of him.
Open invitation to Islam and cruelty from disbelievers
During the fourth year of the declaration of Nubuwwah, he صَلَّى اللّٰهُ تَعَالٰى عَلَيْهِ وَاٰلِهٖ وَسَلَّم started preaching Islam openly and condemning polytheism and idol-worship publicly. Enraged [i.e. angered], the disbelievers started opposing him and causing various sorts of troubles to him and to the Muslims.
Detention in Shu'b Abi Taalib
After Sayyiduna Umar and Sayyiduna Hamzah رَضِىَ اللّٰهُ تَعَالٰی عَـنْهُمَا, a paternal uncle of the Holy Nabi, became Muslim, Islam was greatly strengthened. But disbelievers did not give up opposing Muslims. In fact, day by day, their opposition became stronger. They isolated the family members of the Holy Nabi صَلَّى اللّٰهُ تَعَالٰى عَلَيْهِ وَاٰلِهٖ وَسَلَّم, forcing them into living in a valley called Shu'b Abi Taalib where he lived for three years, facing severe hardships.
People of Madinah accepted Islam
On the occasion of Hajj, he صَلَّى اللّٰهُ تَعَالٰى عَلَيْهِ وَاٰلِهٖ وَسَلَّم would give invitation to Islam to the people of tribes coming from different areas. Every year, some people accepted Islam. During the 13th  year, 72 people from Madinah accepted Islam. Having returned, they started giving invitation to Islam to other people. Gradually, Islam spread from Madinah to Quba at each and every home.
Migration to Madinah
During the 13th year of the declaration of Nubuwwah, the Holy Nabi صَلَّى اللّٰهُ تَعَالٰى عَلَيْهِ وَاٰلِهٖ وَسَلَّم allowed Muslims to migrate to Madinah. Later on, he صَلَّى اللّٰهُ تَعَالٰى عَلَيْهِ وَاٰلِهٖ وَسَلَّم himself migrated to Madinah along with Sayyiduna Abu Bakr Siddique رَضِىَ اللّٰهُ تَعَالٰی عَـنْهُ.
Blessed life in Madinah
After migration, he صَلَّى اللّٰهُ تَعَالٰى عَلَيْهِ وَاٰلِهٖ وَسَلَّم stayed in Madinah Munawwarah for more or less 11 years. Briefly mentioned here are various important things occurring during those eleven years. First year: Masjid Quba and Masjid Nabawi were constructed. The first Jumu'ah Salah was offered. Azan and Iqamah originated. Second year: The Qiblah was changed, i.e. commandment of offering Salah facing the Holy Ka'bah instead of the Bayt-ul-Muqaddas was given. Siyam [i.e. fasts] in Ramadan were declared Fard. Commandment of Salah of Eids and that of Qurbani were given. Nikah of Sayyidatuna Fatimah رَضِىَ اللّٰهُ تَعَالٰی عَـنْهَا with Sayyiduna Ali رَضِىَ اللّٰهُ تَعَالٰی عَـنْهُ took place. Muslims were blessed with a clear-cut victory during the battle of Badr. Third year: The battle of Uhud with disbelievers took place. According to a verdict, alcohol was declared Haraam the same year. Fourth year: The commandment of Salat-ul-Khauf was revealed. Sayyiduna Imam Husain رَضِىَ اللّٰهُ تَعَالٰی عَـنْهُ was born. He صَلَّى اللّٰهُ تَعَالٰى عَلَيْهِ وَاٰلِهٖ وَسَلَّم entered into Nikah with Sayyidatuna Umm-e-Salamah and with Sayyidatuna Zaynab Bint Jahsh رَضِىَ اللّٰهُ تَعَالٰی عَـنْهُمَا. Commandments of Qasr Salah and that of the observance of [Islamic] veil were revealed. Fifth year: He صَلَّى اللّٰهُ تَعَالٰى عَلَيْهِ وَاٰلِهٖ وَسَلَّم entered into Nikah with Sayyidatuna Juwayriyah رَضِىَ اللّٰهُ تَعَالٰی عَـنْهَا. The Ghazwah of Khandaq and the Ghazwah of Bani Mustaliq took place. The commandment of Tayammum was also revealed the same year. Sixth year: The truce of Hudaybiyah and the Bay'at-e-Ridwan took place. He صَلَّى اللّٰهُ تَعَالٰى عَلَيْهِ وَاٰلِهٖ وَسَلَّم sent letters to different kings, inviting them to accept Islam. The king of Habshah, Najashi رَضِىَ اللّٰهُ تَعَالٰی عَـنْهُ, accepted Islam. The same year, disbelievers cast a spell [i.e. magic] on him and Surah Falaq and Surah Naas were revealed for breaking the spell. Seventh year: The Ghazwah of Khyber and the Ghazwah of Zaat-ur-Riqaa' took place. He صَلَّى اللّٰهُ تَعَالٰى عَلَيْهِ وَاٰلِهٖ وَسَلَّم entered into Nikah with Sayyidatuna Umm-e-Habibah, Sayyidatuna Safiyyah, and Sayyidatuna Maymunah رَضِىَ اللّٰهُ تَعَالٰی عَـنْهُنَّ. By the blessing of his prayer, the set sun reappeared for Sayyiduna Ali رَضِىَ اللّٰهُ تَعَالٰی عَـنْهُ so that he could offer Salat-ul-Asr. Eighth year: His beloved son, Sayyiduna Ibraheem رَضِىَ اللّٰهُ تَعَالٰی عَـنْهُ was born. The Ghazwah of Hunayn took place. Makkah was conquered. Ninth year: The king of Habshah, Sayyiduna Najashi رَضِىَ اللّٰهُ تَعَالٰی عَـنْهُ, passed away. Various delegations presented themselves in the court of the Holy Nabi. The commandment of Hajj being Fard was revealed. The Ghazwah of Tabook took place. Blessed companions رَضِیَ اللّٰهُ تَعَالٰی عَنْهُم gave financial co-operation wholeheartedly in it. Tenth year: The beloved son of the Revered and Renowned Rasool صَلَّى اللّٰهُ تَعَالٰى عَلَيْهِ وَاٰلِهٖ وَسَلَّم, Sayyiduna Ibraheem رَضِىَ اللّٰهُ تَعَالٰی عَـنْهُ, passed away. The same year, the Blessed and Beloved Nabi performed the Hajj, known as the Hajja-tul-Wada. Eleventh year: During the eleventh year of migration, he صَلَّى اللّٰهُ تَعَالٰى عَلَيْهِ وَاٰلِهٖ وَسَلَّم passed away on 12 Rabi'-ul-Awwal Monday, corresponding to 12 June 632 AD. He was 63 years of age at the time of his visible demise. His burial took place in the home of Sayyidatuna Ayesha Siddiqah رَضِىَ اللّٰهُ تَعَالٰی عَـنْهَا. (  اِنَّا لِلّٰهِ وَ اِنَّاۤ اِلَیْهِ رٰجِعُوْنَؕ) (Derived from Seerat Sayyid-ul-Ambiya; Seerat-e-Mustafa)
Mahboob-e-Rab-e-'Arsh hay is sabz qubbah mayn
Pehlu may jalwah gaah 'Ateeq-o-'Umar ki hay
Sa'dayn ka qiraan hay pehlu-e-mah mayn
Jhurmat kiye hayn taaray tajalli qamar ki hay
(Hada`iq-e-Bakhshish, pp. 219, 220)
صَلُّوْا عَلَى الْحَبِيب           صَلَّى اللّٰهُ تَعَالٰى عَلٰى مُحَمَّد
Share
---