Madani Qaidah Mobile Application
By the grace of Allah and with the untiring efforts made by I.T department of Dawat-e-Islami, a global non-political movement of preaching Holy Quran and sacred Sunnah an app for tajweed learning has been introduced with the name of "Madani Qaidah". With this app, kids and adult Muslims can learn Tajweed rules along with proper pronunciation of Arabic words (Makharij). It is a free to use app and it works offline without any internet connection.

Arabic Articulations
In terms of Tajweed the articulatory organ of an Arabic letter is called Makharij (articulator).

Video Lessons
Some specific recorded lessons are also available in videos as well to learn proper Arabic pronunciation.

22 Chapters
This app teaches you like a Quran tutor with clear sound and pronunciation of each letter and it is based on 22 easy lessons.

Important Notes
In this section, importance of proper pronunciation of Arabic letters and consequences of wrong pronunciation has been highlighted.

Different Languages
To make you understand Quran pronunciation in a better way this app supports 2 languages i.e. English & Urdu.

Share
You can share the app link through Facebook, Twitter, WhatsApp and different social media platforms.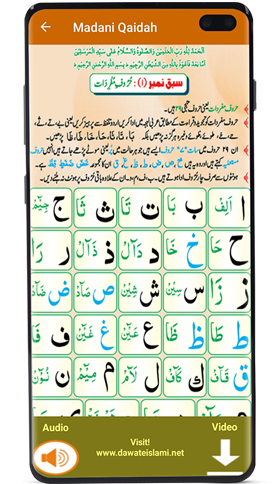 Word by Word
By tapping the word, User can listen all Qaida lessons and can improve your Arabic pronunciation.
Questions & Answers
All possible questions that could come in your mind are being answered in this section and every Tajweed rule has been define completely. You can read questions and answers related to tajweed rules and Makharij.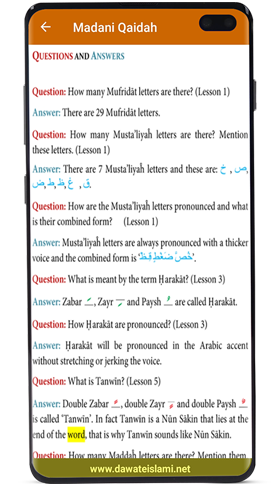 In order to learn the proper pronunciation of Arabic letters with Makharij & Tajweed rules download the app now and persuade others to make the most of it.
Use this fabulous app yourself and persuade others to make the most of it. You can share your valuable suggestions and feedback at support@dawateislami.net.
Copyright © 2019 by I.T. Majlis, Dawat-e-Islami