Salam-e-Raza Application

Salam-e-Raza Application
Salam-e-Raza Application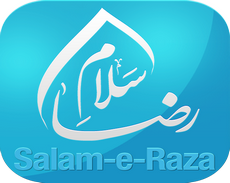 About "Salam-e-Raza" Application:
The Application has been developed by the Majlis-e-IT of Dawat-e-Islami for android devices.
Description:
"Salam-e-Raza App is consisted on complete "Salat-o-Salam-Musatafa Jane Rehmat Pe Lakhon Salam" written by Reviver of Sunnah, Eradicator of Bid'ah,Guide of Tariqah, Scholar of Shariah, Imam of Ahl-e-Sunnah, A'la Hadrat Al-Haj Al-Hafiz Al-Qari Ash-Shah Imam Ahmed Raza Khan رَحْمَۃُ اللہِ تَعَالٰی عَلَیْہِ.
What's in Salam-e-Raza?
·         12 short couplets of Salam-e-Raza to facilitate Naat Khawan.
·         25 selected couplets of Salam-e-Raza.
·         Complete Salam-e-Raza with 171 couplets.
Your views, valuable suggestions and worthwhile feedback at support@dawateIslami.net will be appreciated.
Screenshots
Copyright ©
2018

by I.T. Majlis, Dawat-e-Islami