Online Rohani Ilaj & Istikhara
Online Rohani Ilaj & Istikhara
Among the many signs of Qayamah one major sign is the spread of hate and jealousy. And, today we see how prevalent these evils are in our society and how black magic, evil eye and satanic practices are so common. DawateIslami is on a mission to purify the world of all such evils and shield Muslims against black magic. For this purpose, the I.T. department of DawateIslami has created Online Rohani Ilaj and Istikhara App. This app offers online kaat, rohani ilaj, wazaif for money, istikhara for marriage, khwabon ki tabeer and much more. The app has many exciting features including tawizat, for protection from evil spells, and online istikhara option for guidance. So, get this amazing app now.

Online Kaat
The 'online kaat' option allows you to contact us through this app so we can fix your problem by performing spiritual rites.

Wazaif
There are many images with powerful wazaif which you can read in multiple languages like English, Arabic, Urdu, Chinese and so on.

Tawizat-e-Attaria
Get Tawizat-e-Attariya for your specific problems by getting in touch with us. The tawizat are created by our experienced ulama.

Books
On this online istikhara app you can read several wazaif and spiritual treatment books written by Sheikh-e-Tareeqat Ameer-e-Ahle Sunnat.

Downloads
You can download many books, wazaif, images and media files. You may easily get this app and use it to improve your troubled life.

Favorites
Not only download but also create bookmarks to your favorite media files. You can locate them easily.

Media
You can conveniently watch media like videos and programs or listen to audio clips on the topics of istikhara, kaat, magic and wazaif.

Tasbih Counter
Tasbih counter allows you to keep a count of the times you have recited a particular wazifa and the count won't go even if you close the app.

Share
This feature allows you to share any wazaif, duas and other spiritual stuff on the app with your loved ones through social media.
Screenshot Features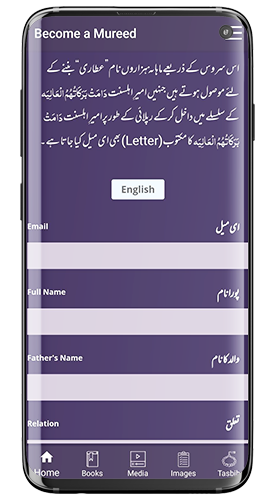 Become a Mureed
This fascinating feature allows you to become a mureed of Sheikh-e-Tareeqat Ameer-e-Ahle Sunnat Maulana Ilyas Qadri by filling out a short correspondence form. By becoming a Mureed you can forever gain benefits from Maulana Ilyas Qadri's blessings and be under his spiritual guidance.
Istikhara
The Istikhara option will allow you to get free expert guidance on Istikhara or get one done for yourself or your loved ones. You can choose any kind of Istikhara such as, marriage, career, health, life decisions, etc. and make sure you're taking the right step at every important point in your life.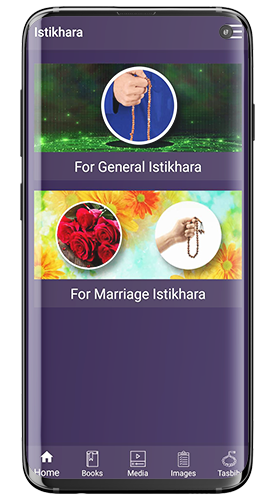 Copyright © by I.T Department of Dawat-e-Islami.