Bahar e Shariat App
Dawat-e-Islami is a non-profit Islamic organization with its headquarters in Karachi, Pakistan. Its I.T. department has recently launched 'Bahar e Shariat App' – the online version of the Bahare Shariat Book. The app is a compilation of all the volumes of bahar e shariat dawateislami book split into 20 easily readable parts. The book is basically a 'masle masail ki kitab' providing guidance on various topics like rulings on zakat, rulings on Qurbani, wudu method, masail e namaz, hajj and umrah information, sunnat nikah, shariah and much more. This amazing book is also a great source of Islamic knowledge on bunyadi aqaid, Quranic Ayat, hadith, and so on. The Islamic book app has an attractive UI and user-friendly interface. So, become one of the many blessed Bahar e Shariat downloaders now!

Istilahaat
The app provides a guide for you that contains meanings for the difficult Islamic terminologies used in the Bahare Shariat book.

Lughat
This feature allows you to look up any difficult words and find out their context and meanings so you can understand the book better.

Qadeem/Jadeed
The app offers meanings of difficult old words and also their modern replacements which are more common and easier to use.

Bookmark
You can easily bookmark topics, like if you're reading namaz ka tariqa, or fundamentals of Islam you can bookmark the topic, stop and pick it up later.

Share
Readers can easily share the app through different social media like WhatsApp Facebook, Twitter, etc.

Resume Reading
It's an interesting feature because it'll mark the topic and page where you left off and you can start right where you stopped later on.
Screenshot Features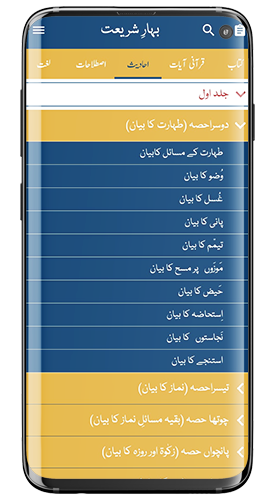 Qurani Ayaat & Ahadees
Bahar e Shariat app gives you the option to read the different Qurani Ayat and Ahadees that are related to the topic you're reading like learning Namaz, Islami aqaid, beliefs of Islam, etc. So, you can gather a lot of Islamic knowledge on the subject of your choice.
Advanced Search
The advanced search lets the user search a word or sentence in specific or all parts, while your recent searches show below. Also, you can use the index to find any section of one of the best Islamic books 'Bahare Shariat' such as Namaz k masail, iddat ke masail, etc.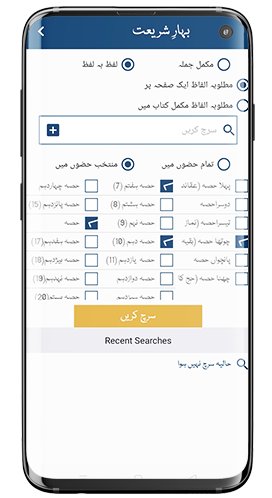 Copyright © by I.T Department of Dawat-e-Islami.