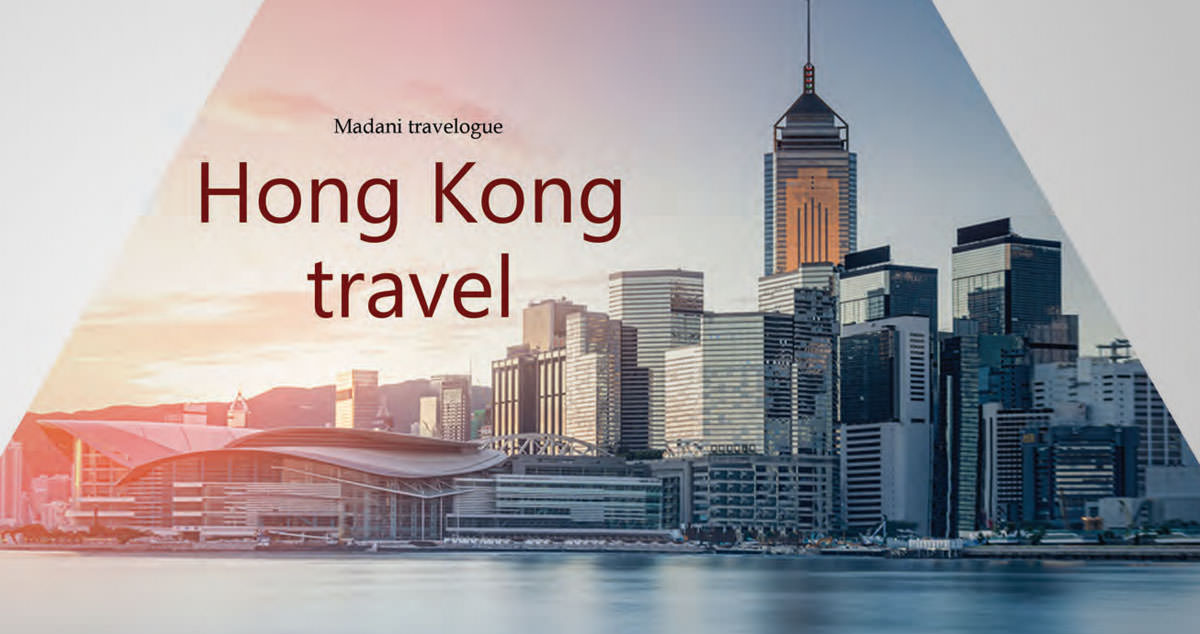 It was 12 noon on the 30th October 2019 when we began our flight from Karachi to Hong Kong. Hong Kong is a well-known region of the world which has a population of approximately 7.5 million, of which approximately three hundred thousand (300,000) are Muslims. It is a very densely populated area i.e. there are a large number of people living in a relatively small region.
In the company of three Islamic brothers who are businessmen, we reached Dubai in roughly 2 hours, where we stopped for five hours. In Dubai, we were joined by another Islamic brother who was also a businessman and at seven o'clock in the evening, our flight took off for Hong Kong. The Zuhr, 'Asr and Maghrib Salāhs were offered at Dubai airport; whereas, the 'Ishā Salāh was offered in the aeroplane. The flight from Dubai to Hong Kong was a continuous seven hours. We landed in Hong Kong airport at 6 am local time. The Fajr Salāh was to end at 6:27. Fearing that the time spent making Wudū and exiting the plane would result in missing the Salāh, we made Wudū in the aeroplane's washroom and performed Fajr on the plane.
Importance of Salāh
Dear Islamic brothers! Many of those who are usually punctual in offering Salāh become lazy in performing it during travels. No doubt, in comparison to normal circumstances, it is more difficult to pray whilst travelling on a bus, train, or plane; however, difficulties become easy with a sincere intention. Prior to travelling, read up on the relevant Islamic rulings in regards to the Salāh times and the direction of Qiblah. Allah willing, it will provide ease in maintaining Salāh with consistency.
After performing the Fajr Salāh and going through the immigration process, we proceeded outside where a group of brothers were waiting to welcome us. The fact that such a large group of brothers was gathered in a country like Hong Kong in the early hours of a working day was testament to their love for the religion, and the blessings of Dawat-e-Islami. From there we went to the house of an Islamic brother, where we had breakfast and rested for some time.
Madanī Centres of Dawat-e-Islami in Hong Kong
Property value in Hong Kong is very high. The people there usually reside in small homes within multi-storey buildings. The house in which we stayed was situated on the 21st floor. Directly opposite this building, which is located in the area known as Tin Shui Wai, is a Madanī centre called 'Faizān-e-Sahābah'. The readers of Faizān-e-Madīnah will be delighted to know that there are ten centres of Dawat-e-Islami in Hong Kong. Not only are the congregational Salāhs taking place within these centres, there are also eight Madrasa-tul-Madīnahs for brothers and two for sisters established there.
Establishing Jāmi'a-tul-Madīnah in Hong Kong
By the grace of Allah Almighty, some time ago, Jāmi'a-tul-Madīnah was started in Hong Kong where there are currently fourteen students studying in the first year. We had an opportunity to exchange some Madanī Pearls with the students after the 'Asr Salāh and encouraged them to continue their studies until the final year of intensive Hadīth study; upon which the Dars-e-Nizāmī course is completed. We also performed the Maghrib Salāh there in congregation. During this time, the guardians of the students had also arrived and we had the honour of delivering a speech in their presence after the Maghrib Salāh.
Dear Islamic brothers! It is a great bounty and grace of Allah Almighty that through the blessings of Ameer-e-Ahl-e-Sunnah, we have been granted such an environment under which the Dars-e-Nizāmī (i.e. 'Ālim course) is being taught in Hong Kong also. May Allah Almighty grant us steadfastness in the Madanī environment of Dawat-e-Islami.
Sunnah-Inspired Ijtimā' (gathering)
After offering the 'Ishā Salāh in Jami'a-tul-Madinah, we visited the centre of Dawat-e-Islami called 'Faizān-e-Ahl-e-Bayt', where a Sunnah-inspired Ijtimā' (gathering) was taking place. A large number of brothers had already arrived before us. I had the honour of delivering a speech in both English and Urdu on the topic of 'Which fortunate individuals will be blessed with the shade of the Throne on the Day of Judgment.' After the speech, we met with the brothers and then food was served for the occasion of the Mawlid. Then we spent a substantial part of the night in discussions with the brothers, after which we rested.
Participating in the study circles
The following morning, we offered the Fajr Salāh in congregation in the Faizān-e-Sahābah centre. After the Salāh, a study circle (Madanī Halaqah) took place wherein the conditions and obligatory acts of the Salāh, and also the method of Wudū and Ghusl were taught. After the study circle, we were blessed to recite three verses from Sirāt-ul-Jinān with translation and commentary. This continued until the time of the Ishrāq and Chāsht Salāhs. After praying Ishrāq and Chāsht, we had breakfast at an Islamic brother's house and then rested for a while.
Speech before Jumu'ah Salāh
After resting, we made preparations for Jumu'ah Salāh and then headed for another Masjid and Madrasah of Hong Kong called 'Nūr-ul-Qur'ān' for Jumu'ah Salāh. From 1:00 pm – 1:30 pm, I had the opportunity to deliver a speech on the topics 'The Virtues of Friday' and 'How should we spend Rabī' al-Awwal.'
Some businessmen Islamic brothers had arranged lunch for us after Jumu'ah Salāh. On this occasion, we informed the Islamic brothers who were present of the many services of Dawat-e-Islami and encouraged them to contribute wholeheartedly towards the telethon.
May Allah Almighty grant further success to the works of Dawat-e-Islami that are taking place globally, in particular in Hong Kong.
اٰمِیْن بِجَاہِ النَّبِیِّ الْاَمِیْن صلَّی اللہ علیہ واٰلہٖ وسلَّم
Share
---