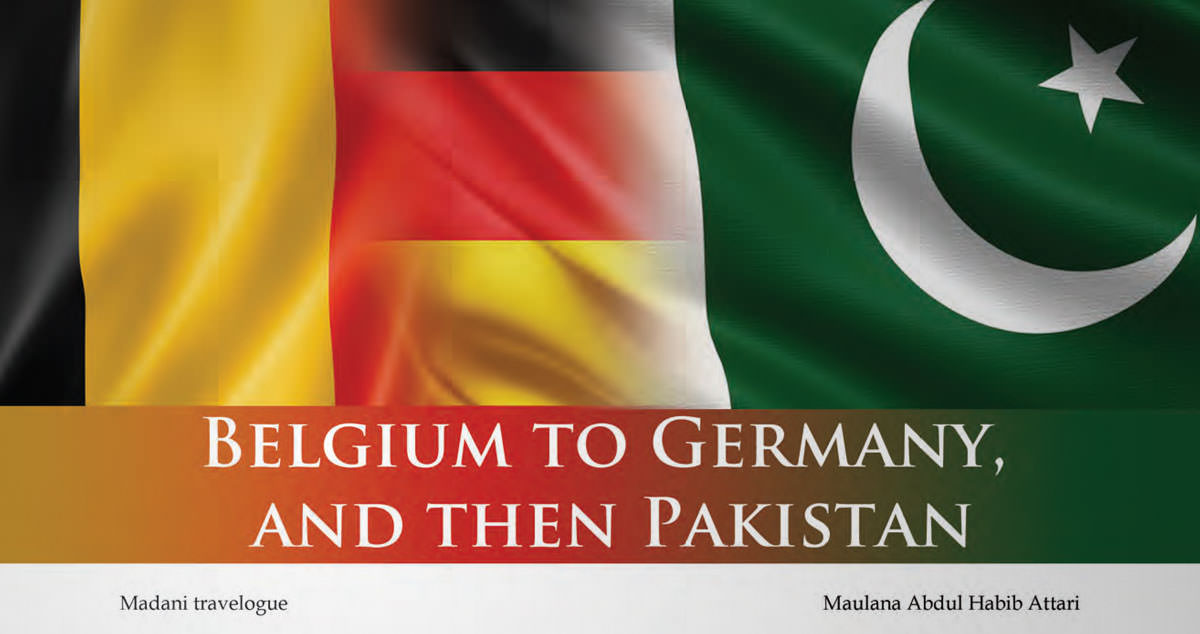 Departure from Belgium
In Belgium, 'Ijtima' for traders' and then meeting with Islamic brothers, etc. ended at around 3 a.m. We rested for only one and a half hour to two hours. The responsible Islamic brothers said that after Fajr Salah, we had to leave early for Germany because the next journey was quite long.
After offering Fajr Salah, our caravan which was comprised of Islamic brothers from Portugal, Belgium, UK, and Pakistan left at around 7 a.m. in three cars. From Brussels, we left for a city in Germany, but first we had to visit a village called Monchengladbach, situated near the border of Germany. Few devotees of the Holy Prophet had arranged breakfast for us over there.
Entering Germany
Cars are normally driven quite faster in Germany. We entered Germany at around 9 a.m. As people easily enter Islamabad from Rawalpindi, similarly, we entered Germany from Belgium without even noticing it. There was no border, gates or any kind of hindrance in between. We reached Monchengladbach, a village situated at the border of Germany, at 9:30 a.m. where 12 to 15 Pakistani businessmen, influential dignitaries, and responsible Islamic brothers of Dawat-e-Islami were waiting for us. In a place away from home, those devotees of the Holy Prophet served us breakfast comprising freshly cooked Halwa-puri, etc. with extreme love and affection. We had a discussion, and exchanged Madani pearls as well. After having the breakfast, we soon continued our remaining journey.
We were in a hurry because we had to reach a place in Hagen, a city in the North Rhine-Westphalia province of Germany, where we intended to buy a non-Muslims' place of worship and make a Masjid over there. We had agreed to meet them at 11 a.m. over there. It was Monday, and the traffic was more than usual as the last four days were holidays in Europe. We reached there at around 11:45 a.m. In addition to those who had to show us the place, few other people from the surroundings had also gathered.
Madani Markaz for Syrian Muslims
Approximately two hundred and fifty thousand Syrian Muslim refugees inhabit the surrounding areas of that place. A train station is also situated nearby. For some period of time, we were in search of an appropriate place within the same vicinity where a Masjid and Madani Markaz of Dawat-e-Islami could be built, and 'call to righteousness' could be conveyed publicly. When we checked this building thoroughly, it seemed quite suitable for a Masjid. We straightaway discussed with each other; then contacted and consulted the responsible Islamic brothers of 'Majlis Waqf Amlaak', and decided to purchase the building. The trader Islamic brothers who were with us and those who had made the intentions to give donations were also contacted. After going through all these phases, with the grace and mercy of Allah Almighty, we made the deal to purchase the building on 22nd of April 2019, on the blessed day of the birth of the Holy Prophet صَلَّى اللّٰـە عَلَيْهِ وَاٰلِهٖ وَسَلَّم, i.e. on Monday. The contract was made for €326,000. Some down payment was made in advance to complete the paperwork. This good news was also conveyed to Ameer-e-Ahl-e-Sunnat دَامَـتْ بَـرَكَـاتُـهُـمُ الْـعَـالِـيَـهْ, Nigran-e-Shura مُدَّظِلُّەُ الْعَالِی, and other Arakeen-e-Shura straightaway. At the time of writing this account, اَلْـحَمْـدُ لـِلّٰـه, five daily Salahs, Friday Salah, Madrasa-tul-Madinah, Jami'a-tul-Madinah, Dar-us-Sunnah, different Madani and Tarbiyyati courses in Arabic and German languages, and 'Dars and Bayan' have started in this Madani Markaz.
Tears of joy
It was around 2 p.m. when all these matters were finalised. We had the intention to rest for a little while as we had faced a continuous lack of rest, and were also tired due to the journey. However, when Allah Almighty blessed us with such great accomplishment [of buying a place] for the Masjid, everyone's face was radiating with happiness, and tears of joy welled up from the eyes of many Islamic brothers. اَلْـحَمْـدُ لـِلّٰـه, I was blessed with the privilege of calling out the first Azan in the same building that was previously a non-Muslims' place of worship [but now a Masjid]. Tears were flowing from the eyes of many Islamic brothers during the Azan as well.
Arrival in Frankfurt
After offering Zuhr Salah, we started our journey towards Frankfurt, a city of Germany. There was a lot of traffic on the way to Frankfurt too. We reached there at around 6:15 p.m. few trader Islamic brothers had been waiting for us in someone's house since afternoon. We informed them about the purchase of the building and heavy traffic, and apologised to them for the late arrival. After having food over there, we straightaway reached the Madani Markaz of Frankfurt where responsible Islamic brothers of Dawat-e-Islami had gathered from different cities of Germany. For a little while, Tarbiyyah and Madani pearls were delivered over there.
Return to Pakistan
At around 8 p.m., we sought permission from Islamic brothers to leave because our flight to Pakistan was scheduled at 10:15 p.m. We offered Maghrib Salah at Frankfurt airport. The plane took off at around 10:20 p.m. After offering Isha Salah, I had a rest in the plane. I also offered Fajr Salah in the plane before reaching UAE. I reached Karachi through another flight from UAE.
May Allah Almighty accept this journey of ours and grant us Taufeeq of serving Islam with sincerity and steadfastness until the last breath of our life.
ٰمِیْن بِجَاہِ النَّبِیِّ الْاَمِیْن صلَّی اللہ علیہ واٰلہٖ وسلَّم
Share
---