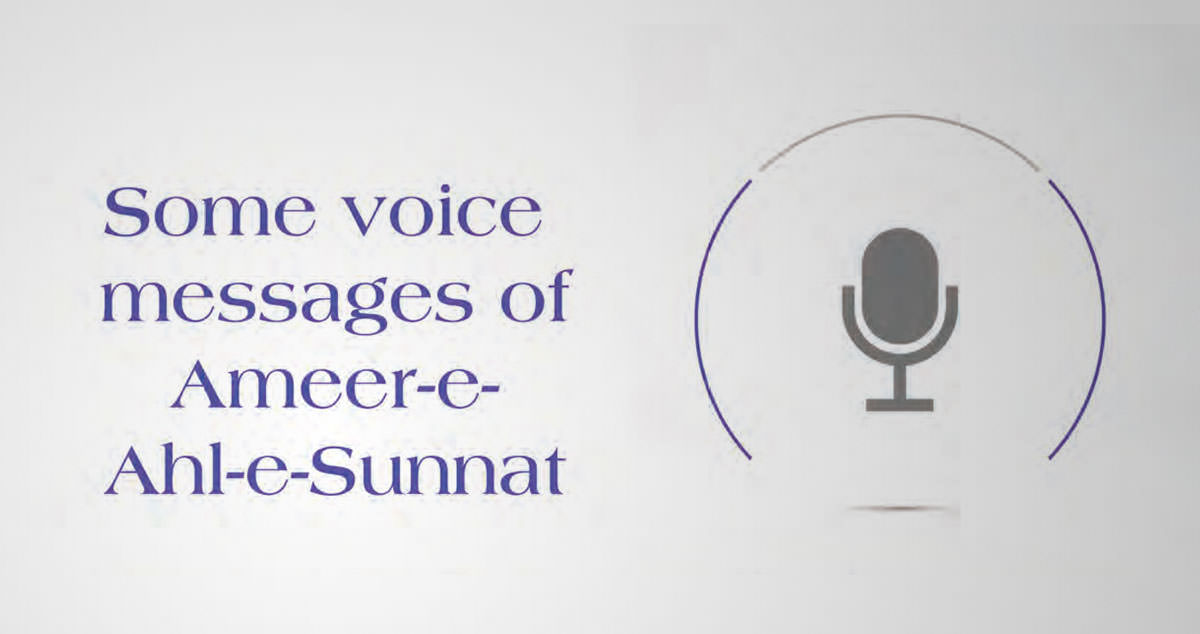 Congratulations to Rukn-e-Shura, Haji Ameen Attari on his niece's birth
نَحْمَدُہٗ وَنُصَلِّیْ وَنُسَلِّمُ عَلٰی رَسُوْلِەِ النَّبِیِّ الْکَرِیْم
From Sag-e-Madinah, Muhammad Ilyas Attar Qaadiri Razavi عُفِیَ عَنْەُ to Madani son (Talhah Attari)!
اَلسَّلَامُ عَلَیْکُمْ وَرَحْمَـةُ اللّٰەِ وَبَرَکَاتُەٗ
مَـا شَـآءَ اللّٰە Congratulations on the  birth of your daughter. May Allah عَزَّوَجَلَّ bestow the blessings of both the worlds upon Umm-ul-Khayr, make her a practicing Islamic scholar, Muftiyah and preacher of Dawat-e-Islami. May she become a source of happiness for you and your spouse. On the occasion of this birth, I would like to congratulate both of you, your family, in-laws and especially Haji Muhammad Ameen Attari, a member of the Markazi Majlis Shura of Dawat-e-Islami.
I have named this Madani baby girl Umm-ul-Khayr. Umm-ul-Khayr was the Kunyat of the honourable mother of Sayyiduna Ghaus-e-A'zam رَحْمَةُ الـلّٰـهِ عَـلَيْـه and her name was Fatimah. I have named her Umm-ul-Khayr because Fatimah may be the name of someone in your family members.
صَلُّوْا عَلَی الْحَبِیْب!                    صَلَّی اللەُ عَلٰی مُحَمَّد
Persuaded injured Islamic brothers to have patience and courage
نَحْمَدُہٗ وَنُصَلِّیْ وَنُسَلِّمُ عَلٰی رَسُوْلِەِ النَّبِیِّ الْکَرِیْم
From Sag-e-Madinah, Muhammad Ilyas Attar Qaadiri Razavi عُفِیَ عَنْەُ to Madani sons and injured Islamic brothers of Dawat-e-Islami (Saleem Bilali and Riyaz Attari)!  
اَلسَّلَامُ عَلَیْکُمْ وَرَحْمَـةُ اللّٰەِ وَبَرَکَاتُەٗ
I have heard the sad news from Rukn-e-Shura, Al-Haaj Qaari Muhammad Saleem Attari سَلَّمَەُ الْبَارِی that you went to perform Madani activities to Markaz-ul-Awliya Lahore where you experienced a serious incident when robbers snatched things from you and fired at you. In this incident, Saleem Bilali was fired two bullets. May Allah Almighty enable you to have patience and bless you with a full recovery as soon as possible. May Allah Almighty raise your status and forgive your sins by virtue of it. Be patient and show courage, everything will get better اِنْ شَــآءَالـلّٰـه. Allah Almighty will have mercy on you. Make Du'a for my forgiveness without any accountability as well.
لَابَاْسَ طَھُوْرٌ  اِنْ شَآءَ اللہ! لَابَاْسَ طَھُوْرٌ  اِنْ شَآءَ اللہ! لَابَاْسَ طَھُوْرٌ   اِنْ شَآءَ اللہ!
i.e. There is no harm in it. If Allah Almighty wills, this disease will become the source of forgiveness for you from sins.
صَلُّوْا عَلَی الْحَبِیْب!                    صَلَّی اللّٰەُ عَلٰی مُحَمَّد
Share
---