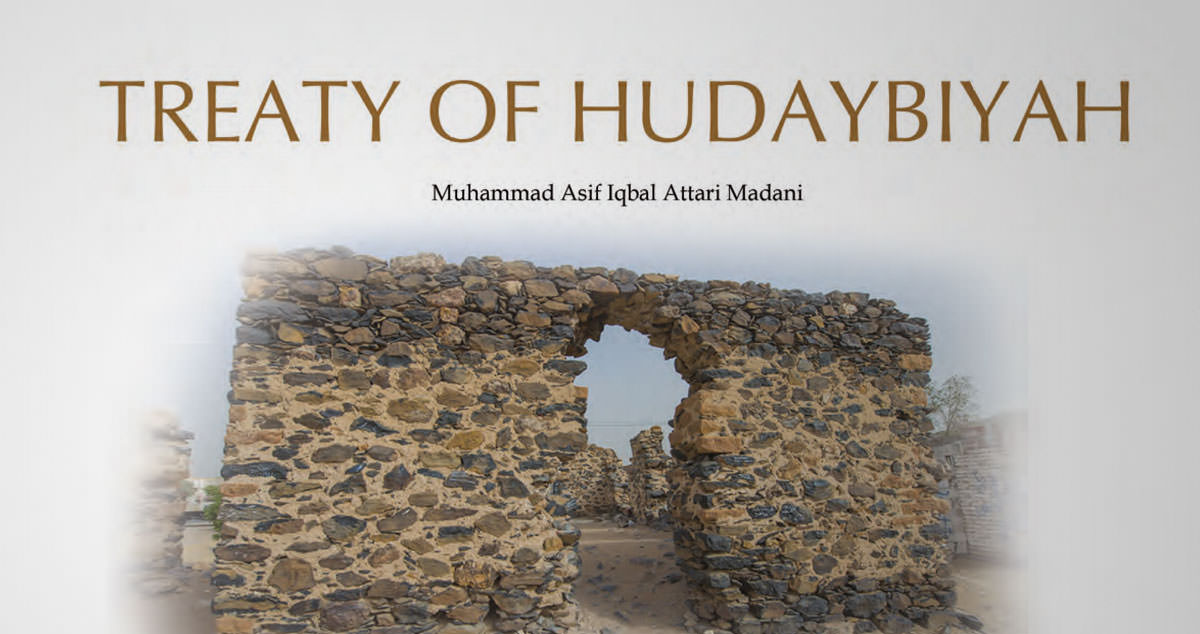 In the sixth year of migration to Madinah, the Holy Prophet صَلَّى اللّٰـە عَلَيْهِ وَاٰلِهٖ وَسَلَّم had a dream that he, along with his blessed companions, entered Makkah with peace and prosperity and performed Umrah. Some of them shaved their heads while others had their hair cut. They entered Baytullah and took its key. Furthermore, they stayed in (the ground of) Arafat. (Seerat-e-Halbiyah, vol. 3, pp. 13)
The dream of a Prophet is a revelation. Therefore, in Zul-Qa'dah, 6 AH, the Holy Prophet صَلَّى اللّٰـە عَلَيْهِ وَاٰلِهٖ وَسَلَّم left for Makkah with the intention of [performing] Umrah along with his 1400 blessed companions. They had to stay at Hudaybiyah. Unbelievers prevented them from entering Makkah. It was there that this treaty was drawn up which came to be known as the treaty of Hudaybiyah. Here are some of its details.
The conditions of the treaty of Hudaybiyah
From the side of unbelievers, Budayl Bin Warqa Khuza`i, Urwah Bin Mas'ood Saqafi, Hulais Bin Alqama, and Mikraz came for negotiations respectively. Finally, Suhail Bin Amaru Qurayshi, the orator of Quraysh, came over and signed up the treaty, in which the following conditions were agreed.
* Both parties will observe a ceasefire for ten (10) years.
* The Muslims should go back without performing Umrah this year. They should come to perform Umrah the next year and stay in Makkah for three days.
* The Muslims should only be armed with swords and those swords should be in the sheaths.
* If a person migrates to Madinah from Makkah, he will be sent back; but if a person migrates to Makkah from Madinah, he will not be sent back.
* Tribes of Arabia will have the authority to take any side they want. (Subul-ul-Huda, vol. 5, pp. 52; Al-Kamil fil Tareekh, vol. 2, pp. 87-89, summarised)
The far-reaching consequences of the treaty of Hudaybiyah
Apparently, the conditions of the treaty were against Muslims, but they had far-reaching consequences. Imam Ahmad Raza Khan رَحْمَةُ الـلّٰـهِ عَلَيْه has said: On the surface, Islam seemed to have given in, but in fact it was a prominent victory, which Allah عَزَّوَجَلَّ has described as:
اِنَّا فَتَحْنَا لَكَ فَتْحًا مُّبِیْنًاۙ(۱)
We have indeed granted a clear victory for you (O beloved)
[Kanz-ul-Iman (translation of Quran)] (Part 26, Surah Al-Fath, Verse 1)
Then A'la Hadrat رَحْمَةُ الـلّٰـهِ عَلَيْه, interpreting the Ayah 25 of Surah Al-Fatah, has said: This Ayah was revealed to console Muslims, implying that there were many reasons for preventing them from entering Makkah: There are many men and women in Makkah who are Muslims in secret. You could have trampled them unknowingly while attacking unbelievers. Moreover, there are people who are unbelievers now, but soon Allah Almighty will shower His blessings on them. He will honour them with embracing Islam. Their killing is not approved. These were the reasons why the unbelievers of Makkah were protected against killings and destruction. (Fatawa Razawiyyah, vol. 30, pp. 381)
There is no victory greater than that of Hudaybiyah
Sayyiduna Siddeeq-e-Akbar رَضِىَ اللّٰـەُ عَـنْهُ used to say: There is no victory greater than the victory of Hudaybiyah in Islam, but people's intellectual levels cannot understand the matters of Allah Almighty and the Prophet صَلَّى اللّٰـە عَلَيْهِ وَاٰلِهٖ وَسَلَّم. (Seerat-e-Halbiyah, vol. 3, pp. 41)
The abundance of those embracing Islam
Sayyiduna Imam Zuhri رَحْمَةُ الـلّٰـهِ عَلَيْه has said: When the ceasefire took effect and the peace was restored, the people started going to meet each other and the call to Islam began to spread. Anyone who had even a little bit of common sense entered the fold of Islam; and within two years from the treaty of Hudaybiyah to the conquest of Makkah, the number of people embracing Islam was equal to those who had embraced Islam before this period altogether, even more than that. (Tareekh-e-Tabari, vol. 2, pp. 224, summarised)
The blessings of Islam in Khyber, Fidak, and Tabuk
Once they felt secure from the side of Quraysh, [Muslims] found the opportunity to defeat the opposing powers of northern and central Arabia. Only three months after the treaty [was signed], the Jewish Centres Khyber, Fidak, and Tabuk were conquered and the allied tribes of Quraysh began to embrace Islam one after another. (Common biography books)
The Madani pearls obtained from the treaty of Hudaybiyah
Dear Islamic brothers! We can get a lot of Madani pearls if we ponder over the treaty of Hudaybiyah. Here are a few of them:
1. Based on the requirement of circumstances, it is sometimes far-sighted and safe to reach an understanding and make a compromise.
2. It is wise and a good judgement to lose a smaller benefit in favour of many and larger ones.
3. If one fears persecution, quarrel, and bloodshed, he should give up his right, even though he deserves his right.
4. Sometimes, withdrawing oneself from personal, family, or social disputes brings about peace.
5. One should avoid making haste if he anticipates more benefits in waiting.
Share
---