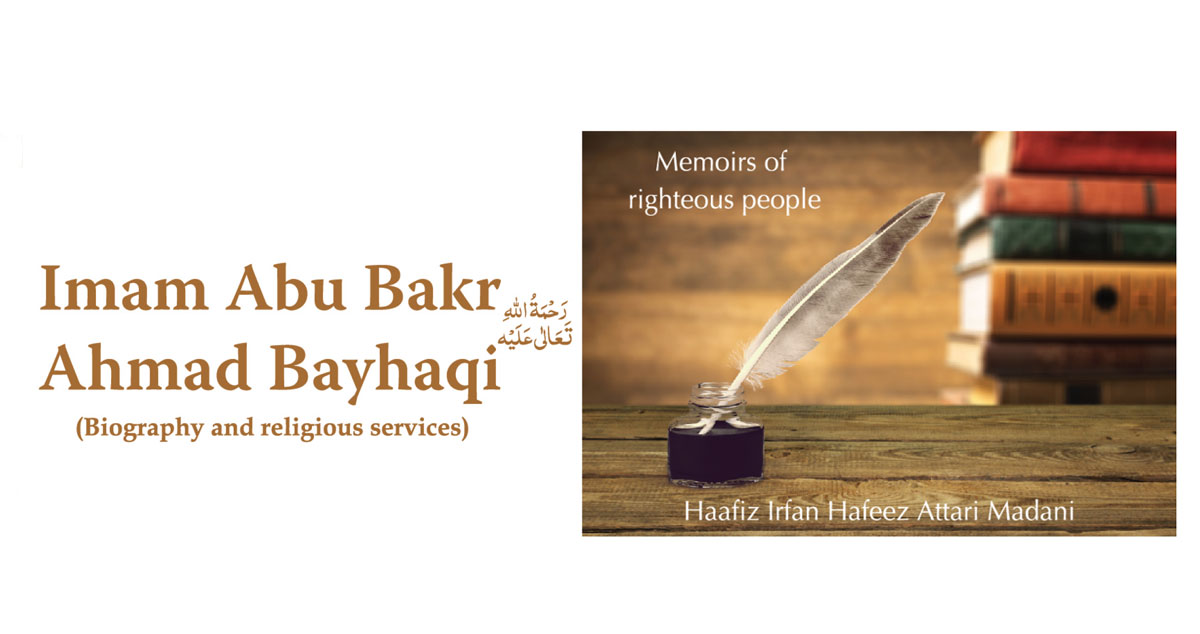 One of the personalities amongst the great Muhaddiseen who has a very high scholarly status is Shaykh-ul-Islam, Faqeeh-e-Jaleel, Haafiz-e-Kabeer, Imam Abu Bakr Ahmad Bin Husayn Bayhaqi Shaafi'i رَحْمَۃُاللہِ تَعَالٰی عَلَیْہ.
Birth
He رَحْمَۃُاللہِ تَعَالٰی عَلَیْہ was born in Bayhaq [near Nishapur, Iran], a famous city of Khurasan, in Sha'ban-ul-Mu'azzam 384 AH. In relation to the city 'Bayhaq' he رَحْمَۃُاللہِ تَعَالٰی عَلَیْہ is called 'Bayhaqi'.
Education and teachers
He رَحْمَۃُاللہِ تَعَالٰی عَلَیْہ travelled to Hejaz, Makkah Mukarramah, Iraq, Jabaal, Nishapur, Taabran, Daamghan, Esfarayen and many other areas for gaining religious 'Uloom [branches of knowledge] and the knowledge of Hadees. He رَحْمَۃُاللہِ تَعَالٰی عَلَیْہ was inclined to listen to Hadees [would listen to blessed Ahadees directly from his teacher] when he was just fifteen years old. Amongst his teachers, the name of Imam Abu 'Abdullah Haakim Nishapuri Shaafi'i رَحْمَۃُاللہِ تَعَالٰی عَلَیْہ, the author of Mustadrak, is at the top of the list. In addition, he رَحْمَۃُاللہِ تَعَالٰی عَلَیْہ also gained knowledge from Imam Abu Bakr Muhammad Bin Foorak Shaafi'i and Muhaddis Abu Sa'eed Muhammad Bin Musa Sayrafi رَحْمَھما اللّٰہِ تَعَالٰی. Imam Tajuddeen Subuki Shaafi'i رَحْمَۃُاللہِ تَعَالٰی عَلَیْہ has narrated that he had more than 100 teachers and Shuyukh.
Students
Shaykh-ul-Islam Khuwajah 'Abdullah Ansari Haravi, Sayyiduna Abu 'Abdullah Muhammad Bin Fadl [فَضْل] Faravi Shaafi'i, Haafiz Zaahir Bin Taahir Shahhaami, Sayyiduna Abul Ma'aali Muhammad Bin Isma'eel Farsi رَحِمَهُمُ الـلّٰـهُ تَـعَالٰی and many other personalities are amongst his famous students.
Scholarly glory and books
Haafiz 'Abdul Ghaafir Bin Isma'eel رَحْمَۃُاللہِ تَعَالٰی عَلَیْہ has said: "Bayhaqi" was a Mufti, Haafiz of Hadees, had a matchless memory as compared to his contemporaries and was superior to them regarding Zabt-o-Ittiqaan. He is one of the great students of Imam Haakim, but he had more knowledge of many 'Uloom [branches of knowledge] than him. He started writing and memorizing blessed Ahadees since his childhood. He has written matchless books about the knowledge of Hadees and Fiqh. He has written books on many important topics like beliefs, Ahadees, Fiqh, Manaqib, etc. Amongst his famous books the names of Dalaail-un-Nubuwwah, Shu'ab-ul-Iman, Ma'rifat-us-Sunan wal-Aasaar, As-Sunan-ul-Kabeer, As-Sunan-us-Sagheer, Kitab-ul-Asma was-Sifaat and Hayat-ul-Ambiya are at the top of the list.
Asceticism and piety
Talking about his asceticism and piety Imam Abul Hasan Haafiz 'Abdul Ghaafir Bin Isma'eel رَحْمَۃُاللہِ تَعَالٰی عَلَیْہ has said: Imam Bayhaqi رَحْمَۃُاللہِ تَعَالٰی عَلَیْہ would live like the blessed Seerah [life] of the past Islamic scholars. He رَحْمَۃُاللہِ تَعَالٰی عَلَیْہ was satisfied with a little amount of money and was ascetic and pious. He رَحْمَۃُاللہِ تَعَالٰی عَلَیْہ worshipped in such a way that he observed Sawm every day [except the days when observing Sawm is prohibited] in the last 30 years of his life.
Blessed demise
He رَحْمَۃُاللہِ تَعَالٰی عَلَیْہ spent the last part of his blessed life in Nishapur. He fell ill there and passed away. He رَحْمَۃُاللہِ تَعَالٰی عَلَیْہ passed away on the 10th Jumadal Aula, 458 AH in Nishapur and was laid to rest in Bayhaq.
May Allah Almighty have mercy on him and forgive us without any accountability for his sake!
اٰمِيۡن بِجَاهِ النَّبِيِّ الۡاَمِيۡن صَلَّی اللہُ تَعَالٰی عَلَیْہِ وَاٰلِہٖ وَسَلَّمَ
Share
---