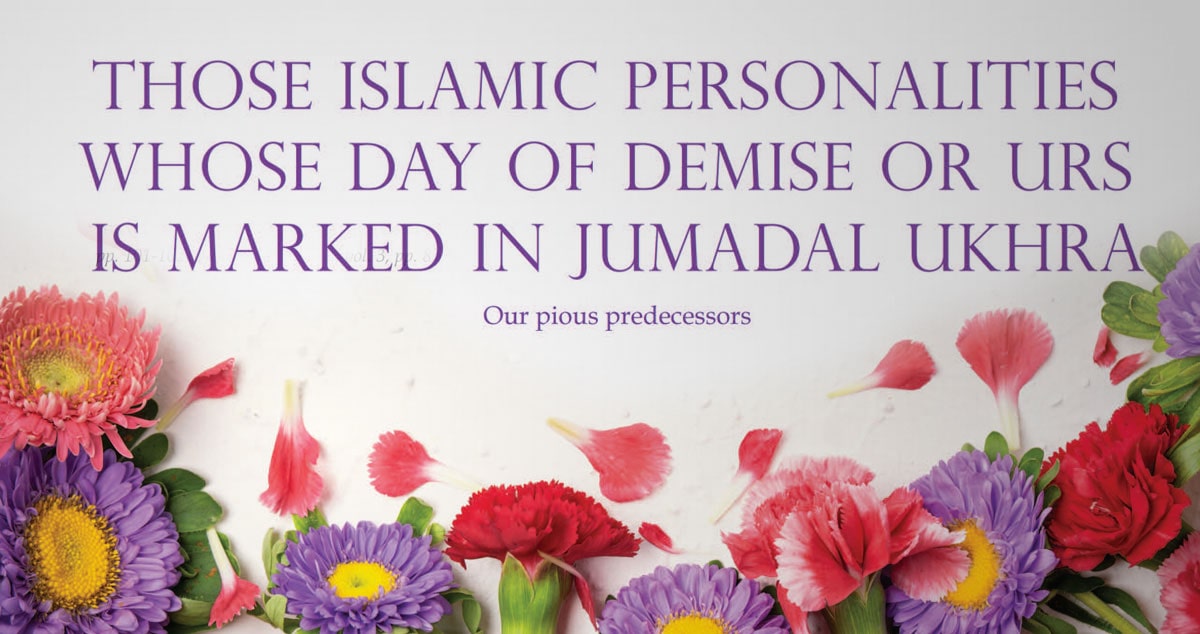 Jumadal Ukhra is the sixth month of the Islamic calendar. Forty-nine blessed companions, Islamic scholars and blessed saints who passed away in this month were briefly mentioned in the Monthly Magazine, Faizan-e-Madinah of Jumadal Ukhra from 1438 AH to 1440 AH. Read about thirteen more.
Blessed companions
(1) Sayyiduna Muhammad Bin Talhah Qurashi Taymi رَضِىَ اللّٰهُ عَـنْهُ was born in Madinah-tul-Munawwarah. The Beloved Rasool صَلَّى اللّٰهُ عَلَيْهِ وَاٰلِهٖ وَسَلَّم stroke his head and named him 'Muhammad'. He was a great worshipper and the elder son of a glorious companion, Sayyiduna Talhah Bin Ubaidullah رَضِىَ اللّٰهُ عَـنْه. He was brave, pious, righteous and very obedient. [He] was martyred in the Battle of Jamal on 10th of Jumadal Ukhra, 36 AH. Sayyiduna Ali رَضِىَ اللّٰهُ عَـنْهُ got very sad about his martyrdom and said, 'اِنْ کَانَ مَا عَلِمْتُہ لَشَابًّا صَالِحًا' i.e. 'Undoubtedly, I found him a very pious young man'. (Usud-ul-Ghabbah, vol. 5, pp. 101-102; Tabaqat Ibn-e-Sa'd, vol. 3, pp. 82)
(2) Sayyiduna Abdur Rahman Bin Attab Qurashi Umavi رَضِىَ اللّٰهُ عَـنْهُ was a very dignified, brave young man and was the leader of the participants in the Battle of Jamal. He was martyred in the same battle in Basra on the 10th of Jumadal Ukhra, 36 AH. After the martyrdom, a bird picked up his hand and took it to Madinah. A ring, found on his hand, helped people recognize that he had been martyred. (Usud-ul-Ghabbah, vol. 3, pp. 487)
Blessed saints
(3) Sayyiduna Makhdoom Abdur Razzaq Gilani رَحْمَةُ الـلّٰـهِ عَـلَيْه was born in Uch Sharif (near Ahmed Pur East, district Bahawalpur) in the Ghausiyah family and passed away at the same place on 5th Jumadal Ukhra, 942 AH. He was a practicing Islamic scholar, an perfect saint and had great apparent and spiritual beauty. He is the third successor of Aastana-e-Aaliyah Qaadiriyyah Gilaniyyah Uch Sharif. (Akhbar-ul-Akhyaar Farsi, pp. 205; Tareekh Uch Mutabarakah, pp. 206)
(4) Sayyiduna Abdul Qaadir Ganj Siwai Nagori رَحْمَةُ الـلّٰـهِ عَـلَيْه belonged to the family of Ghaus-e-A'zam. He was a famous blessed saint who was frequently visited by people from all walks of life. He was also the Shaykh-e-Tareeqah of the spiritual order "Qaadiriyyah Shattariyyah". Hundreds of non-Muslims embraced Islam by virtue of his preaching. He was born in Partaab Garh (U.P India) in 910 AH and passed away in Nagor (Nahor) on 10th Jumadal Ukhra, 978 AH. His shrine in Nagor (a coast in the Bay of Bengal, Naga Paitnam, Tamil Nadu) is a place where Du'as are answered. (Tazkira-tul-Ansaab, pp. 114)
(5) Shaykh of Jinns and humans, Sayyiduna Shah Muhammad Farhad Dehilvi Abul 'Ulaa'i رَحْمَةُ الـلّٰـهِ عَـلَيْه was born in Delhi and passed away at the same place on 25th Jumadal Ukhra, 1135 AH. [His] shrine is located in Pul Bangash, Gulabi (Ram) Baagh, New Delhi, India. He is the disciple and caliph of Sayyid Dost Muhammad Abul Ulaa'i Burhanpuri رَحْمَةُ الـلّٰـهِ عَـلَيْه, a blessed saint with saintly miracles, and a famous Shaykh-e-Tareeqah. (Delhi kay 22 Khuwajah, pp. 228-231)
(6) Sayyiduna Shah Dargahi Alavi Mujaddidi رَحْمَةُ الـلّٰـهِ عَـلَيْه, a perfect blessed saint, was born in the locality of Bilawal Pur, Lahore, in 1160 AH. Since his childhood, he had a deep interest in worship and seclusion. He completed Nazra of Quran during travelling, benefitted from the spiritual chain of Madariyah, then became a disciple of Sayyiduna Shah Jamalullah Mujaddidi رَحْمَةُ الـلّٰـهِ عَـلَيْه. He permanently resided in Murshid Nagar, Mustafa Abad (U.P India) and passed away at the same place on 14th Jumadal Ukhra, 1226 AH. He was kind-hearted, the one whose Du'as were always answered, who would eat less and who would remain engrossed in the remembrance of Allah Almighty except during Salah timings. (Tazkira-e-Kamilaan-e-Rampur, pp. 124)
(7) Sayyiduna Shah Karamat Ali Qalandar Alavi Kakorvi رَحْمَةُ الـلّٰـهِ عَـلَيْه was born in the Alavi family of Kakorvi (Lacknow U.P, India) and passed away in Kakorvi Sharif on 4th Jumadal Ukhra, 1264 AH. His blessed grave is located in the Dargah of Shah Karamat Ali, Sa'di Mahallah. He was expert in academic and spiritual fields of knowledge, Shaykh-e-Tareeqah of the Qalandariyah spiritual chain and a blessed saint with saintly miracles. (Tazkira-e-Mashahir Kakorvi, pp. 334-336)
(8) Sayyiduna Pir Sayyid Ghulam Haider Ali Shah Jalalpuri Chishti رَحْمَةُ الـلّٰـهِ عَـلَيْه was born in Jalalpur Sharif (Tehsil Pind Dadan Khan, District Jehlum) in 1254 AH and passed away at the same place on 6th Jumadal Ukhra, 1326 AH. People frequently visit (his) sacred shrine. He was the Khalifah [a person permitted to make disciple in a specific spiritual order] of Khawajah Shams-ul-'Aarifeen, a religiously educated and a spiritual person, the founder of Aastana-e-Aaliyah Jalalpur, the embodiment of humility and humbleness and an influential personality of his area. (Zikr-e-Habib, pp. 59, 104, 109)
Islamic scholars
(9) A student of Imam Shatibi, the leader of Quran reciters, Sayyiduna 'Ilmudddin Ali Bin Muhammad Sakhawi Shaafi'i رَحْمَةُ الـلّٰـهِ عَـلَيْه was born in Sakha (Egypt) in 558 AH. He had expertise in many branches of knowledge besides being the Imam in the field of Qira'at[1]. He was a lexicologist, jurisprudent, writer, poet and the author of many books. Many scholars benefitted from him. He passed away in Damascus on 12th Jumadal Ukhra, 643 AH. He was buried in Qasiyoon graveyard. 'Jamaal-ul-Qurra wah Kamal-ul-Iqra' is his monumental book. (Al-'A'laam Liz-Zarkali, vol. 4, pp. 332)
(10) Imam Badruddin Hassan bin Muhammad Jalbi Fanar-i-Hanafi رَحْمَةُ الـلّٰـهِ عَـلَيْه was born in 840 AH in Turkey in a religiously educated family. He was a practicing Islamic scholar, Faazil of his era, teacher of Islamic scholars and the author of books.
He taught at many Madaris and wrote marginal footnotes to many books including 'Talweeh'. He passed away in Jumadal Ukhra, 886 AH in Bursa (North-Eastern Turkey). (Al-Fawa'id-ul-Bahiyyah, pp. 83-84)
(11) Sayyiduna Hafiz Makhdoom Ghulam Muhammad Malkani رَحْمَةُ الـلّٰـهِ عَـلَيْه, the teacher of Islamic scholars, was born in 'Mauzah Mulkani' (Dadu district, Sindh) in 1276 AH. He was an excellent Islamic scholar and teacher, a good orator, poet of Islam, the author of around 40 books and Shaykh-e-Tareeqah of the spiritual chain of Naqshbandiyyah, Mujaddidiyah. He passed away on 22nd Jumadal Ukhra, 1354 AH. His shrine is located at his birth place. (Anwaar 'Ulama-e-Ahl-e-Sunnat Sindh, pp. 589-593)
(12) Sayyiduna Maulana Imam Bakhsh Faridi Jampuri رَحْمَةُ الـلّٰـهِ عَـلَيْه, the teacher of Islamic scholars, was born in Fadil Pur (Rajanpur district, south Punjab) and passed away on 24th Jumadal Ukhra, 1354 AH in Jampur. He was a sufi, an Islamic scholar, the author of books and an excellent teacher. He benefitted from the questions he asked from Ala Hadrat Imam Ahmad Raza Khan رَحْمَةُ الـلّٰـهِ عَـلَيْه by mail. (Jahan-e-Imam Ahmad Raza, vol. 5, pp. 169-171)
(13) Majaz-e-Tareeqah (a person permitted to make disciple in a specific spiritual order), Sayyiduna Muhammad Ji Naqshbandi رَحْمَةُ الـلّٰـهِ عَـلَيْه was born in Devi (Gujar Khan Tehsil, Rawalpindi district) in 1319 AH and passed away on 25th Jumadal Ukhra, 1402 AH in Dhok Farman Ali, Rawalpindi. (He was) buried in the local graveyard. He was the head master in a school, had expertise in Islamic and spiritual knowledge, had authority in the Naqshbandiyah spiritual chain and the founder of Dar-ul-'Uloom Razawiyyah Siddiqah, Dhok Farman Ali, Rawalpindi. He benefitted from the questions he asked from A'la Hadrat Imam Ahmad Raza Khan رَحْمَةُ الـلّٰـهِ عَـلَيْه by mail. (Jahan-e-Imam Ahmad Raza Khan, vol. 5, pp. 42-44)
---
[1] The rules and regulation of the Holy Quran recitation
Share
---