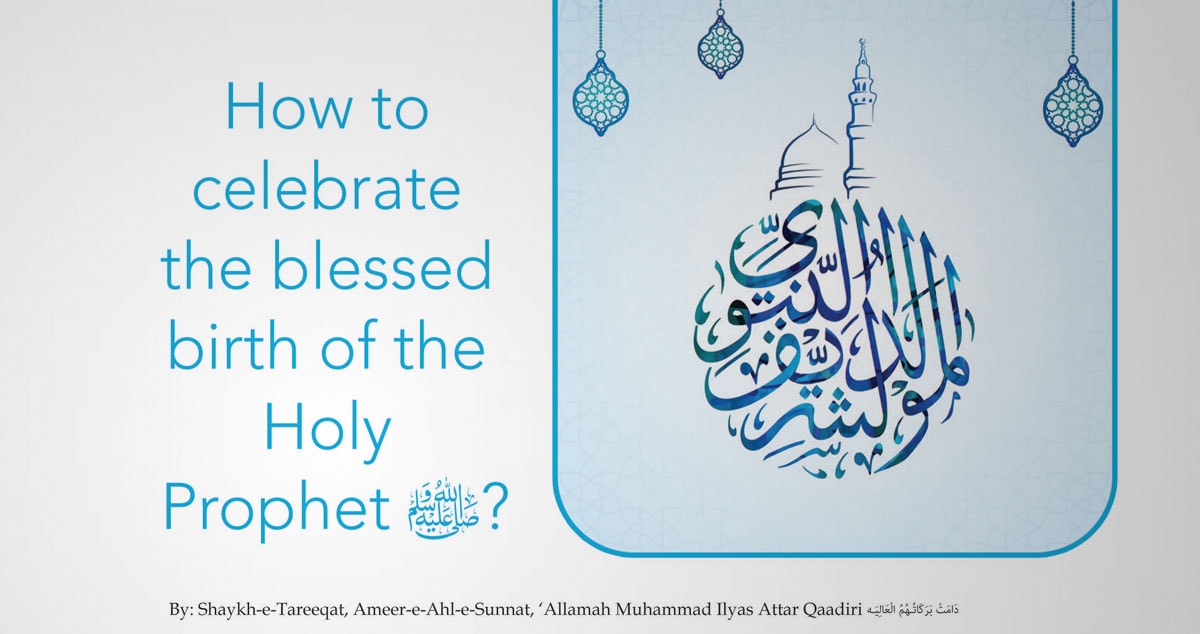 By: Shaykh-e-Tareeqat, Ameer-e-Ahl-e-Sunnat, 'Allamah Muhammad Ilyas Attar Qaadiri دَامَتْ بَرَكَاتُـهُمُ الْعَالِيَـه
O devotees of Rasool! Along with performing Fard, Wajib and Mustahab acts in the esteemed month of the blessed birth of the Beloved Prophet صَلَّى اللّٰەُ عَلَيْهِ وَاٰلِهٖ وَسَلَّم, pay attention to the following points as well:
1 Salah is the coolness of the Holy Prophet's blessed eyes, so it is requested to offer Salah five times in congregation in a first row with Takbeer-e-Aula in a Masjid.
2 If you have missed Salahs, not paid Zakah, or have to pay back a loan, fulfil all these obligations as soon as possible.
3 Make true repentance for all of your open and secret sins, and advise the people under your authority, especially your family members, children and students not to indulge in sinful acts.
4 All devotees of Rasool, including Nigran and responsible Islamic brothers, should have the privilege of travelling with a 3-day Qafilah; and Islamic sisters should start delivering Dars from Faizan-e-Sunnat daily for the whole month inside their houses (only to the Islamic sisters and Mahrams in their house), and should also make the intention to continue it in the future.
5 For men, shaving beard or trimming it to less than a fist length are both Haraam acts. For Islamic sisters, not observing purdah is a Haraam act (therefore, it is Wajib for them to make repentance and refrain from such sins immediately). By the blessings of Rabi'-ul-Awwal, it is requested to Islamic brothers to make the intention of keeping beard to a fist length for the entire life, and it is requested to Islamic sisters to observe Shar'i purdah continuously.
6 Listen to Na'ats in honour of the Beloved Prophet صَلَّى اللّٰەُ عَلَيْهِ وَاٰلِهٖ وَسَلَّم, recited by a devotee of Rasool, having a sweet voice. Listen to Na'ats and speeches in such a low voice with such care that no worshipper, patient, sleeping person, etc. faces difficulty. Moreover, be careful in this regard during Azan and the time of Salah (neither listen to a Na'at in a female voice nor make others listen to it).
7 It is Haraam and shameful for women to go outside in the gatherings full of non-Mahram men for seeing lighting; moreover, it is also regrettable that purdah-observing women mingle with men, following the trend of our society.
8 Provide a poor family, especially a Sayyid's family, with provisions for a month or two and keep helping such people from time to time. If Allah عَزَّوَجَلَّ wills, by the blessings of these kind acts, you will have such favours by the Beloved Prophet صَلَّى اللّٰەُ عَلَيْهِ وَاٰلِهٖ وَسَلَّم which are beyond your imagination.
9 If possible, pay the total debt of a Muslim debtor, otherwise support him to some extent in repaying his debt.
10 Spend money for getting a sick Muslim brother treated, and if possible, pay all the medical expenses of his treatment alone.
11 Listening to 'Hamd', 'Na'at', 'Manqabat', etc. recited with Daf (eastern musical instrument which is played based on a musical tone, etc.) and music nowadays, and making others listen to them are the acts of sin. So, avoid it. The Beloved Prophet صَلَّى اللّٰەُ عَلَيْهِ وَاٰلِهٖ وَسَلَّم has said: I have been sent to destroy musical instruments. (Kanz-ul-'Ummal, Juz: 15, vol. 8, pp. 99, Hadees 40682)
12 From the night of moon sighting to 12th Rabi'-ul-Awwal, or rather, to 13th Rabi'-ul-Awwal, Madani Muzakarah is held daily after 'Isha Salah at the global Madani Markaz, Faizan-e-Madinah, Karachi. If possible, spend first 12 days in Faizan-e-Madinah. If it is not possible, those who can attend Madani Muzakarah in the night should do so, otherwise Islamic brothers should at least try to watch and listen to it on Madani Channel.
May Allah عَزَّوَجَلَّ grant us privilege to celebrate the blessed birth of our Beloved Prophet صَلَّى اللّٰەُ عَلَيْهِ وَاٰلِهٖ وَسَلَّم with enthusiasm, and also to adopt the blessed Seerah of the Holy Prophet صَلَّى اللّٰەُ عَلَيْهِ وَاٰلِهٖ وَسَلَّم.
اٰمِيۡن بِجَاهِ النَّبِيِّ الۡاَمِيۡن صَلَّى اللّٰهُ عَلَيۡهِ وَاٰلِهٖ وَسَلَّم
Note: This topic has been prepared from the booklet, 'The Dawn of Blessings', and other books and booklets; it has also been checked by Ameer-e-Ahl-e-Sunnat دَامَتْ بَرَكَاتُـهُمُ الْعَالِيَـه.
Share
---