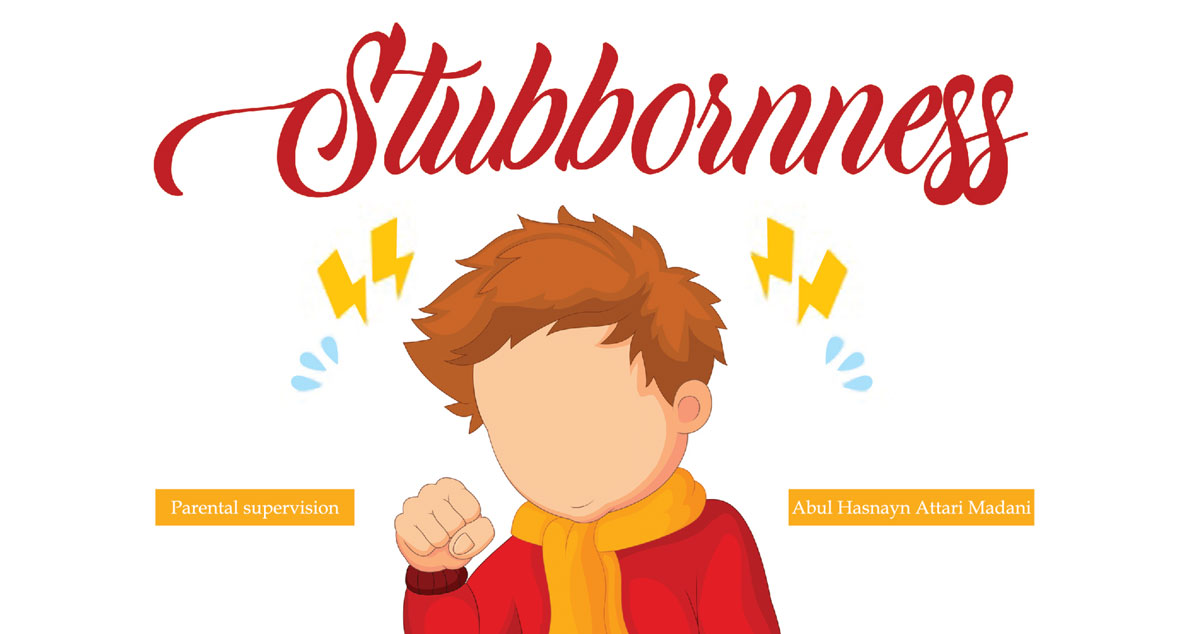 Childhood is a beautiful part of human life. During childhood, the correct upbringing of children and reforming their bad habits into good ones in an excellent way make them productive members of society.
On contrary, during childhood, when parents show carelessness by overlooking the bad habits of children and pampering them in their choosy and self-concerned attitude, it results in trouble and suffering for the children and their guardians in future.
Harm of unnecessary stubbornness
Stubbornness is also one of the habits of children which need reformation. Children usually are stubborn but this habit is excessively ingrained into some children. It can be understood in this way that if a child demands for the moon to play with it, parents have to fulfil even such type of demand. The stubbornness of children becomes an embarrassment for parents when children start showing it in the presence of guests, hosts or other people and end up in crying for not getting their ways. On such occasion, only those who have faced this situation can have an idea about it.
Kinds of stubbornness
The stubbornness of children can be divided into 2 basic types.
1. Fulfilling of which is impermissible as per Shari'ah.
2. Fulfilling of which is permissible as per Shari'ah.
Impermissible stubbornness
If a child shows stubbornness for such kind of demand which is impermissible and sinful as per Shar'iah, it cannot be fulfilled in any condition. Though a non-Baaligh child is not bound to follow Shar'iah but the parents who fulfil such demand become sinner, plus the child whose such demands are fulfilled can become fearless in future in adopting the acts contrary to Shar'iah; so, parents should adopt a tactful strategy to control their children without fulfilling their impermissible demands.
Permissible stubbornness
If a child demands any such thing which is not forbidden as per Shar'iah, parents should act upon according to the situation. Remember! Immediately fulfilling every demand of a child or rejecting it, both are inappropriate. So, parents should fulfil the demand of a child from time to time but tactfully make him also habitual of listening to 'refusal'. The act of fulfilling every permissible demand plays an important role in spoiling children.
Madani pearl
If the fulfilment of children's demand is made conditional to the 'Madani fees' i.e., 'different virtuous acts', then hopefully, the good upbringing of children, on this method, can also be done. Persuade children in this way, for example:
٭If you want such and such a thing for eating, recite Salat-'Alan-Nabi [Durood] 50 times daily.
٭If you want to play on the swing, perform Salah five times a day for certain days.
٭If you want such and such a toy, watch Madani Channel daily for 26 minutes for certain days.
Parents should fulfil their promise when they receive Madani fees. Resultantly, through this way, اِنْ شَـآءَ اللہ عَزَّوَجَلَّ children will become habitual of performing different virtuous deeds without noticing it.
O our beloved Allah عَزَّوَجَلَّ! Grant us Taufeeq (ability) to give correct upbringing to our children and make our children a means of Sawab-e-Jariyah [perpetual rewards] for us.
اٰمِيۡن بِجَاهِ النَّبِيِّ الۡاَمِيۡن صَلَّى اللّٰهُ تَعَالٰى عَلَيۡهِ وَاٰلِهٖ وَسَلَّم
Share
---