Al-Madina Library

Al-Madina Library
Al-Madina Library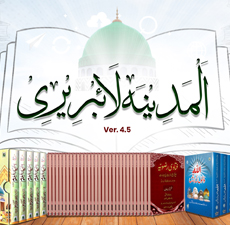 About "Al Madina Library"
Software has been developed by IT Department of Dawat-e-Islami for Windows Users.
The IT department of Dawat-e-Islami, a religious non-political movement for the propagation of Islam, has been a leading department in the world of computer technology. It has developed enormous applications, software and other computer utilities to serve the Muslim Ummah. Currently, new software namely Al-Madina Library has been introduced. The software is a depository of round about 400 Islamic Publications drafted by Al-Madina-tul-Ilmiyah and Shaikh-e-Tariqat Ameer-e-Ahlesunnat Hazrat Allama Maulana Abu-Bilal Muhammad Ilyas Attari Qadiri Razavi دامت برکاتہم العالیہ. The collection of Islamic books in the library will not only advance your Islamic exposure but would also lead you a right direction. While sitting at home, office or anywhere else, you can get the advantage from the ocean of Islamic knowledge composed in the library.

View Unicode Text (Copy the text and Use it anywhere you want).
Al Quran ul Kareem
Translation "Kanz-ul-Iman"
Tafseer "Khazain-ul-Irfan" & "Sirat-ul-Jinnan"
Simple and Advance Search Option.
Four Different Themes.
Custom Formatting.
Bookmarking.
View multiple books at a time.
Add New Books if you want.
Fast advanced Searching System
A Feature to Get "New Book"
A Feature to Add "New Book"
Sirat-ul-Jinan all 4 Jilds
Subh-e-Baharan and More than 50 Booklets of Ameer-e-Ahl-e-Sunnat دامت برکاتہم العالیہ.
Faizan-e-Riaz-uz-Saliheen
New Category of Faizan-e-Sahaba & Ahl-e-Bait
Weekly Sunnah-inspiring Speeches are updated.
Booklets on multiple topics from Majlis-e-Ifta.
About 400 Islamic Publications on multiple topics.
Mukashafa-tul-Quloob
Al-Kabair (76 Kabira Sins)
And many other important and authentic Islamic books.
Use this Software yourself and let other Muslims know about this. Kindly add your feedback at support@dawateislami.net for product views and your valuable suggestions.
Screenshots