Al-Quran-ul-Kareem Application

Al-Quran-ul-Kareem Application
Al-Quran-ul-Kareem Application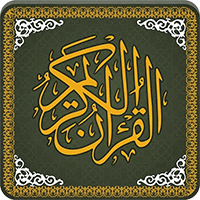 Requires Android 4.0 and up
About "Al Quran Karim Application"
What's New?
• A new feature of audio Quran has been added. Now just by one click you can also listen to any Surah/Parah of the Quran.
• By clicking on the play option, a particular Surah/Parah will be downloaded. Once downloaded, user can play and listen to that Surah/Parah any time.
Technology
In order to facilitate Islamic brothers, the IT department of Dawat-e-Islami has developed this application for android and iOS devices.
Description
Being a guide to the humanity, the Holy Quran can, now, be recited through this application. By the blessings of Allah عَزَّوَجَلَّ and sincere efforts put up by the IT Majlis of Dawat-e-Islami, global non-political movement for the preaching of Holy Quran and Sacred Sunnah, a glamorous mobile app namely "Al-Quran-ul-Kareem" has been developed. It contains complete Quran-e-Pak with an eye catching layout. Interface of the application is user friendly and it provides an easy and modern way to recite the Quran on Mobile system. It provides many features to make recitation of the Quran on Mobile devices much easier and simpler.

Features of the App:
The Application contains following features.
The Holy Quran in the app contains 16 lines per page. 30 Paras Indexing with Page# 114 Surahs Index with Page# (Separate icons have been used for Makki Surahs and Madani Surahs.) With the help of option "Go To Page#" user can find any desired/particular page. List of Bookmarks will be shown in this section. Bookmarks can be easily added while reading any page of Quran by clicking on Book Mark Icon on the Top of the page. User will be able to resume the reciting from the page he left reciting in his previous login. By clicking on this option user will be redirected to Google Play Store where User can Rate this app. By clicking on this option user can share the application link via Gmail, Email, Skype and other social mediums.
Enlighten your hearts by the light of the Holy Quran. Recite yourself and let other Islamic brothers know about it.
If you find any mistake or error, kindly share us at support@dawateislami.net
Your suggestions, comments and feedback will be highly appreciated.
Screenshots